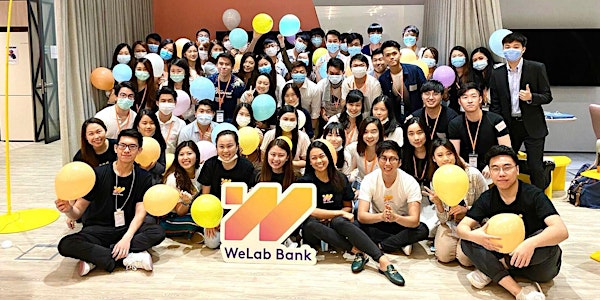 WeLab Bank X HKU FTSA Pizza Party
Hello HKU FTSA! In our event, we'll share about the virtual banking industry and give YOU the chance to ask our staff anything. Sign up now!
Date and time
Thu, 8 Oct 2020 03:00 - 05:00 PDT
About this event
Date: October 8th, 2020
Time: 18:00-20:00
Event Format: Zoom (we will send the link to you a day before the event!)
Event Language: English and Cantonese
Sign up deadline: 23:59, September 27th
How much do you know about WeLab Bank? Want to know more about fintech from an insider's point of view (for example: AML, trends in fintech, regulations, technologies used, and our daily operations)?
In this event (co-hosted by WeLab Bank and HKU FTSA), our staff will be sharing more about what WeLab Bank is, what we do in a virtual bank, and you can even get the chance to ask our staff anything you want! (Note: this event will be held mainly in English with some Cantonese activities)
Don't forget to sign up by 23:59 on September 27th!
Also, we have some SPECIAL NEWS for those of you who aren't WeLab Bank users yet! If you download the WeLab Bank app, sign up for a WeLab Bank Account, and fill out this simple redemption form (https://welabbank.typeform.com/to/nc2UNOIf), you can receive
1. A $100 HKD cash reward
2. An 8% cash rebate when you spend!
It takes as quickly as 5 minutes to open an account and fill out the redemption form, so what are you waiting for? If you invite your friends and family to become WeLab Bank users, they can receive the same benefits as you too! Remember to fill out the redemption form below after opening an account, 'cause if not, you won't receive the HKD 100 cash reward!
*For more details please see the Terms and Conditions
Terms and Conditions for attendees of WeLab Bank Events (In English)
These are the terms that govern your attendance at and/or participation in a WeLab Bank Limited ("WeLab Bank") Event.
By registering for the Event you agree to be bound by these terms.
1. Your registration entitles you to admittance to the Event. Any and all other costs associated with your attendance (including without limitation any travel expenses) shall be borne solely by you and WeLab Bank shall have not liability for such costs.
2. You acknowledge that WeLab Bank reserves the right to request your removal from the Event if WeLab Bank, in its sole discretion, considers your presence and/or behavior to create a disruption or to hinder the Event and/or the enjoyment of the Event by other attendees or speakers.
3. By attending the Event you acknowledge and agree to grant WeLab Bank the right at the Event to record, film, photograph or capture your likeness in any media now available and hereafter developed and to distribute, broadcast, use or otherwise globally to disseminate, in perpetuity, such media without any further approval from you or any payment to you. This grant to WeLab Bank includes, but is not limited to, the right to edit such media, the right to use the media alone or together with other information, and the right to allow others to use and/or disseminate the media.
4. WeLab Bank will handle your personal data collected for the purposes of this Event in accordance with our Privacy Notice which may be amended or replaced from time to time. Please refer to: https://www.welab.bank/media/documents/Welab_Bank_Limited_-_Privacy_Policy.pdf for more details.
5. Other than to the extent required as a matter of law, neither WeLab Bank nor its affiliates shall be liable for any direct, indirect, special, incidental, or consequential costs, damages or losses arising directly or indirectly from the Event or other aspect related thereto or in connection with these Terms and Conditions.
6. The maximum aggregate liability of WeLab Bank for any claim in any way connected with these Terms and Conditions whether in contract, tort or otherwise (including any negligent act or omission) shall be limited to HKD500.
7. These Terms and Conditions are governed by and construed in accordance with the laws of Hong Kong and any disputes arising out of or in connection with these Terms shall be subject to the non-exclusive jurisdiction of the Hong Kong courts.