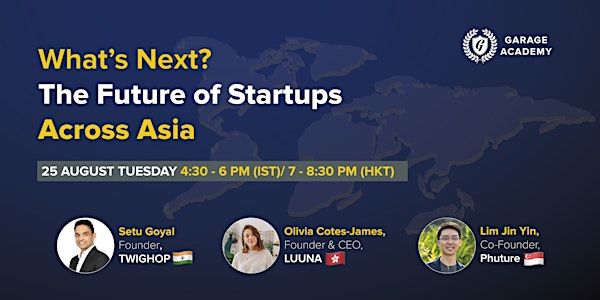 Webinar/ What's Next? The Future of Startups Across Asia
Regional fireside chat with Startup Founders from Asia
About this event
Garage has been a catalyst for connecting startups across different industries and markets since 2014.
The current global pandemic however has put in a place a set of highly unique challenges for entrepreneurs, the businesses they are building and the platforms they use to connect. As part of our month long series of events to help bridge this gap, we're bringing together entrepreneurs from Hong Kong, Singapore and India to discuss the past, present and future of entrepreneurship in the region.
See you online on 25 Aug @ 7 pm!
Key takeaways:
Practical insights and examples of the impact of the pandemic across startups in Hong Kong, Singapore and India
How current business models in eCommerce, FoodTech and Real Estate have adapted to meet these challenges
Emerging trends and thoughts on the future for startups across the region
Speakers:
Olivia Cotes-James, Founder & CEO at LUÜNA, Hong Kong's social impact period care company
Lim Jin Yin, COO and Co-Founder of Phuture Foods, a leading food-tech company in Asia with the mission to create the best plant-based pork
Setu Goyal, Founder of Twig Hop, India's aggregator of real-time shared accommodation inventory
About Garage Academy
Garage Academy is Garage Society's knowledge-sharing platform with a mission to nurture the leaders of the new generation workforce through a wide curation of classes, workshops and community events rooted in innovation and emerging technologies.