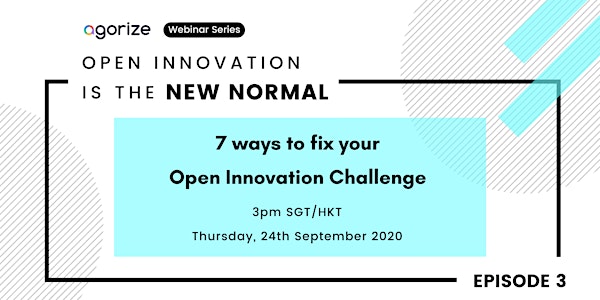 [Webinar Series] EP 3: 7 ways to fix your Open Innovation Challenge
We're excited to introduce the third episode of a three-part webinar series called Open Innovation is the New Normal, presented by Agorize.
About this event
There are still spots left, please sign up HERE!!!
After running 2,000 open innovation programs for 300 corporations and institutions, our team compiled everything we've learned so far about open innovation in a pragmatic bite-size format.
In 2019, there were 7,000 open innovation challenges happening across the globe, which is twice as much as in 2016. As a consequence, it's become even more challenging to engage startups, students, and professionals to join these programs.
Sadly, we see this everyday: startups advocating against pitch competitions, students boycotting challenges, developers rolling their eyes to hackathons. Corporations have no choice but to step up their open innovation game if they want to continue to attract the best participants.
In this third and final episode titled 7 ways to Fix your Open Innovation Challenge, Aurelie Wen, CEO APAC of Agorize, will review 7 mistakes corporations typically do when running an open innovation challenge, and how to fix them.
In this exclusive webinar, you'll learn more about:
Why you shouldn't let your marketing team alone lead your open innovation challenge
Why you can't have both quantity and quality solutions
What startups secretly think about your open innovation program
EVENT DETAILS:
Time: 3pm SGT/HKT, 9am CEST
Date: Thur, 24th September 2020
Location: Virtual
NOTE: Link to webinar URL will be sent closer to date!
****************************
Aurelie Wen is CEO APAC at Agorize. She's fascinated by how crowds can foster innovation and solve problems. Her company connects big businesses with internal and external innovators through an online collaboration platform, engaging a community of 5 million employees, students, and startups in 185 countries. She is regularly invited to talk about open innovation, entrepreneurship, diversity and inclusion at conferences across the globe.
For more information, check out: https://get.agorize.com