This is a sneak peek into the Brinkerhoff Certification Program for High Performance Learning Journeys (HPLJ)
About this event
What is the High Performance Learning Journey (HPLJ)?
The High Performance Learning Journey equips you with the tools to significantly improve your design and deliver impact on a learning investment. Based on the research of one of the leading impact evaluation experts, Professor Robert Brinkerhoff, it reveals the difference between a successful and unsuccessful training program. This certification builds from his research on training impact, integrating findings from recent research on what makes a learning journey approach achieve performance faster and more consistently.
Why is the HPLJ relevant?
The HPLJ approach has been proven to dramatically increase the impact of training — by a factor up to 4 — on workplace performance.*
*Impact evaluation studies courtesy of Brinkerhoff Institute 2017.
Who should attend the HPLJ webinar?
• Program content designers
• Instructional designers
• Trainers
• Facilitators
• E-learning designers
• Teachers
How will attending the HPLJ webinar benefit you? This is a sneak peek into the Brinkerhoff Certification Program for High Performance Learning Journeys (HPLJ). In this webinar, you will learn -
• why learning journey designs are the inevitable future for learning and development
• how to make the business case for learning journeys
• how measurement is integrated into learning journeys to accelerate strategy execution
Meet your Speaker: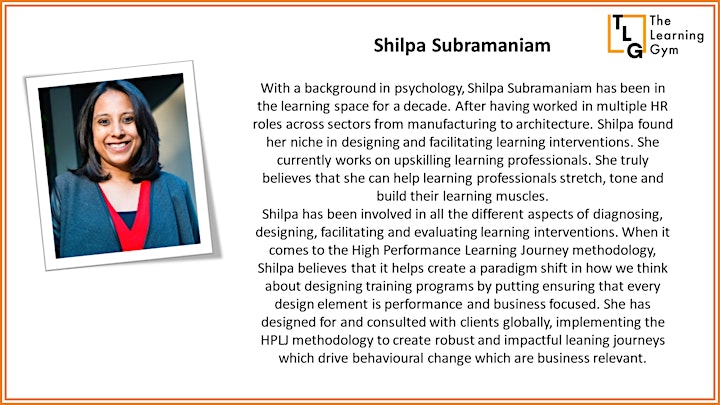 For more information, write to info@thelearninggym.co
Organiser of Webinar: Moving from Learning to Performance
Our focus is upskilling learning professionals – it's that simple. Learning professionals are often busy focusing on the needs of their learners, and their challenge is finding the time and the right tools for their own learning. This was the primary reason for the creation of The Learning Gym.
Much like a gym tends to cater to a versatile audience and differing needs, The Learning Gym does the same by offering a variety of formats and types of tools to suit the needs of learning professionals. We offer a one-stop shop to address your learning and education requirements. We provide a space for you to exchange new ideas, learn from proven methodologies and tools and from each other. The end objective is for you to be able to flex, tone and build your learning muscles!
What makes us different? We'd like to think there's a lot that sets us apart!
We're "glocal"– we bring global tools and adapt them to the local markets.
We cater to the entire learning project cycle and offer support (through tried and tested tools) for all the stages of learning. So irrespective of where in the life cycle of a learning project your role and focus are on, we are here to support you in being more effective.
We also offer different "fitness tracks" to make you more "fit" as a learning professional. Our fitness tracks work on the premise that a fit learning professional –
• Assesses learning needs
• Engages relevant stakeholders early on and starts with the end in mind
• Designs learner-centric solutions
• Leverages technology
• Delivers with impact and is memorable in the room
• Makes learning stick (by thinking beyond the classroom) and supports post-program application
• Measures and demonstrates results