(廣東話發音)Learn from examples: use WhatsApp Business to build strong relationships with customers & increase sales to retail business
About this event
How to join the webinar
時間:Aug 19, 2021 4:00 PM - 5:00 PM (香港)
線上直播室:https://www.eventbrite.hk/x/163989790879/
使用 Eventbrite 帳號完成報名(購票)
於 Aug 19, 4:00 PM ,點擊線上直播室觀看
建議選擇「Open in Zoom」,得到最佳的觀看體驗
✓廣東話發音 ✓免費 Webinar
Use the WhatsApp Business - world's most popular chat app - getting your retail business to your marketing & sales goals faster.
Already popular for personal use, WhatsApp changed the game with the launch of WhatsApp Business – giving retail business the opportunity to connect to customers of real-time messages.
In this webinar you will learn how to prime WhatsApp Business strategy for success:
1. Elevate your customer experience with WhatsApp Business List Message & Reply Buttons (No code required)
傳統的「關鍵字觸發」,需要顧客自行輸入代號 1. 2. 3. 等編號,顧客體驗差。現在使用 WhatsApp Business API 最新功能:List & Button,無論是找店面、查詢常見問答,都能更快速讓顧客得到有用的資訊!
2. Bring in-store customers to opt-in official WhatsApp Business account & close deal via chat
顧客在實體門市掃描店員 QRCode,直接加入官方 WhatsApp Business,並綁定門市店員。往後顧客無法前往門市時,店員可主動傳送推薦商品,或是即時回覆、推薦商品,讓顧客在線上也能結帳完成,同時業績認列門市店員,取得銷售分潤。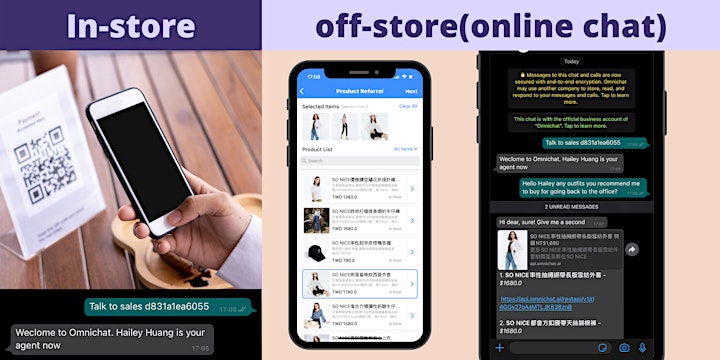 3. Guide online visitors to stores & increase in-store sales
抓住每個網站的訪客,透過 WhatsApp Business 溝通,將線上訪客帶入店裡,體驗專業服務,轉化成為品牌最忠誠的支持者。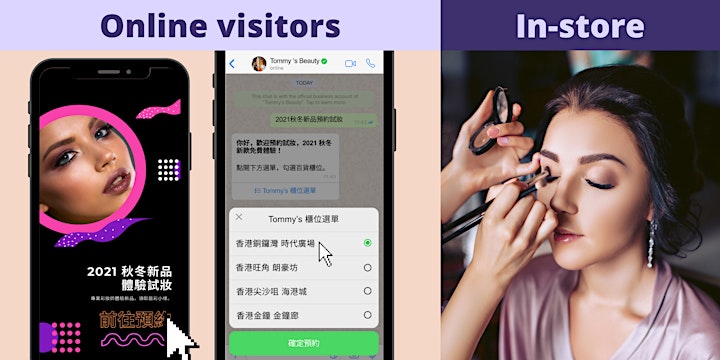 4. Build an efficient WhatsApp CRM for better customer experiences & higher conversion rates
在資料破碎的時代,有什麼比建立自己的 WhatsApp 顧客資料更重要的呢?Segmentation 的建立,掌握 WhatsApp 用戶的喜好,客服或銷售團隊更能了解顧客輪廓,優化消費體驗,顧客終身價值(LTV)自然高。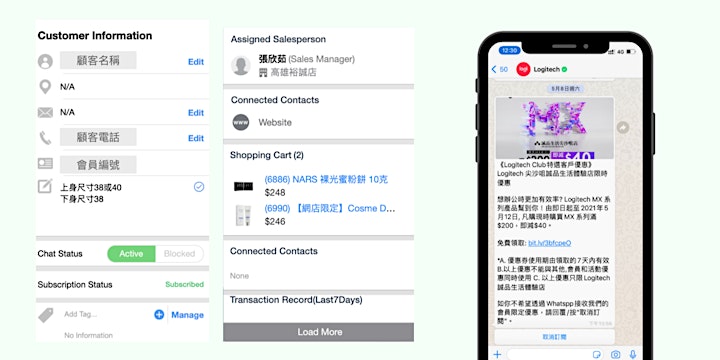 5. Learn about WhatsApp Business ideas & example from Omnichat's successful retail clients
Kidsland 凱知樂(LEGO®認證專門店中港澳運營商)
Logitech(羅技)
Sa Sa International Holdings Limited(莎莎香港)
Speaker
Alan Chan, Founder of Omnichat
Alan is the Founder & CEO of Omnichat, an omni-channel chat commerce platform for retail & e-commerce. He is a serial entrepreneur with over 10 years software technology expertise and e-commerce experience.
About Organizer: Omnichat
Omnichat provide omni-channel chat marketing & CRM solutions including WhatsApp, web chat, Facebook Messenger, Instagram Direct Messages, and LINE.
Organiser of [Webinar] Increase Sales for Retail & E-Commerce by WhatsApp Business API