Join us to find out the latest approach in how we talk about, measure and manage social and environmental impact. Register for free now!
About this event
All businesses have effects on people and the planet, positive or negative, intended or unintended. What insights could be brought to light by the Principles of Social Value and the latest thinking in impact measurement & management (IMM) for businesses to improve their social impact?
...How can businesses improve their social impact on a continuous basis?
...What data can help businesses assess the performance of those effects that are important?
...When data is limited or imperfect, how might businesses manage and improve their impact with authenticity?
In this Insight Hour, we will draw on insights from the Principles of Social Value and bring in an Asian perspective to the discussions of these important questions.
Please join us for a special virtual hour together to unpack these questions.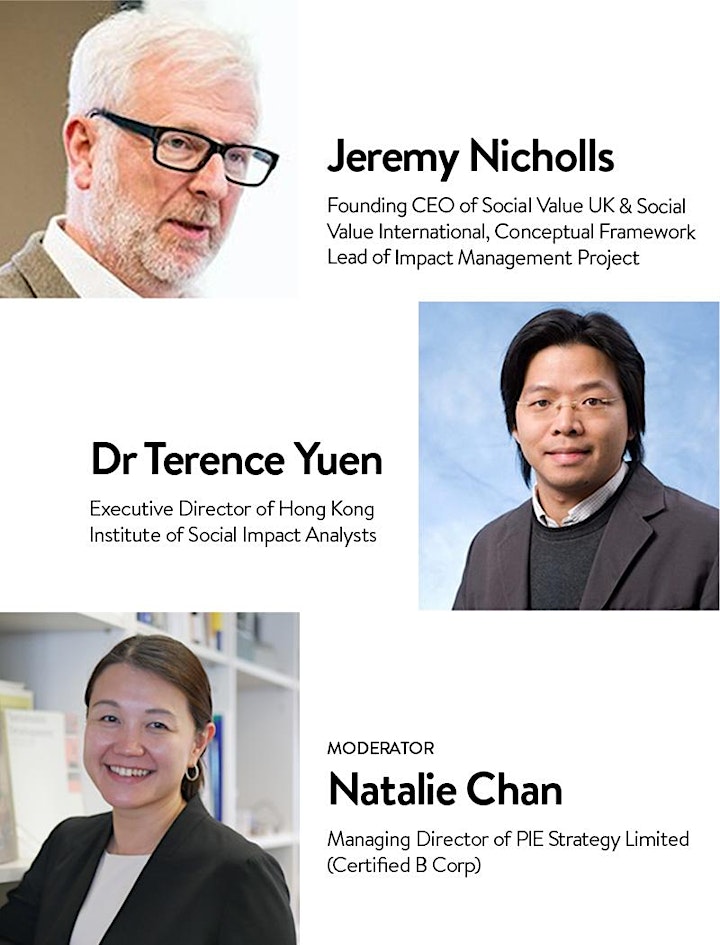 Speakers
Jeremy Nicholls
Founding CEO of Social Value UK and Social Value International, Conceptual Framework Lead of Impact Management Project
Jeremy Nicholls founded the SROI Network in 2007 with the mission to change the way the world accounts for value. As Chief Executive he was instrumental in developing the network across the globe as well as developing numerous innovative training and assurance and accreditation services. In 2015 when the SROI Network joined with the Social Impact Analysts Association to form Social Value International and Social Value UK, Jeremy became Chief Executive of both organisations. Jeremy stepped down as Chief Executive in June 2018 but remains a committed member of the network.
Jeremy is also the Conceptual Framework Lead of Impact Management Project, a forum for over 2,000 organisations to build consensus on how to measure, compare and report impacts on environmental and social issues.
Dr Terence Yuen
Executive Director of Hong Kong Institute of Social Impact Analysts
​Dr Terence Yuen is Executive Director of the Hong Kong Institute of Social Impact Analysts (HKI-SIA), one of the first professional entities in Asia promoting the field of social impact measurement and management. He is also a founding board member of Social Value International, the global network of social value professionals working to change the way our society accounts for value. A certified public accountant and an accredited social value practitioner and SROI trainer, Terence has over two decades of consulting experience in areas including public policy and program evaluation, philanthropy and nonprofit management, and impact investing and social entrepreneurship.
Moderator
Natalie Chan
Managing Director of PIE Strategy Limited
Natalie leads the passionate team at PIE Strategy (a certified B Corporation®) in helping corporations in Asia develop and implement bespoke sustainability strategies and programmes that create shared value for the business and the society. With over 15 years of experience as an intrapreneur setting up and leading the corporate responsibility and sustainability practice at multinational corporations headquartered in Asia, Natalie brings deep knowledge of driving sustainable transformation at corporations for PIE and its clients in Asia.
Natalie is a Fellow of Civic Exchange, one of the top 50 environmental think tanks in the world, and an ESG advisor of the Public Policy Institute of Our Hong Kong Foundation. Natalie serves on the Advisory Board of London-based Ethical Corporation and a number of government and industry advisory committees in the areas of sustainability and social responsibility in Hong Kong, including the Energy Advisory Committee of the HKSAR Government and the Social Enterprise Business Centre Advisory Committee of Hong Kong Council of Social Service. She is a board member of Hong Kong Institute of Social Impact Analysts and B Lab (Hong Kong & Macau).