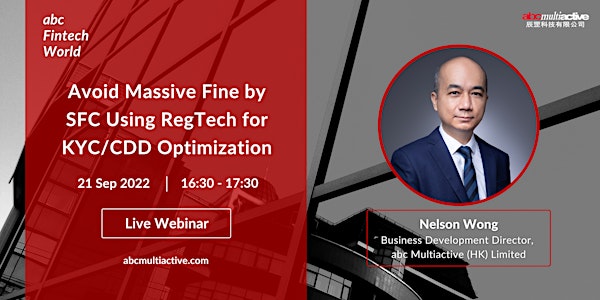 [Webinar] Avoid Massive Fine by SFC Using RegTech for KYC/CDD Optimization
Learn how to optimize KYC/CDD using RegTech to avoid massive fine due to non-compliance with AML guidelines by SFC.
About this event
A type 2 licensed corporation (dealing in futures contracts) is recently fined HK$9 million by the Securities and Futures Commission (SFC) due to KYC & AML/CFT control failure. SFC licensees and registered institutions can often face the compliance challenge if they fail to conduct sufficient client due diligence (CDD). During this webinar the speaker will share insights about how RegTech can digitize and modernize KYC and CDD processes, also highlights cross-boundary KYC verification and the information flow in the GBA.
Review on recent SFC enforcement actions
How to differentiate KYC and CDD
Regular CDD review requirement for type 1,2,4,5,9 SFC licensee
Challenges in cross-boundary KYC & CDD
How RegTech can automate KYC , CDD & AML compliance
Speaker: Mr. Nelson Wong, Business Development Director, abc Multiactive (HK) Ltd
Moderator: Mr. SL Cheung, Chief Financial Officer, abc Multiactive (HK) Ltd
Language: Cantonese 廣東話
Sign up now to join the live webinar and interact with speakers at Q&A session!