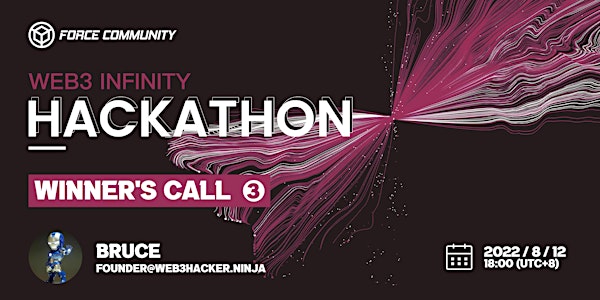 Web3 Infinity Hackathon - Winner's Call 3
Bruce, Founder at Web3Hacker.Ninja, will explain in detail about Hackathon Driven BUIDLs.
About this event
Last month, we celebrated the end of the exciting 6 workshops of Web3 Infinity Hackathon. However, in view of the schedule adjustment of the FIL-Singapore Summit, registration for our Web3 Infinity Hackathon will be open until August 17, so we have planned an additional 6 sessions - VC Talks and Winner's Call for you!
VC Talks is a special program that will feature VCs in the Web3 ecosystem about the way to invest in Web3 and the category of projects that they prefer. It is also based on the fact that we will witness the birth of new crypto stars at the hackathon, and it is crucial for new projects to have funding and resources from investors.
Winner's Call is where we will invite past hackathon winners from the Web3 ecosystem to share about their journey with following participants from Web3 Infinity Hackathon. Let these top players of the hackathon tell us the tips and secrets with their real-world experience!
Hackers, enjoy the journey and have fun!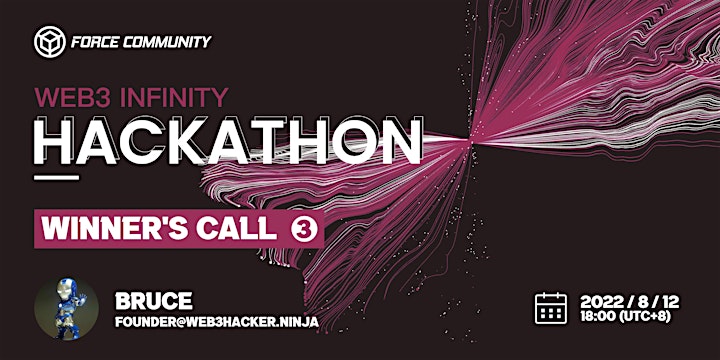 Web3 Infinity Hackathon - Winner's Call 3
Theme: Hackathon Driven BUIDLs (CN)
⌚️Time: August 12th 18:00 CST (UTC+8)
🌟Speaker: Bruce (Founder @Web3Hacker.Ninja)
About Web3Hacker.Ninja
Web3Hacker Ninja is a group of Web3 Hacker who is working solo(with full-stack skills), Building all the good things for humans.
About Web3 Infinity Hackathon
2022 Web3 Infinity Hackathon offers an incredible hackathon journey hosted by Filecoin, Filecoin Foundation, and the Force community.
As a sub-event to FIL-Singapore, Web3 Infinity Hackathon aims to bring together developers, designers, business operators, and entrepreneurs worldwide to experiment and deploy solutions/DApps/tools that catapult the Web3 ecosystem forward.
Follow our Twitter Force Web3 Community or join our dedicated Discord: Force Web3 Community to get the latest updates and helpful resources!