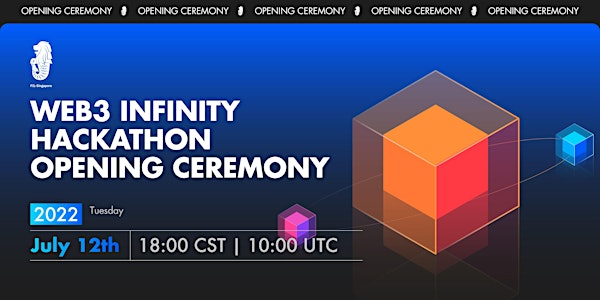 Web3 Infinity Hackathon Opening Ceremony
Welcome to join us for the Web3 Infinity Hackathon opening ceremony which will be held on July 12th
About this event
On July 1, Web3 Infinity Hackathon is officially open for registration!
While it is the perfect time to remain focused and keep on innovations, we are pleasantly surprised by the number of registrations we are receiving from developers across Asia, America, and Europe.
They are either enrolled in the IPFS infrastructure track, contributed to cross-chain construction, or specializing in the highly innovative dApp development.
Web3 Infinity Hackathon is sure to take their breath away with its golden challenging domains and the passion of creators in the world of coding.
Several new master classes are being planned for the upcoming weeks as we wrap up the first two workshop master classes. We are looking forward to more fresh blood joining the open and vibrant Web3 world, turning small ideas into rising stars in the crypto industry!
As the timeline draws nearer, the opening ceremony will be officially kicked off on July 12th, Tuesday night, at 6:00 pm CST(UTC+8).
Following the first bilingual AMA of the Hackathon, the grand online opening will bring together organizers, sponsors, judges' representatives and famous VCs to light it up!
We welcome you all to join in the Force Community livestream at 6:00 PM CST(UTC+8), July 12th. Be there or be square!