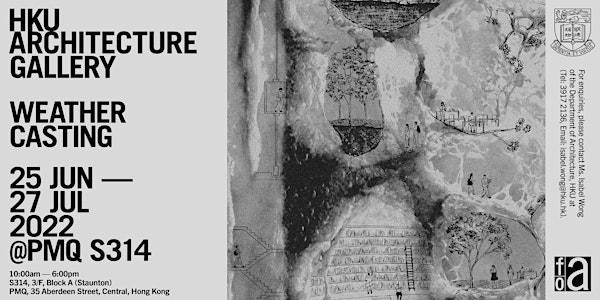 "Weather Casting" Exhibition | HKU Architecture Gallery @ PMQ
HKU Architecture Gallery presents "Weather Casting" Exhibition @PMQ. The exhibition opens daily from 10am to 6pm.
When and where
Location
S314, 3/F, Staunton (Block A), PMQ 35 Aberdeen Street, Central Hong Kong, HKI Hong Kong
About this event
Architecture is obliged to stay intact during its life time, continuously resisting the force of nature and protecting people from extreme weather. However, its strength and integrity are constantly weakened by the weather and this process is irresistible and irreversible. Instead of fighting against this insuperable battle, could architecture submit, embrace and grow with nature? Could the process of weakening be transformed into one that is capable of strengthening, enriching and prolonging the symbiotic relationship between architecture and nature?
From ice formwork disappearing in construction to modular housing decaying in the growth of banyan trees, "Weather Casting" showcases the speculative design experiments conducted in BA(AS) Year 3 Design Studios instructed by Fai Au and coordinated by Thomas Tsang. Through an intensive process of drawing and model making, these experiments contemplate how the vulnerability of architecture and permeability of nature could become the primary design drivers in shaping forms and spaces that interact creatively with the vivaciousness of weather. The weakness, discrepancy and instability of materials discovered during the process are captured and seen as design potential rather than limitation.
Architecture and weather are indivisible entities that inhabit each other. Weather casts architecture, and architecture grows from within.
Curator: Fai Au
Year 3 Studio Coordinator: Thomas Tsang
Exhibit Contribution: HKU BA(AS) Year 3 Students 2019 - 2022
Curatorial Support: Cheung Tsz Kiu Jackie, Cheung Wing See Kyo, Hong Sum Ho Angus, Lai See Long Christopher, Yau Pui Yu
Information of the feature workshops will be announced on our Eventbrite website in due course. For enquiries, please contact Ms. Isabel Wong of the Department of Architecture, HKU at (Tel: 3917 2136, Email: isabel.wong@hku.hk). Please visit the official webpage of the HKU Architecture Gallery for more information.
This exhibition will observe social distancing measures set out by the government. Visitors can walk in but may be required to take turns to enter the gallery.
Department of Architecture, The University of Hong Kong
Website | Facebook | Instagram
--------
我們總期望建築能夠保持完整,不斷對抗自然的力量,保護人類免受極端天氣的影響。然而,建築的強度與穩固度不斷被天氣削弱,這個過程是不可抗拒、不可逆轉的。面對不可戰勝的自然,建築可以臣服、擁抱並與之共存嗎?這個過程能否從弱化轉成強化,進而豐富和延長建築與自然之間的共生關係?
從消失於建造過程的冰模板,到隨着榕樹生長而老去的房子,「天氣鑄造」展覽展示了由港大建築學系三年級生進行的設計構想與實驗。該設計課程由歐暉任教、曾慶豪協調,通過一系列的繪畫與模型制造過程,這些實驗探討建築的脆弱性與自然的滲透力如何成為設計的主驅動力,以營造各種具創意的形式和空間,並與多變的天氣產生互動。在實驗過程中,各種材質的弱點、差異和不穩定性都被視為設計的潛力而非限制。
建築與天氣不可分離,互為棲居;天氣鑄造建築,建築由內而生。
策展人:歐暉
三年級設計課程協調:曾慶豪
策展支援:張紫翹、張穎詩、康心浩、黎斯朗、邱霈榆
展覽將設有專題工作坊,詳情稍後會於香港大學建築展廳Eventbrite網站公佈。如有任何查詢,歡迎聯絡香港大學建築學系黃愷瑩女士(電話:3917 2136,電郵:isabel.wong@hku.hk)。你亦可瀏覽香港大學建築展廳官方網頁,以獲取更多資訊。
此展覽遵守政府規定的社交距離措施。參加者可進內參觀,但或需輪流進入展廳。