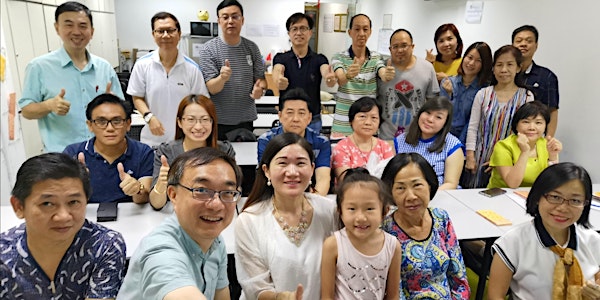 Wealth and Success with the Right Numbers
Everyone is chasing after success, but the smart ones know that numbers can speed up our success. Find out from this high value seminar:
By Asia Coaching Training
Date and time
Mon, 27 Mar 2023 23:13 - Tue, 28 Mar 2023 00:49 PDT
About this event
1 hour 36 minutes

Mobile eTicket
How to Have More Wealth and Success with the Right Numbers
You use your handphone all the time. Each time you receive a WhatsApp message, your phone generates energy. But if your handphone number is negative, it generates negativity and pushes prosperity away. Drawing from 5,000 years of ancient Chinese Yijing and Lao Tzu Dao Dejing wisdom, we can now predict and change our future with mobile numbers: Digital Energetics
Trainer: Andy Ng (Singapore). This is an ENGLISH talk
Free talk for the first 31 respondents (value at $294)
First 9 respondents will also get a free reading of their mobile number from Teacher Li worth $186
What it covers:
What is Yinjng and Yinyang role in numbers

The importance of numbers in our life

Reasons why your mobile number affects you the most

Demonstration on how numbers affect a living thing including You as a human

The first 2 sets of ferocious numbers: End of Life and 5 Ghosts

Leading life numbers

Wealth generating numbers 

How to set the pricing for what you sell

The 3 steps to changing your mobile number

Case studies of people that have changed their mobile number

The ultimate in numbers: change the universe

FREE Reading of your mobile number (only for the first 13 people)
About the organiser
Asia Coaching Training (Singapore)                        www.asiatrainers.com
Founded in 2001, Asia Coaching Training was, from 2001 to 2007, the Singapore Licensee of the world's largest business coaching firm, ActionCOACH, a company with offices in 26 countries since 1993. (ActionCOACH was previously known as Action International).
Asia Coaching Training is a team of dedicated professionals committed to building better business for companies in the areas of business training, coaching and consulting. 
Our Vision: "Building People to Building Business".
Introducing Your Business Coach Andy Ng
Business Coach, Consultant and Trainer, Andy is the founder of

A

sia

C

oaching

T

raining.  Andy Ng combines 31 years of corporate, entrepreneurial business, training and consulting experience, all with a great passion to help people to be more competitive and successful.

Andy Ng graduates from National University of Singapore in 1988 with a 2nd class honours degree in Accountancy US (1988) and also has a MBA from the Heriot-Watt University of UK.

From 1997 to 2001, Andy was the

Director of Finance, HR and Admin

of the world's 5th largest computer networking equipment supplier - Allied Telesyn International.  The Group enjoys US$420 million sales employing 1,300 staff worldwide.  Andy's other experiences include banking at Chase Manhattan Bank, consultancy at KPMG and sales at Vickers Ballas Holdings Limited. 

 As a trainer, trains companies on 3 major topics: sales, management and executive and high performance employee skills.  Andy has trained SingTel and Sing Power for their multiple-run training Finance for Executives programs.  On top of that, he also did countless training assignments for companies including Beckon Dickinson, Hwa Chong Institution, Coldwell Banker, Thomson Learning, SPH, DTZ Debenham, NTUC & Manulife Insurance Singapore.

Since 1996, total people trained by Andy numbered 81,431 in 14 countries.

The public workshops conducted by Andy are highly popular, and some of them were featured on MediaCorp Radio.  Andy is also a Certified Trainer with the American Management Association (AMA) and Advanced Training (UK). He is also ACTA-certified by MOM's Workforce Development Agency (WDA).
In the community, Andy is District Chairman for Leadership at District 308A1 Lions Clubs International and Committee Member of Association of Professional Trainers Singapore.