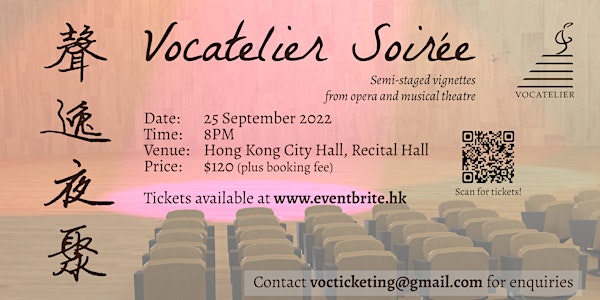 Vocatelier Soirée
Semi-staged vignettes from opera and musical theatre in the debut concert of Vocatelier, the opera talent development group
When and where
Location
8th Floor Recital Hall Hong Kong City Hall Edinburgh Place Hong Kong Hong Kong
Refund Policy
Refunds up to 7 days before event
About this event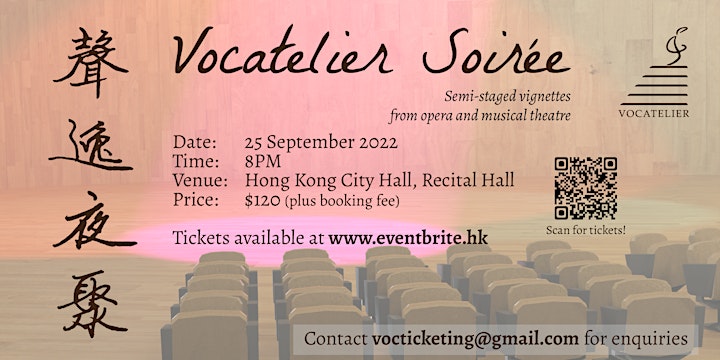 Join the members of Vocatelier for a performance of dramatic vignettes from some of the most famous operas and musicals, and prepare to be entertained by an evening of innovative staging and operatic and musical acting.
Vocatelier, the opera talent development group, was formed in 2019 to nurture operatic talent in Hong Kong and to provide aspiring opera singers in Hong Kong with performance opportunities and specialist training. We focus not just on vocal technique, but also acting and dramatic presentation, working with established stage directors and vocal coaches through peer review gatherings, masterclasses and one on one sessions.
Vocatelier is registered in Hong Kong under the Societies Ordinance as a non-profit society.
Vocatelier Soiree
聲逸夜聚
半舞台式音樂會
日期:2022年9月25日
時間:下午8時
地點:香港大會堂演奏廳
票價:$120 (已包含手續費)
來觀賞一場由Vocatelier聲逸歌劇團呈獻的音樂會!當晚的演出融合了古典歌聲與新穎的戲劇手法,為大家唱出歌劇與音樂劇的選段,帶來不一樣的音樂體驗!
Vocatelier聲逸歌劇團於2019年成立,旨在集合才華洋溢的新進或業餘歌唱者,培訓唱歌及演戲技巧,提供更多表演機會,及提升在台上演出的表現性,培訓形式包括恆常聚會、歌唱導師指導及大師班等。
Vocatelier聲逸歌劇團是根據社團條例註冊的非牟利組織。
Programme will include:
Deh vieni alla finestra (Don Giovanni)
Papagena….Papageno (Die Zauberflöte)
Cat Duet (Rossini)
Regnava nel silenzio (Lucia di Lammermoor)
Chacun le sait (La fille du régiment)
Caro nome (Rigoletto)
Figlia mio padre (Rigoletto)
Credo in un dio crudel (Otello)
Donde lieta (La bohème)
Fly Duet (Orpheus in the Underworld)
Schroeder (You're a Good Man, Charlie Brown)
Kite (You're a Good Man, Charlie Brown)
My new philosophy (You're a Good Man, Charlie Brown)
Can't do it alone (Chicago)
Tango Maureen (Rent)
Popcorn (Little by little)
Cast:
Michael Cheung: Velma/Mark
Maggie Cho: Lucia/Joanne/Gilda
Lenny Fung: Jago/ The Fly/Papageno
Gladys Ho: Marie/Cat/Woman
Christy Leung: Mimi/Cat
Vivian Mak: Gilda/Eurydice/Papagena
Aaron Ng: Charlie Brown/Schroeder
Joanne Shao: Lucy/Sally
Truman Wong: Don Giovanni/Man/Rigoletto
Stage director and advisor: Falin Wong
Collaborative pianist: Emas Au
Concert manager/Totally awesome member of the team: Ian Chong