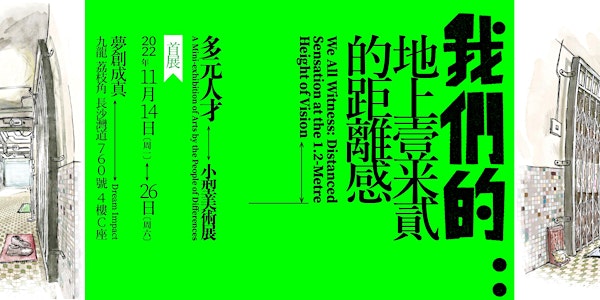 Visual Arts Exhibition | About Hong Kong | by PwDs|我們的:地上壹米貳的距離感—多元人才小型美術展
A mini-exhibition of visual arts created by artists with disabilities is presented by a social enterprise 由一間社企策辦的展能藝術家專屬視覺藝術小型展覽|貳展將在12月舉行
When and where
Location
Dream Impact 夢創成真 760 Cheung Sha Wan Road Unit C, 4/F Lai Chi Kok, KOW Hong Kong
About this event
2022年《我們的:地上壹米貳的距離感》 多元人才 小型美術展
【首展@夢創成真】
"We All Witness: a Distanced Sensation at the 1.2-Metre Height of Vision"
Premiere of a Mini-exhibition of Visual Arts by the People of Differences @ Dream Impact
.
還記得身高 1米2 時的二三事嗎?好像超遙遠吧!
歡迎來臨《我們的:地上壹米貳的距離感》小型美術展,觀賞多元人才用美術紀實了香港的肌理及內涵。在這裡,您將回復自己身高 1米2 時的視覺與記憶。
Remember what happened at the age when you were 1.2 metres tall? Does it seem a distance away?
Welcome to We All Witness, a mini-exhibition of arts by the People of Differences! We are here to enrich your memory of which you are/were 1.2 metres tall.
.
免費入場 Free General Admission
*免費廣東話團體導賞 Free Guide Tour*
.
開放時間 Opening Hours
平日 9:30 am – 9:30 pm weekday
周六 9:30 am – 6:30 pm Saturday
周日閉館 Closing on Sunday
.
更多詳情,請參閱我們的網頁 Visit our official web page at: https://designbypods.hk/2022-mini-exhibition-we-all-witness-at-dream-impact
* * *
策展:無狀無名藝舍
Organiser: Visual Arts Hub MZ+MM
設計:無狀無名設計事務所
Design: Design Studio MZ+MM
.