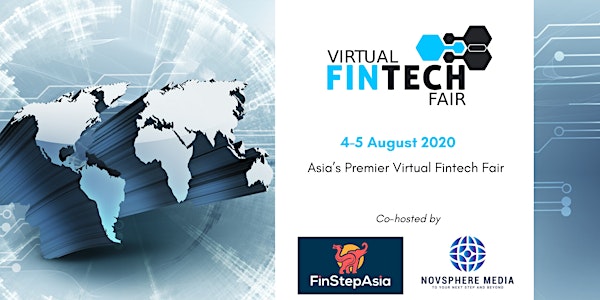 Virtual FinTech Fair
Asia's Premier Virtual Fintech Fair
About this event
FinStep Asia Limited and Novsphere Media Limited are jointly organize Virtual Fintech Fair (VFF) 2020.
With the COVID19 crisis leading to all events globally being suspended, postponed, or cancelled, many companies are looking for an opportunity to showcase their services and products to potential clients internationally. Through a Virtual Fair, the companies will be able to not only showcase their services, but also get an opportunity to consider expanding their business to without having the constraints of travel due to global restrictions.
The Virtual Fintech Fair will be an interactive and exclusively online event showcasing Fintech companies and conference, held through a reputed vendor. The event will be showcasing 100+ Fintech companies from across Asia and hosting 3000+ delegates for thought leadership sessions by top speakers from across the world. Find out more here: https://www.virtualfintechfair.com/
Please kindly note the registration for Virtual FinTech Fair in EventBrite will close on Friday, 31st July 2020. You can still register the event through our official website: https://bit.ly/3hljJq6 till the 3rd of September (one month after the live event).
We are looking forward to welcoming you at the Virtual FinTech Fair (VFF) on August - 4th - 5th. (www.virtualfintechfair.com)
首届亚洲在线金融科技展览会 - Virtual FinTech Fair (VFF)是汇聚亚洲各地金融机构,科技公司,创新者,投资者,行业领袖的线上平台。届时将会有超过50家来自世界各地的参展商线上向3000多为参会嘉宾展示颠覆性的创新技术及其实用案列。 这次峰会也会邀请多位金融科技领域的专家及思想领袖通过两天的线上会议与参会嘉宾分享最新的行业动态、监管科技、数字银行、人工智能、区块链等话题, 也同时探讨机遇与挑战,以及分享经验教训。参会者可通过实时线上互动工具与行业专家或机构建立联系并与之互动。了解详情: https://www.virtualfintechfair.com/cn/
请注意,EventBrite中的虚拟金融技术展览会注册将于2020年7月31日(星期五)截止。
您仍然可以通过我们的官方网站进行注册:https://bit.ly/3hljJq6,直到9月3日(即 现场直播的一个月后)。
我们期待着在8月4日至5日举行的虚拟金融技术展览会(VFF)上迎接您的到来。 (www.virtualfintechfair.com)