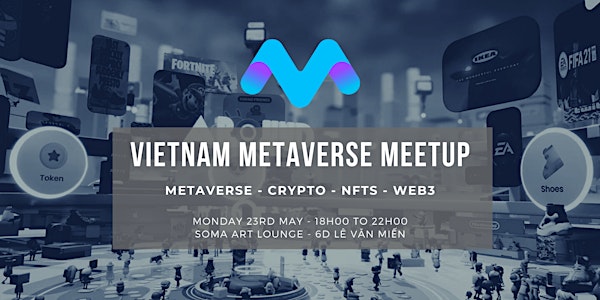 Location
Union Jack's Fish and Chips
10 Nguyễn Bá Lân
Thảo Điền, Quận 2
Ho Chi Minh, Thành phố Hồ Chí Minh 700000
Viet Nam
Let's discuss the Metaverse, Blockchain, NFTs, Web3 and more``!
About this event
Experience the Metaverse & learn how to create your own with MetaMind Academy.
Learn about Web3 from other traders & investors.
Casual meetup to discuss NFTs, digital assets, and the blockchain.
Join our growing community of blockchain builders, developers, traders, investors, and cryptocurrency folks in Ho Chi Minh City.
Mint and claim your own proof-of-attendance NFT for free during the meetup!
**Attendees should buy a drink at the bar
Cảm nhận Metaverse và học cách tự tạo metaverse với MetaMind Academy.
Học về Web3 qua cộng động những người đầu tư lâu năm ở Vietnam.
Sự kiện meetup hàng tháng để học hỏi và trao đổi về NFTs, digital assets và công nghệ Blockchain.
Gia nhập cộng đồng blockchain lập trình, xây dựng, đầu tư và sử dụng cryptocurrency ở HCM.
Mint và nhận NFTs miễn phí được tạo đặc biệt cho sự kiện này.
**Nước uống được mua riêng tại quầy Bar của venue sự kiện.
Join our TELEGRAM group: https://t.me/+YZBIiq_Eyms3MThl
Join our DISCORD group: https://discord.gg/rNTV59E5