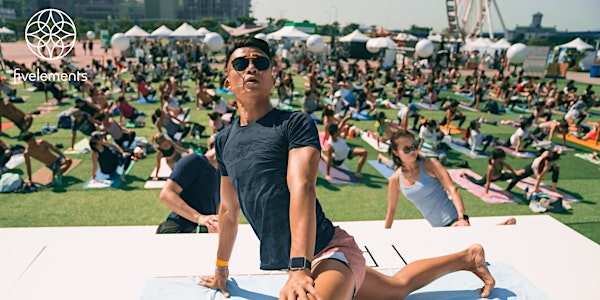 Victor Chau Mentorship Workshop 1.0 / 17th, 18th, 25th Jul. 2021
Mentorship Workshop 1.0 with Victor Chau -- 17th, 18th, 25th Jul. 2021
When and where
Location
Fivelements Habitats Level 13A, Tower 1, Times square 1 Matheson Street Hong Kong Kong, HKI Hong Kong
Refund Policy
Contact the organiser to request a refund.
About this event
The Mentorship Workshop 1.0 (30 hours)
More than just a post-yoga TTC, The Mentorship Workshop 1.0 is a specially designed course that will enhance your yoga teaching career on many levels and help you become the teacher you aspire to be.
In this training, international yoga teacher and IRIS: Your Escape Programme Director Victor Chau will elevate your teaching, build up your confidence as a wellness professional and inspire you to explore your greatest potentials as a yoga teacher. You will learn more about the business of yoga so you can stand out in the post Covid-19 world, and be connected with many like-minded professionals.
You will leave the workshop feeling more connected, inspired and encouraged to try new ways of thinking and teaching. You will also learn practical skills on how to make more money and manage your time and finances better.
Over 10 graduates of Mentorship Workshop 1.0 are now Lululemon ambassadors and Nike trainers, and dozens have presented at IRIS: Your Escape. Many more are now teaching at major yoga studios and gyms in Hong Kong. Graduates are also invited to assist Victor in major yoga festivals, workshops and trainings in Hong Kong and beyond.
With its 6th year of running and over 140 graduates, Mentorship Workshop 1.0 has also been redesigned and upgraded to meet the demands of the post Covid-19 world. There will now be two days dedicated to learning, yoga teaching and feedback and one day to fully exploring the business side of yoga and the wellness industry.
For full course details, please visit: https://www.victorchauyoga.com/mentorshipworkshop
Who is it for?
• Have completed a yoga teacher training programme
• With 0 - 4 years of teaching experience
• Want to gain new light in their existing yoga teaching
• Those who are eager to hear honest feedback on their teaching
• Experienced yoga students who want to teach
• Commercial yoga teaching is not a must, but some yoga teaching experience is recommended
• You may also join the workshop if you are about to enter a teacher training course
Schedule:
Jul 17 | Day 1 | 9am-1pm, 2:15-6:15pm (8 hours)
• Led vinyasa yoga practice
• Effective communications
• Identifying your strengths and weaknesses
• Setting an intention in your classes
• Assisting Clinic 1 (Standing asanas, Arm Balances)
• Small group teaching and feedback
Jul 18 | Day 2 | 9am-1pm, 2:15-6:15pm (8 hours)
• Led vinyasa yoga practice
• Assisting Clinic 2 (Inversions, Backbends)
• Large group teaching and feedback
• Art of Sequencing
• Teaching online
Jul 25 | Day 3 | 9am-1pm, 2:15-6:15pm (8 hours)
• Led vinyasa yoga practice
• The Business of Yoga
• Brand Image and Identity - how to stand out from the crowd
• Setting up a company
• Promotion
• Collaborating with brands
• Social media
(Day 3-only option is open exclusively to Mentorship Workshop alumni as a business refresher course.)
This workshop consists of 24 contact hours, and 6 hours for home assignment and study - a total of 30 hours accredited by Yoga Alliance.
Investment:
** Early Bird discounted prices to be paid in full by 2nd July 2021 **
Mentorship Workshop graduate referrals: HKD3,900 (20% off)
Friends of Fivelements: HKD3,900 (20% off)
Guests: HKD4,385 (10% off)
Regular Price:
Friends of Fivelements: HKD4385 (10% off)
Guests: HKD4875
Day 3-only (for Alumni):
Previous Mentorship Workshop Graduates price: HKD1,400
Add on + 3-Course Plant-Based Lunch at Fivelements Sakti Dinning
3 Course Set Lunch Menu: (HK$250)
*For serious allergies, please inform Fivelements wellness concierge as soon as possible, and at least 72 hours in advance. Kindly note that we will not be able to accommodate your allergy requirements without sufficient notice. Thank you for your consideration.
** Early-Bird Savings ends Friday 25th June 2021.
Payments are not refundable nor transferable for other credits.
**Please see other payment options below if you would like to waive the 6% EventBrite fee per ticket.
Other Payment Options
Direct payment to Fivelements Habitat through Bank Transfer or Payme available upon request. Add-on set lunch meal requires 3-day advance booking. Please contact Fivelements Wellness Concierge for more details:
Fivelements Habitat
Level 13A, Tower One, Times Square, 1 Matheson Street, Causeway Bay, Hong Kong.
Website: fivelements.com
Instagram: @fivelementshabitats
Enquiries: Wellness Concierge +852 3106 2112 / wellnessts@fivelements.com