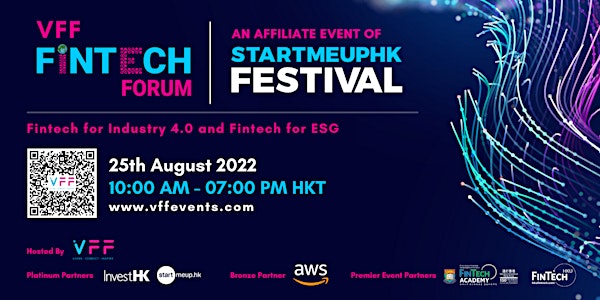 VFF FinTech Forum 2022
VFF FinTech Forum 2022 is the Third Edition of our Flagship event.
About this event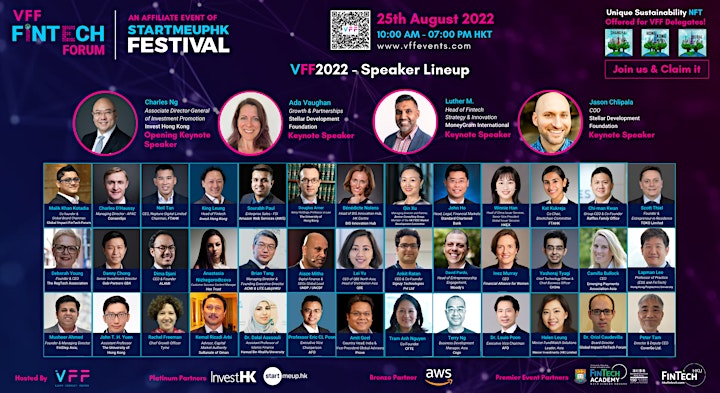 VFF FinTech Forum 2022 is the Third Edition of our Flagship event. This will be a one-day virtual Fintech conference that will bring together Thought Leaders, Fintech Experts, Financial Services CXOs and Fintech Startups to provide insights and discuss the core themes of Fintech for Industry 4.0 and WealthConnect and Fintech & ESG.
VFF FinTech Forum 2022 is an affiliated event of the StartmeupHK Festival 2022. StartmeupHK is aninitiative by InvestHK aimed at helping founders of innovative and scalable startups from overseas to set upor expand in Hong Kong.
For more information: https://vffevents.com/vff-fintech-forum
Agenda:
Session 1: Fintech For Industry 4.0 and GBA Fintech
Keynote by Global Industry Leader
Private Wealth And Family Offices in GBA: Opportunities arising from WealthTech and WealthConnect
What Models are VCs and Investors Exploring to Fund Firms Seed Stage to IPO
Start-up Showcase
Future Of Payments: CBDCs, Stablecoins And Crypto Adoption For Retail Payments
Leveraging InsurTech for Insurance Connect for GBA
Session 2: Fintech For ESG & Sustainability
Keynote by Global Industry Leader
Talent 4.0: Key Enablers For The Future Of Fintech Talent In Asia
Women & Fintech: Path to Creating Fintech Unicorns Catering to Women
Key Enablers for Digital Assets Industry to Building a Greener Ecosystem
Start-up Showcase
Role of RegTech and Digital Identity in Financial Services in APAC and beyond
How FinTech is Revolutionizing Islamic Finance and Banking Models
Sustainable Finance: How is Fintech enabling Green Finance?