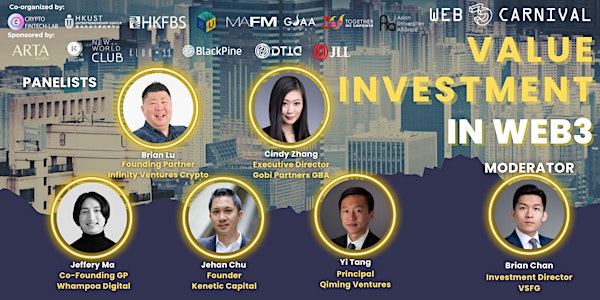 Venture Capital in Web3|IVC, Gobi Partners, Huobi,
Top Web3 VC investors to share how they make investments in next-gen ventures and also to give advice on how to build a successful one
About this event
The panel features:
Brian Chan (VSFG, Investment Director) [moderator]:
Brian Lu (Infinity Ventures Crypto, Founding Partner),
Cindy Zhang (Gobi Partners GBA, Executive Director),
Jehan Chu (Kenetic Capital, Founder),
Jeffrey Ma (Whampoa Digital, Co-Founding Partner and Co-CIO),
Yi Tang (Qiming Ventures, Principal)
Venture Investments in Web3?
Can you tell us more about your daily role?
What kind of projects is exciting to you? And what are your key investment selection criteria?
How do you tell whether a project is going to be successful?
Given there is so much information in the market, how do you absorb all these new developments and how do you make sense of them against all the noise?
Post-investment, what kind of support do you provide to the startups?
What kind of project is currently lacking in the Web3 market?
As an investor, what is your biggest lesson learned?
For people outside of the industry, what advice would you give if they want to become an investor one day?
Zoom link
https://hkust.zoom.us/j/91821662195?pwd=RDRMWUczcUY4TVJkUkNOVFppWjdCUT09
Meeting ID: 918 2166 2195
Passcode: 026663
Sponsored by:
ARTA TechFin (https://www.artatechfin.com/)
New World Klub 11 (https://klub-11.com/)
BlackPine (https://bppe.com/)
DTTD (https://www.dttd.io/)
JLL (https://www.jll.com.hk/)
Join our community to learn about the event and the latest updates!
LinkedIn: https://www.linkedin.com/company/hkust-web-3-0-labs/
Co-host:
HKUST Entrepreneurship Centre (https://ec.hkust.edu.hk/)
HKUST Crypto-FinTech Lab (http://cryptofintechlabhk.net/)
HKUST Web 3.0 Lab
HKUST DareDevil Lab
Hong Kong Federation of Business Students (HKFBS)
HKUST Graduate Students and Alumni Association (GSAA)
0xU Blockchain Club
Asian Universities Alliance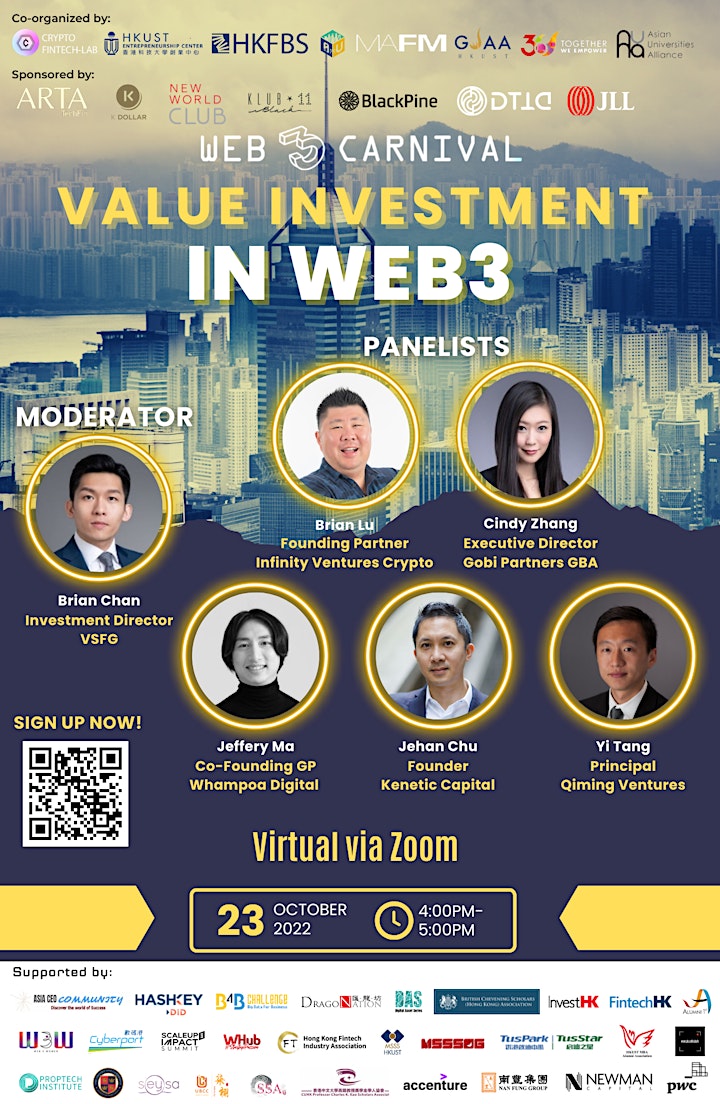 Carnival Rundown:
Week 1: Carnival kickoff & Web3 landscape
Week 2: How are corporations tapping into Web3?
Week 3: Opportunities lie in web3, metaverse & NFT
Week 4: What is NFT?
Week 5: Into the Metaverse
Week 6: Venture Capital in Web3
Week 6.5: Women in Web3
Week 7: Sustainability and Impact in Web3
Week 7.5: How to get a job in Web3?
Week 8: Cryptocurrencies, Tokens, Coins, and the Latest Global Trends
Week 8.5: Decentralization 101
Week 9: Risks & Opportunities in Web3
Week 10: The World in 2030 & Carnival Closing
Award:
By participating in more than 3 of the panels, you will receive an exclusive NFT!
NFT Previews: