About this Event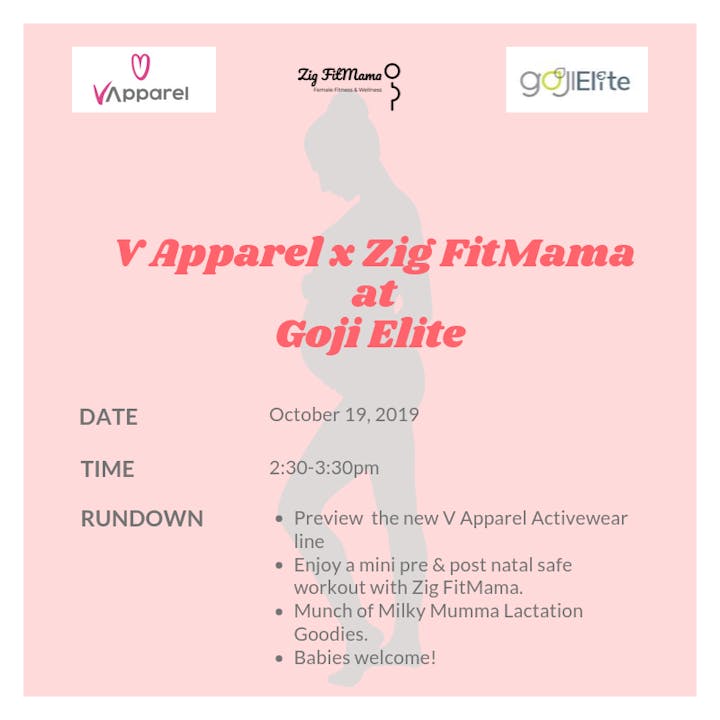 About the event:
Open to Pregnant Mothers at any stage of their journey, and Postnatal Mothers min. 6 weeks postpartum. Workout will include functional progressions to reengage with core, pelvic floor, hip connection and recommendations for abdominal separation.
All participants will receive a special discount from our partners, including:
10% OFF V Apparel on-the-day-purchase
10% OFF Milky Mumma Online Purchase
Takeaway Samples of select Milky Mumma Lactation Support Products
2:30pm - Registration
2:45pm - Mini Workout & V Apparel Preview
3:15pm - Closing Words, Snacks, Shopping
About our partners:
V Apparel Official
https://vapparelonline.com | @vapparelofficial
Being an active mum of two monkeys, founder Valentina, found herself living in activewear every day. Exercising and chasing after her children, meeting friends for a quick lunch or coffee or even lounging around in them.
At V Apparel, we believe every woman's body shape is unique and beautiful. Every woman deserves to feel her best and be encouraged, supported and inspired by other women. More love and less criticism please! We are body-positive activist encouraging women to love their body and be real with expectations. Hence, we use real models to show off our fabulous pieces and refuse to airbrush because you are naturally beautiful!
-----------------
Zig FitMama
https://zigfitmama.com | @zig.fitmama
Ziggy is an experienced Personal Trainer and Group Fitness Instructor with a demonstrated history of working in the Health & Wellness, and Fitness Industry in the UK and Hong Kong.
Prior to her first pregnancy in 2016, her focus was mainly on body transformations, but after the birth of her son in 2016, Ziggy's passion turned towards Women's Wellness and Pre- and Post-Natal Fitness, and became a Certified Pre and Post Natal Coach in 2018.
-----------------
Milky Mumma
https://zigfitmama.com/milkymummahk | @milkymumma.zighk
Milky Mumma Nutrition was founded by Gabriella Ambrose, Australian mother and doula, who wanted to provide mothers with delicious, fuss-free products for each transition into motherhood.
These include Lactation Support Products for Breastfeeding and the Goddess Health Range to help nutritionally support a woman at any stage in her journey. Every product is made from raw whole foods, free from refined sugars.The Lactation Support Products include Bliss Balls, Brownies and Smoothies, that are packed full of galactagogues such as brewer's yeast, flaxseed meal and sunflower lecithin. Tasty and simple to put together, they make the perfect snack or drink, safe to consume during pregnancy and can help with colostrum production in your third trimester.