About this event
Saturday, June 19, 2021
Join us for this amazing summer get-together for American and Canadian Expats and Returnees at the 47th floor of Hyatt Regency Shanghai Global Harbor - Sky Bar & Restaurant!
6月19日周六晚,我们诚挚邀请您参加
在上海环球港凯悦酒店47层的奢华空中酒廊
盛大举行的北美海归&美加人士专场酒会
购票链接 Ticket Link: https://yoopay.cn/event/85221313
In this high-end and elegant environment, the evening will be the perfect occasion to meet and socialize with hundreds of returnees from our thriving U.S. and Canadian alumni communities.
在高端优雅的环境中
结交相似背景的伙伴挚友
交流过往的海外留学生活
共同期待在魔都开启崭新的篇章!
Come make some new friends with similar backgrounds and join in discussions about which country has better food, better sports teams, and better cities! A wonderful evening and more surprises to be expected!
您将与百位来自美国和加拿大的
海归精英及外籍人士举杯相聚
尊享高品质社交酒会
一起度过美妙的夜晚!
The event will be hosted exclusively in the venue, from where you can overlook the iconic Shanghai skyline, and experience the dynamic atmosphere!
活动将包场整个室内及室外区域
尊享360度超大露台和落地窗
纵览魔都傲人天际线
感受超高空无敌城景view
200-300 Guests are expected to join us for the special night! We will have engaging icebreakers, lucky draws, and awesome gifts! We look forward to your attendance.
每年的海归之夜,都会有2-300位朋友汇聚
活动中会有好玩的社交游戏,让你尽快融入
互动奖品多多,等你来赢
我们期待您的莅临!
Attendees 参与人群
US/Canada Returnees, Expats, Professionals who worked/lived in the US/Canada before or from American/Canadian Companies, American/Canadian Chinese, etc.
美国/加拿大海归,美加外籍人士,在美加工作或生活过、或在美加企业工作的人群和华人华侨等
WHE
6月19日,周六
晚上7点半至零点
19:30 - midnight
Saturday, June 19, 2021
WHERE
上海环球港凯悦酒店47层天际餐吧
上海市普陀区宁夏路718号
Sky Bar & Restaurant
Hyatt Regency Shanghai Global Harbor
47F, 718 Ning Xia Road, Putuo District, Shanghai
01
We will gather 200+ returnees, top universities alumni, MBA, overseas Chinese and expats in a relaxed environment, and it will be a great opportunity to extend your network and mingle with other elite professionals in town!
本次活动将汇聚200多位魔都高质量人群
包括海归、MBA及名校校友、海外华侨、外籍人士等
这是一场专属于海归名校精英社群的社交之夜!
Guests that attended our previous events are from:
往期北美海归活动参与嘉宾来自学校为:
哥伦比亚大学,麻省理工大学,约翰·霍普金斯大学,杜克大学,布朗大学,加州大学洛杉矶分校,宾夕法尼亚大学,沃顿商学院,纽约大学,芝加哥大学,弗吉尼亚大学,伊利诺伊大学香槟分校,多伦多大学,英属哥伦比亚大学,麦吉尔大学,滑铁卢大学,卡尔顿大学等等
Columbia University, MIT, Johns Hopkins University, Duke University, Brown University, UCLA, University of Pennsylvania, Wharton School, New York University, University of Chicago, University of Virginia, UIUC, University of Toronto, University of British Columbia, McGill University, University of Waterloo, Carleton University. etc.
(以上排名不分先后)
02
Fun & engaging icebreakers
which makes it easy to mingle
有趣的破冰游戏,让你迅速熟悉在场的朋友
Lucky Draw & Gifts
参与抽奖,赢取精美奖品
Name tags will be provided
我们将提供姓名标签
03
Skyline View
高空顶级城景
You will enjoy the stunning view from the top of Shanghai and mingle on this gorgeous rooftop in a relaxed setting, and experience a dynamic night with us!
场地拥有360度高空视野
无论是室内落地玻璃窗,还是户外景观露台
魔都天际线美景均一览无余
在灵动的氛围中,感受独特的派对体验
Dress Code
Smart & Elegant
优雅大方
RSVP Options: Includes 1 complimentary drink
and participation in games and lucky draw
报名选项:以下门票费用均包括1杯酒或饮料
及参加互动游戏和抽奖
Early Bird Ticket
早鸟票
Single Ticket 单人票
RMB 118 /person
每位118元
*Early Bird ends at 11 pm, Jun.11
*早鸟票截止时间:6月11日周五晚11点
Presale Ticket
预售阶段
Double Ticket 双人票
RMB 128 /person
每位128元
(Sign up with 2 people 两位报名)
Single Ticket 单人票
RMB 138 /person
每位138元
*Presale ends at 7:30 pm, Jun.19
*预售票截止时间:6月19日周六晚7点半
At-Door Ticket
现场票
Single Ticket 单人票
RMB 160 /person
每位160元
购票链接 Ticket Link: https://yoopay.cn/event/85221313
Entrance Fee includes One Drink
(Red Wine, White Wine, Beer, Soft Drinks)
票价包含一杯酒水
(可选红、白葡萄酒、啤酒和软饮)
Event special discount
Happy Hour all night for extra drink
Start from 50 RMB
更可享受额外酒水消费整晚欢乐时光
当晚专属,每杯酒水50元起
Please add WeChat if you have any further questions or want to follow more upcoming events
如有任何疑问或预知更多活动和详情
请添加以下微信
ID: shfun_official
Tickets are not refundable, while you can use for one of the future events
门票不可退还,提前告知可以在下次活动中使用
如未提前告知,则门票自动过期作废
WeChat Official Account
微信公众号:ShanghaiFUN上海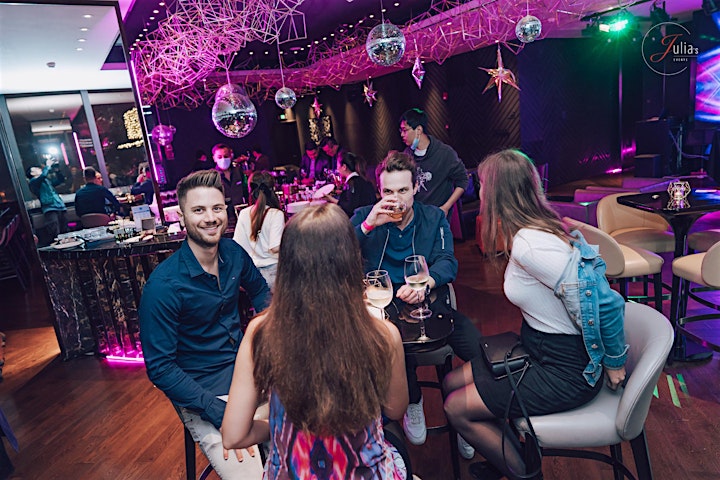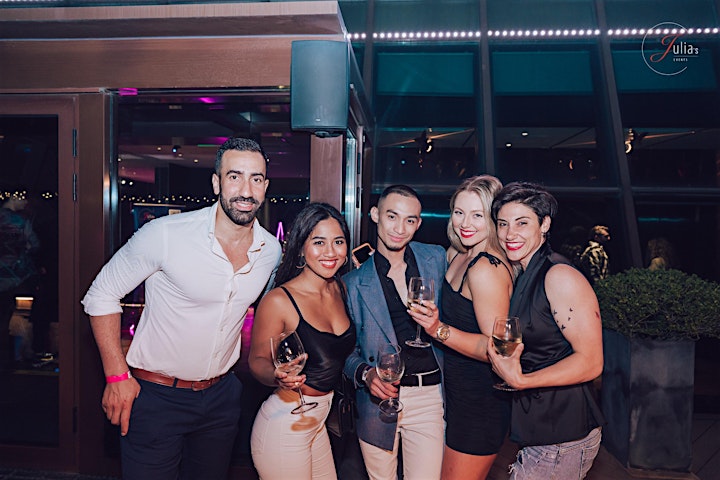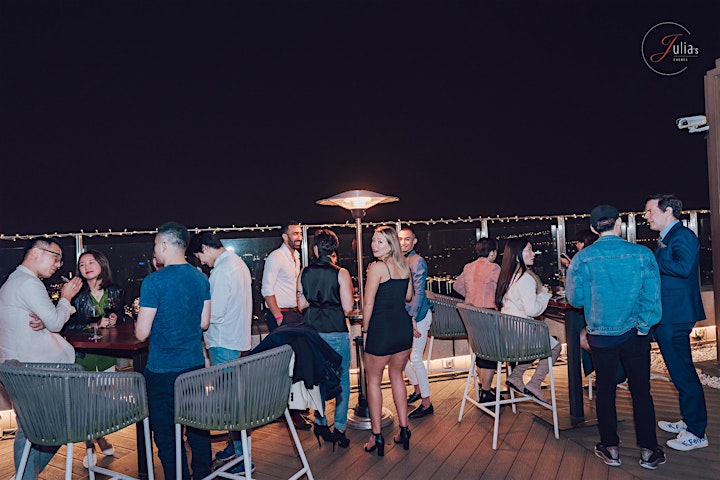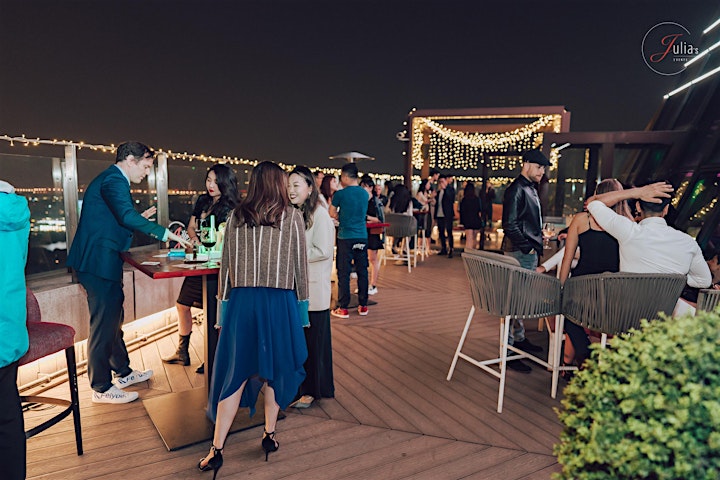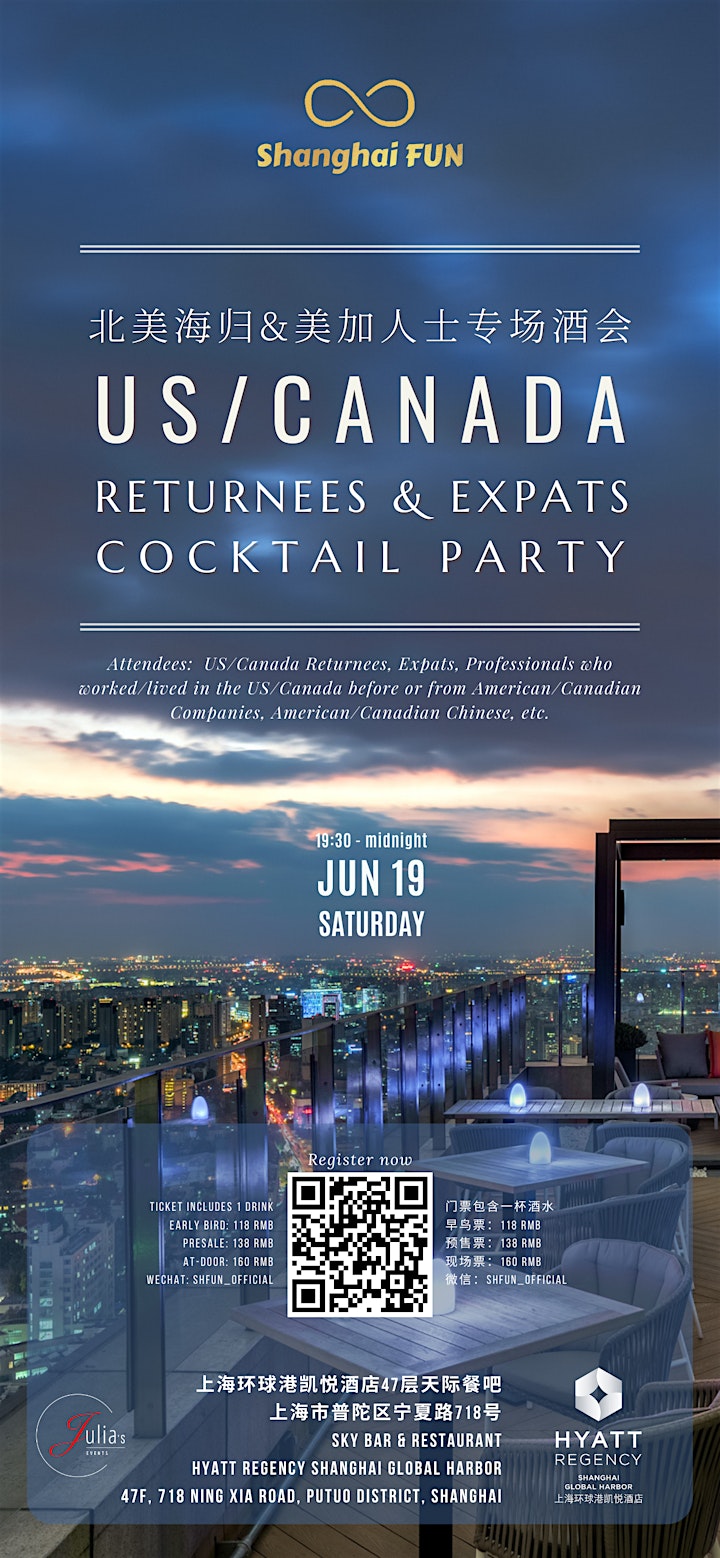 Organizer of US/Canada Returnees & Expats Cocktail Party 北美海归&美加人士专场酒会
About Shanghai FUN
We organise parties, networking events, brunch/dinner meetup and after work drink events in Shanghai. 
Join us to make new friends, expand your social circle and take part in fun events! 
Our events attract an international crowd of professionals looking to socialise, network and meet like-minded people.
Invite your friends to follow us and spread the word!
活动组织方
Shanghai FUN立足魔都,每周不定期的组织派对及类型多样的社交活动,参与人群为外国人、海归,及具有国际背景的人士,所选活动场地均为城中品质潮流场所。