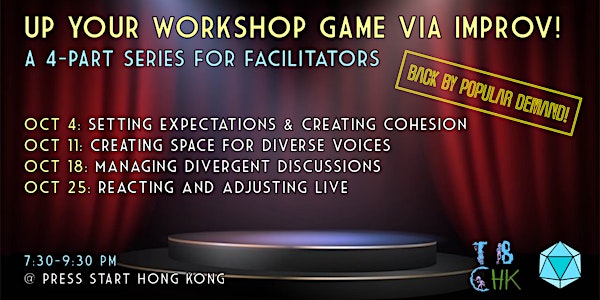 Up Your Workshop Game via Improv! (October 2021)
Up your workshop game through improv! Join us on a 4-part series with TBCHK on facilitation, inclusion and engaging participants.
When and where
Location
Press Start Hong Kong Suite 506, Car Po Commercial Building, 18-20 Lyndhurst Terrace, Central Hong Kong, HKI Hong Kong
Refund Policy
Contact the organiser to request a refund.
About this event
September's workshop sold out in record time, so at your request we're doing another run! Thank you for your interest and support, and we'll see you soon!
Up Your Workshop Game via Improv! is a 4-part workshop series, designed in collaboration with To Be Continued... HK, to share and discuss tips and tricks on workshop facilitation and design by learning from the world of improvisational comedy.
This workshop is perfect for:
Facilitators and trainers
Moderators
Teachers and professors
Leaders and managers
Learning and development specialists
People who stand in front of groups and need to engage people
Anyone looking to have 4 weeks of fun and connection on Monday nights!
You do not need improv experience to join this workshop series, but you do need to love having fun and creating awesome outcomes in your workshops!
Session 1: Setting Expectations and Creating Cohesion (October 4)
Openings, welcomes, icebreakers, and setting and meeting expectations...
We'll be kicking off the program by focusing on clear messaging and discussing simple keys for approaching the start of a workshop or group engagement, to create clarity and a foundational understanding that everyone in the room can leverage.
Session 2: Creating Space for Diverse Voices (October 11)
Gender, minority, extra/introversion, differing needs...
It's 2021 - we need to be aware, thinking about and talking about diversity. In Session 2, we'll look at how you can invite and welcome diversity from and among your participants, then how to engage people from all walks of life to maximum effect.
Session 3: Managing Divergent Discussions (October 18)
Sometimes, a group benefits from going off-course; other times, a divergent discussion is distracting.
We'll be exploring how and when to encourage rabbit holes, and how to redirect our groups and participants when needed. As the saying goes, all roads lead to Rome - all roads should lead back to the overall goal: the best outcome for all participants.
Session 4: Reacting and Adjusting Live (October 25)
Questions, pushbacks, disagreements... resolution.
Let's face it, things will go awry in our workshops. As our final session, we'll look at what we can do when that happens. How do we find agility and ensure quality, while shifting focus and adjusting content to meet our workshops' needs?
Workshop Logistics
Date: October 4, 11, 18, 25 (Mondays)
Time: 7:30-9:30 pm
Venue: Press Start Hong Kong, Suite 506, Car Po Commercial Building, 18-20 Lyndhurst Terrace, Central
Program fee: HKD1,000 for 4 sessions (average HKD250/session)
Please note that this is a 4-part series. Attendance in Session 1 is required for Session 2, and attendance in Sessions 1 and 2 is required for Session 3.
PLEASE READ: Health & Safety Measures
1. We are capping attendance at 15 pax and will only accept attendees who have purchased a ticket via Eventbrite.
2. We will take your body temperature upon arrival and request you to fill out an online health declaration form. We reserve the right to decline your attendance if your temperature is above 37.6°C or if you do not fill out the form.
3. Please wear a mask during the event and do not attend if you are showing signs of illness. We will provide hand sanitizer on site, and will endeavor to observe social distancing guidelines in all activities.
4. This course is dependent on being able to meet in person. Should the pandemic situation deteriorate, we will keep all our participants updated with any changes. We will endeavor to reschedule the workshop to a later date if possible, and are happy to refund course fees on a pro-rata basis (i.e. depending on how many sessions have been run).
Your Instructor
Lauren Berning is the Founder of To Be Continued... in Edinburgh, as well as its Hong Kong branch. She is an improviser of 20+ years, who performs, teaches and shares the collaborative values of the art with any and all.
She is a lover of teamwork as well as games, and will use this fun 3-part series to swiftly bring you into her improv world so you can then take it away into yours.
About To Be Continued... HK
"To Be Continued... HK ", the sister branch to their UK location, is an improvisational comedy theatre company performing and teaching both short and long-form improv styles, and offering improv-led corporate training. TBC HK is founded on 3 core principles, used throughout all their work:
1. "Yes, and…"
2. Make each other look good
3. There is no failure!
They perform, teach and spread the good word of the noble art of spontaneous improvised comedic performance throughout Hong Kong.
https://tbcimprov.hk/
About Press Start Hong Kong
Press Start Hong Kong is a first-of-its-kind games consultancy on a mission to change the world through play and games, and to unlock the full potential of games as a platform for learning, innovation and inspiration.
Aside from our day-to-day consultancy work and education projects through Press Start Academy, we also curate and host open community events such as our signature Board Game Socials, game and trivia nights, and our Let's TTRPG! series. Over the years we've been lucky to build a thriving community around games. We look forward to having you join us!