「嘯傲之相:酷兒之影像習作」是「見證、記憶、行動、認同— 給香港彩虹族群之影像工作坊」的成果展。工作坊由居於紐約的攝影師、錄像藝術家及教育家謝嘉敏帶領,在2019至2020年期間進行,旨在連結有志於影像創作的香港LGBTQ+朋友,和引導他們發展自己的實踐。
About this event
「酷兒就是那讓我們感受到這世界還不足夠、確有所缺的東西。」——荷西・埃斯特班・慕諾茲《巡遊烏托邦》
"Queerness is that thing that lets us feel that this world is not enough, that indeed something is missing."
– José Esteban Muñoz, Cruising Utopia
「嘯傲之相:酷兒之影像習作」是「見證、記憶、行動、認同— 給香港彩虹族群之影像工作坊」的成果展。工作坊由居於紐約的攝影師、錄像藝術家及教育家謝嘉敏帶領,在2019至2020年期間進行,旨在連結有志於影像創作的LGBTQ+朋友引導他們發展個人藝術實踐,同時為不同的性別身分認同創作者開拓表達空間。面對由2019年開始香港的眾多嚴酷挑戰,謝嘉敏認為更需要帶出酷兒感受性(queer sensibility)之重要,由此倡議藉酷兒美學實踐作為啟發思考與抵抗之工具。
酷兒的未來有可能嗎?我們如何協商共享意義,如何質疑、挑動?此時在香港以 LGBTQ+ 藝術家自居意味著什麼?
九位影像創作者陳詠琪、馮明心、WY KWAN、鄺念終、Green MOK、鄧澤旻、曾雪兒、王穎兒和嚴穎嘉,透過多種美學策略表現的不同議題和想法:由回應香港政治的狀況、指向LGBTQ+群體的特定議題如同性婚姻、符號學、男同性戀者的野戰情慾和性別認知,到呈現酷兒烏托邦的想像。
Set out to bring together LGBTQ+ image makers and facilitate the development of their practices, and to carve space for expressions of the LGBTQ+ community, the exhibition is an outcome of Photography as Witness, Memory, Activism, and Recognition photography workshop led by New York based photographer, video artist, and educator TSE Ka-Man from 2019 to 2020 for nine emerging LGBTQ+ image makers in Hong Kong. Amidst the ongoing challenges in Hong Kong since 2019, Tse stresses the importance of a queer sensibility, of using queer aesthetic practices as a tool to reframe our thinking and to resist erasure.
Is queer futurity possible? How do we negotiate shared meanings; how do we question and unsettle? What does it mean to work as an LGBTQ+ artist at this time in Hong Kong?
The exhibition presents a wide range of concerns through various aesthetic strategies from the nine image makers Rain CHAN Wing Ki, FUNG Ming Sum, WY KWAN, N KWONG, Green MOK, Nelson TANG Chak Man, Mac TSANG, Wiency WONG and Monique YIM – ranging from responses to political situation in Hong Kong, responses to specific LGBTQ+ issues such as same-sex marriage, semiotics, gay cruising, and perceptions of gender, to a portrayal of a queer utopia.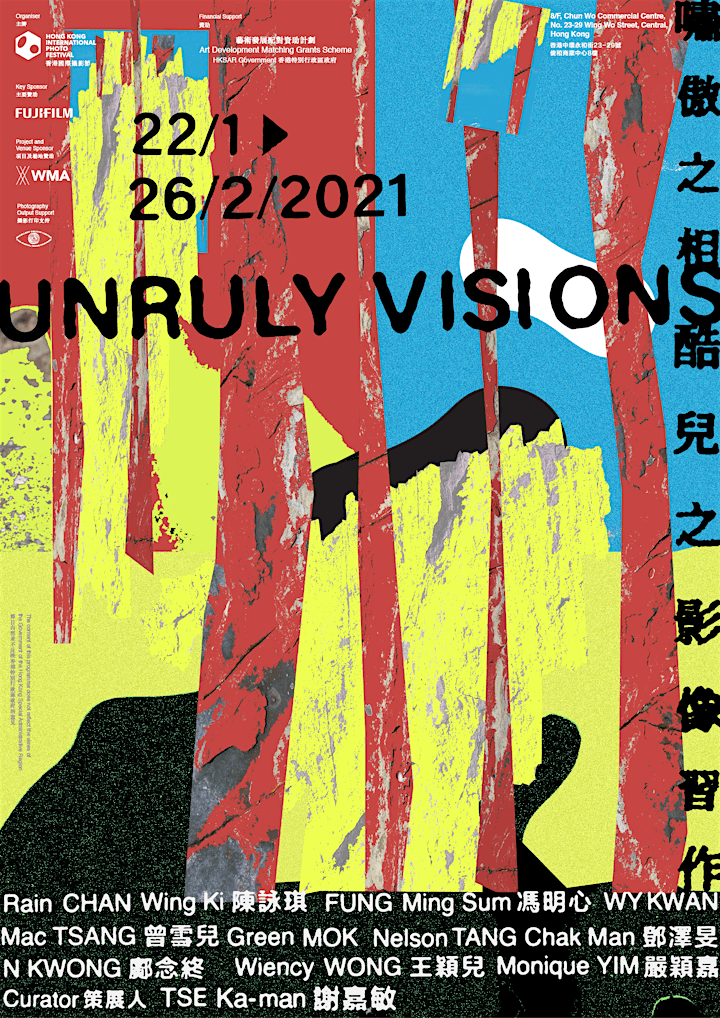 展覽期間將有一系列公眾活動,詳情請留意香港國際攝影節網站、社交媒體 Facebook 及 Instagram。
本展覽有賴富士攝影器材有限公司、香港特別行政區政府「藝術發展配對資助計劃」及WMA鼎力支持。
A series of the public programmes will be held within the exhibition period. Details will be announced later on the HKIPF website, Facebook, and Instagram.
The title UNRULY VISIONS was inspired by Gayatri GOPINATH's book Unruly Visions: The Aesthetic Practices of Queer Diaspora. The exhibition is made possible by the generous support of Fujifilm Hong Kong, the Art Development Matching Grants Scheme of the Hong Kong Special Administrative Region Government and WMA.
展覽詳情 Exhibition Details
日期 Date: 22.1 – 26.2.2021
週一及農曆新年期間(12 - 14.2.2021)休館
Closed on Mondays & Lunar New Year Holidays (12 - 14.2.2021)
時間 Time: 12:00nn – 7:00pm
地點 Venue: WMA Space
中環永和街23-29號俊和商業中心8樓
8/F Chun Wo Commercial Centre, 23 – 29 Wing Wo Street, Central
為控制人流及公眾健康着想,參觀人士須於到訪前預約,並於到達後填寫健康申報表。As part of the crowd management and public health safety measures, pre-registration and a health declaration on spot are required for a visit.
部份展品含裸露成份,觀眾需年滿18歲或以上才能進去該區域觀看展品。Please note that exhibits in one of the sections contain nudity and can only be viewed by visitors aged 18 or above.
活動內容並不代表香港特別行政區政府的觀點
The content of these activities does not reflect the views of the Government of the Hong Kong Special Administrative Region
訪客須知
所有參觀人士必須遵照主辦單位、場地工作人員及大廈業主之入場規則及指引,否則會被拒絕入場。
展覽場地為私人場所,惟WMA會員方能進場參觀。
為控制人流及公眾健康着想,主辦方特設入場時段預約系統,WMA會員入場前須預約入場時段。
每個預約登記只限一人使用一次,請選擇入場日期及時間,並提供姓名及電郵地址登記。
是次展覽所收集之個人資料將用作會員註冊,敬請留意。有關WMA收集個人資料詳情,請參考WMA會籍和私隱政策 。
預約時段以半小時為單位,請於到訪前最少半小時前預約。
請勿攜帶任何有輪轆之行李、嬰兒車、自拍棒、危險品及動物(導盲犬除外)入場。
場內不准飲食及嚴禁吸煙。
預約參觀服務如非來自主辦單位指定系統,參觀人士將被拒入場。
如在展覽當日發出颱風或暴雨警告信號,請留意資訊發佈平台了解最新安排。
主辦單位保留因任何原因更改、修訂展覽內容及安排的權利,如有更改,恕不另行通知。
此條款及細則,如有未盡事宜,主辦單位保留所有解釋丶增加及修改之權利,如有任何爭議,主辦單位保留最終決定權。參觀人士謹此同意及遵守所有條款及細則。
Rules for Visitors
All visitors must follow admission rules and guidelines of the organizer, venue staff and building owner.
WMA Space is a private venue for WMA Members only.
For the purpose of effective crowd management and public health, the organizer has set up a ticketing system. WMA Members should make an appointment before visiting the exhibition or entering the venue.
Each appointment registration can only be used by one person once. Please select the admission date and time, and provide your name and email address for registration.
Personal data collected herein will be used for membership registration purposes. Please refer to WMA Membership details and WMA's Personal Data Collection Statement.
The appointment time slot is in units of 30 minutes. Visitors should make an appointment 30 minutes before admission.
Wheeled luggages, prams, selfie sticks, hazardous goods and animals (except assistance dogs), are not allowed.
Eating, drinking and smoking is not allowed in the space.
Tickets not issued by the designated event organizing platform will not be recognized by the organizer.
If a typhoon or rainstorm warning signal is issued on the day of the ticket, please pay attention to the organizer's social media platform for the latest arrangements.
The organizer reserves the right to change or revise the content and arrangements of the exhibition for any reason, and subject to change without prior notice.
The organizer reserves the right to define, add and modify the terms and conditions herein. If there is any dispute, the organizer reserves the right to make the final decision. Visitors hereby agree to abide by all the terms and conditions.