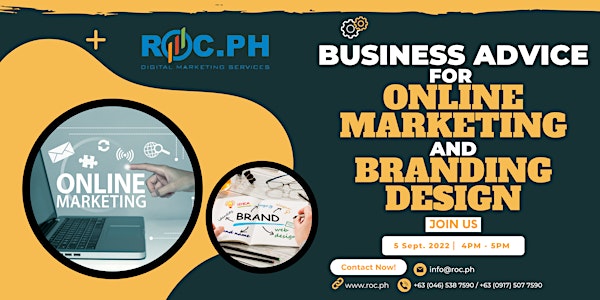 Unlimited Business Advice for Online Marketing, Branding and Design
Getting Started with Business Advice for Online Marketing, Branding, and Design
About this event
About this event
Introduction to Online Marketing and Brand designing will explore how you can leverage ROC.PH website's UNLIMITED offerings to market your products and services online, and to connect to people or customers all over the world. We will introduce the ROC.PH platform and consultation with our Digital Marketing Manager, which can be used by companies of all scales and a variety of industries. We'll help you understand how to effectively use the ROC.PH platform to your business's advantage. Make a creative logo design for your brand, such as company logos, as you create your website design and branding, and determine your brand identity to help market your products and services online. We also provide business advice to assist you to promote your brand via digital channels like social media, online directories, email marketing, other online advertising, and more. This session aims to help you identify what types of steps you can take to bring your business online.
Full agenda
This event will start on September 5 from 4:00 pm to 5:00 pm as well. The default time of the event will begin at 4:00 PM respectively.
More details about the session
Everyone needs a helping hand now and then. So, we created ROC.PH. We're aiming to transform businesses and professionals into Digital / Online. And it's all right here – ready for you to dive into digital learning. It's been a tough time for small businesses lately, and with the world going digital, it can be difficult to keep up with the changing technology trends and tools. But the digital world isn't something to fear. Sometimes you just need to understand the tech, the platforms, and the skill-set – and you'll be raring to go.
And we're hosting a new event to help you and your business unlock their digital potential. Have you signed up already? You're in for a FREE treat.
Good to know
All our events are online at the moment – following government guidelines. So here's some handy info to help you get the most out of our online experience.
You can join the event here
You can use a mobile, tablet or desktop to join us
You can ask questions at any time – in the Q&A session
We'll answer as many of those questions as we can at the event.
There will be a Free Trial for 1 month subscription for our attendees
About ROC.PH Digital Marketing Services
It is your personal and dedicated virtual team. Through our ROC.PH, small business owners and professionals can submit UNLIMITED tasks of website, online marketing, graphic design and virtual assistant services for a fixed monthly fee.
Whether you're just starting out, or ready to scale up, we can assist you with a range of strategies; like digital marketing, social media, creative design and more.
Terms and conditions
Eventbrite is a third-party application. This means it is not owned or operated by ROC.PH. If you use this application, you must sign up to Eventbrite's terms of service and policy and do so at your own risk.
By supplying your personal details, you consent to ROC.PH contacting you about this event.
For more information please see ROC.PH Privacy Policy.
There are limited places available for ROC.PH. Places will be allocated on a first-served registration basis.
If ROC.PH is unable to allocate a place for a particular workshop, they will contact you to inform you of this and, subject to availability, will provide details of any spaces remaining at alternative locations.