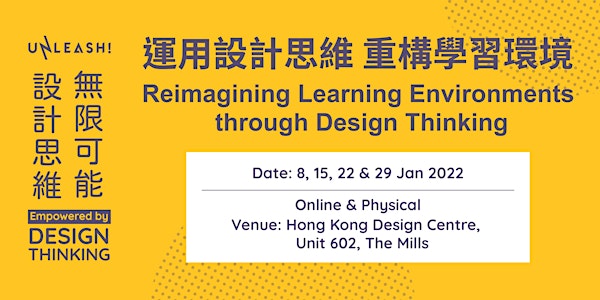 Unleash! : 運用設計思維 重構學習環境 Reimagining Learning Environments through DT
Event Information
Location
Hong Kong Design Centre
45 Pak Tin Par Street
Unit 602, 6/F
Hong Kong, NT
Hong Kong
疫情之下,現今的教與學模式已經進入新常態,學習不再局限於校內的學科課程。透過融入數碼化的教學及科技(Hybrid learning)連結線上線下,讓新一代隨時隨地學習,將成為改變未來教育模式的契機。教育工作者如何用革新方法吸引學生投入學習?
About this event
現今的教與學模式,學術知識不再是唯一的學習重點,需要同時培養學生的同理心、創意解難、團隊合作等軟技能。在遙距學習技術的支持下,學習不再受時間和地方限制,疫情中出現了創新的機會,學生可以探索和參與深入的體驗式學習體驗。教育工作者可以運用設計思維,重新構想更切適的教育模式,回應學生未來的需要。
香港設計中心的Unleash! 將透過一連四星期的工作坊,協助教育工作者建立前瞻性思維,使用設計思維找出學生的需求,重新構想一個以學生為中心並更有效率的學習環境。
工作坊內容:
✔ 了解設計思維基礎知識和技巧
✔ 學習應用設計思維的實際方法
✔ 創建自主及以學生為中心的學習環境
✔ 開發不同資源以吸引學生投入學習
✔ 模擬項目和真實案例研究
課堂詳情:
網上簡介會(所有參與者必須參加):2022年1月4日,5:00 - 6:00 p.m
工作坊(一)(實體課堂):找尋學習需求,學習設計思維及研究真實案例
工作坊(二)(網上授課):定義學生在課堂上遇到的難題
工作坊(三)(網上授課):快速開發,製作雛型和測試解決方案
工作坊(四)(實體課堂):向學生和學校其他的持分者分享創新的解決方案
日期:2022年1月8,15, 22及29日 (網上簡介會:2022年1月4日)
時間︰10:00 a.m - 12:30 p.m(網上簡介會:5:00 - 6:00 p.m)
形式:第1及第4堂為實體課堂、第2及第3堂為網上授課
實體課堂地點:荃灣 白田壩街45號 南豐紗廠 6樓 602室 香港設計中心
語言:英語授課 及 廣東話輔助
費用:全免
主要對象 : 大, 中, 小學老師及教育工作者
參加者需於Eventbrite報名後以支票形式支付訂金(每位港幣$1,500)以作確認留位; 完成四節課堂後支票將於第四節退回給參加者
支票抬頭:Hong Kong Design Centre
郵寄地址:Mr Alfie Chung, Hong Kong Design Centre, Unit 602, 6/F, The Mills, 45 Pak Tin Par Street, Tsuen Wan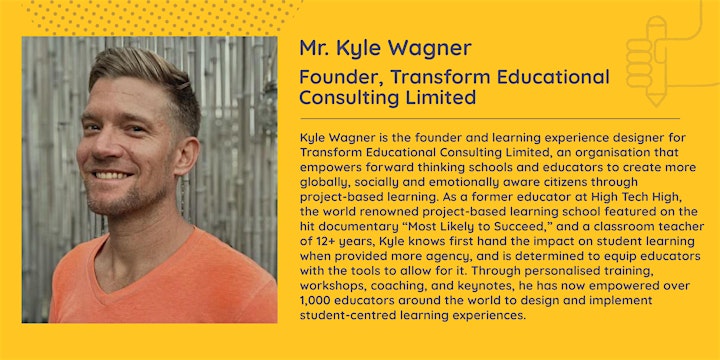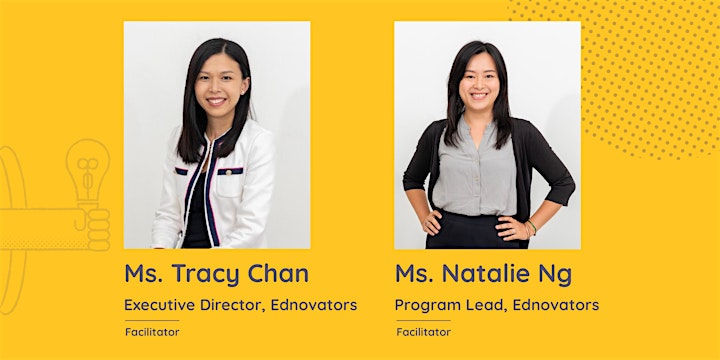 Learning isn't limited to classrooms nowadays. With hybrid learning, it can happen anytime, anywhere. How can we innovate with the trend?
Learning and teaching no longer focus on passing on knowledge. Training soft skills, including empathy, creative problem-solving skills, and teamwork, are equally important. With the support of distance learning, students can learn anytime, anywhere. Pandemic has brought opportunities for innovations, where students can discover and take part in experimental learning. As an educator, applying design thinking can get us back to the core values of teaching and design teaching models that focus on students' future.
Unleash! at Hong Kong Design Centre is organising a 4-week workshop to help educators build a forward-thinking mindset, develop design thinking to identify student needs, and reimagine a student-centric learning environment for efficient learning.
Details of the workshops:
✔ Understand the basics and techniques of design thinking
✔ Learn and apply design thinking
✔ Build a student-centric learning environment
✔ Develop various resources to motivate learning for students
✔ Hands-on experience and research projects
Themes of the workshops:
Online Briefing (Compulsary): 4 January, 5:00-6:00 p.m
Session 1(Physical Workshop): Identifying student learning needs: Case studies and research on apply design thinking
Session 2 (Online): Define challenges and obstacles students face in the classroom
Session 3 (Online): Quick development and prototype making for testing out solutions
Session 4 (Physical Workshop): Sharing session on innovative solutions with students and other stakeholders at school
Date: 8, 15, 22 & 29 January 2022 (Online Briefing: 4 January)
Time: 10:00 a.m - 12:30 p.m (Online Briefing: 5:00-6:00 p.m)
Workshop format: Physical workshop for Session 1 & 4, Online workshops for Session 2 & 3
Physical Venue: Unit 602, 6/F, The Mills, 45 Pak Tin Par Street, Tsuen Wan
Language: English instruction with Cantonese facilitation
Fee: Free
Main Target: University, secondary and primary school teachers and educators
Participant must sign up on Eventbrite and mail a deposit cheque (HKD1,500 per head) to the address below to secure and confirm their registration. Upon completion of the entire workshop series, the cheque will be returned in full to the participant at the end of workshop #4.
Payable to: Hong Kong Design Centre
Mailing Address: Mr Alfie Chung, Hong Kong Design Centre, Unit 602, 6/F, The Mills, 45 Pak Tin Par Street, Tsuen Wan
Date and time
Location
Hong Kong Design Centre
45 Pak Tin Par Street
Unit 602, 6/F
Hong Kong, NT
Hong Kong