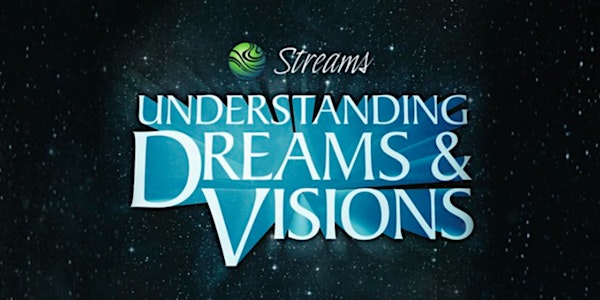 Understanding Dreams & Visions Course (Online)- Dream Interpretation Level...
Location
This is an online event, with phsyical classroom option in Perth, Australia.
Perth WA
Australia
Description
Understanding Dreams & Visions Course Details
Time (China/Hong Kong, Singapore, Philippines, Malaysia, Perth, Australia time)
Jun 28 Fri 7:00pm - 9:30pm
Jun 29 Sat 9:00am - 7:30pm
Jul 06 Sat 9:00am - 7:30pm
Time (Indonesia time)

Jun 28 Fri 6:00pm - 8:30pm
Jun 29 Sat 8:00am - 6:30pm
Jul 06 Sat 8:00am - 6:30pm
Description
A comprehensive course to learn how to interpret dreams and visions from a biblical perspective as God intended. He's whispering – do you know what He's saying?
Does God speak through dreams? Why would He use such a mysterious form of communication? This course, developed by John Paul Jackson from more than 30 years of experience and study, has transformed many lives. Come and discover how God uses these messages from eternity to answer the questions of our hearts, like:
What does God want to do in this situation in my family, my job, my church, or my nation?
What does God think about me?
Are all dreams from God?
Are there supernatural encounters that happen in dreams?
The prophecy in Joel 2 reveals that God will speak through dreams. It's assumed that we would know it's Him speaking, but we don't. This course will equip you to not only hear Him speak this way, but also understand what He is saying. You will learn to discover the dream vocabulary God uses and how to receive and remember your dreams. You will learn the difference between a Biblical, God-inspired interpretive method and the popular secular methods that shroud the dream instead of revealing it.It is a 21 hour course that will help you understand supernatural experiences and aid you to interpret those dreams, parables in the night seasons. Learn a more Hebraic Biblical way of interpretation and find God in the details.This course puts foundational interpretive tools in your hands that you can use for years to come.What if God gave you the answer to the question you have been asking last night? Come and find out!
SYLLABUS INCLUDES
Introduction to Visions
Biblical Terminology for Dreams and Visions
History of Dreams from God
Dreams: God's Night Parables
Basic Types and Symbols
Intuitive Dream Recording
Basic Interpretation Skills
Dream Functions
20 Categories of Dreams
Spectrums of Light
Parabolic Principles in Dreams
Elements of Dreams
Colors in Dreams
Five Ways of Recording Dreams
How to Remember Your Dreams
Developing Your Dream Vocabulary
*This is an s
treaming course (with Live Classroom option): Once register, you will receive instruction and login link for the online classroom via email
**No refund after registration. Please feel free arrange a friend to represent you online if you cannot make it *
Note: the Returning Student price AUD 35 is for those that have taken the Understanding Dreams and Visions course (UDNV) before, already have the UDNV student manual and would like a refresher! Email: creativedreamroom@gmail.com to reserve your Returning Student seats.
Need to ask questions, email: creativedreamroom@gmail.com
INSTRUCTOR Rose Wenceslao
Rose is an encourager, a coach, a teacher and a businesswoman. She travels internationally to speak and call people into a greater place of wholeness and freedom via Creativity and Life Coaching workshops, both in the secular and church setting. Rose enjoys conducting the Dream Labs (Biblical Dream Interpretation workshop) & courses like the Art of Hearing God and Understanding Dreams and Visions courses.
Rose's greatest delight is helping others deepen their intimacy with God and empowering them to flourish in their original embedded heavenly limitless DNA. Rose is missionary at heart, passion about unleashing people into their dreams and destiny. She also has a strong passion in build and grow creative and prophetic communities into maturity across nations.
Other than trained in Streams International Ministries, some of the highlights of Rose's training were with Iris Global School of The Arts (Savannah, Georgia, USA) and Bethel Church (Redding, California, USA).
Born in Hong Kong, married and now based in Perth, Australia with her two sons. Rose is a director of StreamsAsia Training Centre, and a certified Streams Ministries (John Paul Jackson) Art of Hearing God and Understanding Dreams and Visions course instructor. Founder of Inspirational Gallery workshop and Creative Dream Room, Inc.
Her biggest joy is to enable people to relate to Daddy God's heart and help other to develop the hunger towards unexplainable mysteries in God and their revelatory capacity, awakened dreams and led people closer to their life purposes. She is also a big promotor of the arts in fashion, passionate to see heaven be released here on earth through creative expression.
Rose Interview with Iris Ministries (Iris After Hours) - https://vimeo.com/280582440