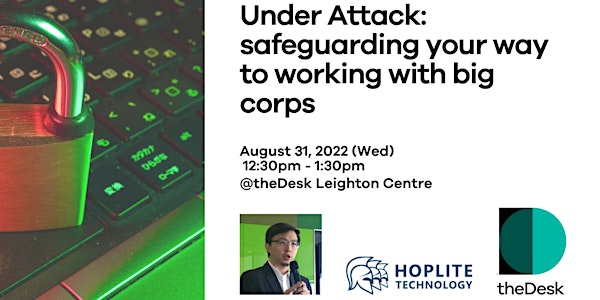 Under Attack: safeguarding your way to working with big corps
Antony Ma, Cloud security geek thinking aloud! Antony is the founder of AP Lens, a Hong Kong-based Cybersecurity Startup
When and where
Location
theDesk Leighton Centre 20/F, Leighton Centre, 77 Leighton Road Causeway Bay Hong Kong, HKI Hong Kong
About this event
No man is an island. Same can be said about businesses. We are all connected by an intricate web of data. The ever growing flow of information presents new opportunities for cybercriminals to launch attacks on large enterprises by finding "back doors" in their network of partners.
Such attacks are called "Supply Chains Attacks". To prevent them, large corporations use more and more strict cybersecurity audits to select the trustworthy partners.
In this session, we will cover the ABC's of the cyber attacks on the small firms to help you increase your chances to work with the big guys.
We are going to talk about:
What types of cyber-attacks are more prevalent in small firms ?
What trends do we see in the cybersecurity space ?
The low hanging fruits what we all should be doing when protecting our data