Multiple Dates
U.Lab Hong Kong: Leading from the emerging Future (U.LabHK2016)
Description
English speaking regional hub in Hong Kong for the 8 week MIT online course "U.Lab: Leading from the emerging Future".
Watch the introductory video here if it does not show up in your browser: 

What are we focusing on?
In this U.Lab we are focusing on strengthening the innovation ecosystem around HealthTech, Smart City Health and Smart Aging in Hong Kong. If you are a HealthTech enthusiast, a health care provider or a interested in health this program is for you! It is about developing your capacity as a change maker by use of a method called Theory U, which is being taught at MIT by Otto Scharmer.
What is the U.Lab?
Today's challenges call for profound innovation across all societal sectors. Rethinking, reinventing and evolving the way we operate in our society requires not only a profound shift in how we think but also to engage both the whole system and the whole self (intelligence of the head, hart, and hand). This U.Lab is designed to develop your capacity as a change maker.
The edX platform is where you will find the teachings (pre-recorded videos), live sessions, guest faculty interviews, readings, and descriptions of practices (tools and methods you can use offline to create change in your community). This is where you go to learn the core concepts of U.Lab.
This U.Lab hub in Hong Kong intends to support your learning experience during the online edX course U.Lab: "Leading From the Emerging Future - An introduction to leading profound social, environmental and personal transformation." This course is provided by MIT (Massachusetts Institute of Technology). The course will bring together thousands of participants from around the world for an eight-week experiential learning journey.
Register for the free online course here (49USD if you peruse a certificate from EdX MIT).
https://www.edx.org/course/u-lab-leading-emerging-future-mitx-15-671-1x
This U.Lab meeting series gives people the learning opportunity to co-sense and co-create the emerging future within a challenge or context that matters to them by:
1. joining a global community of change-makers
2. addressing today's challenges in an integrated way
3. developing practical solutions to the challenges we are dealing with.
Why join U.Lab?
People join U.Lab for different reasons. Most participants join due to a desire to connect with the deeper purpose of their life and to create the time and space to prototype what that might look like. Others join U.Lab simply to learn about Theory U (an approach to bring about profound change, developed by action researchers at MIT)
Many join to connect to other change makers in their area, organizations or sector. By doing U.Lab together they collectively develop a vision and ideas of how to bring change in their context and to deepen relationships.
Some people see an opportunity in using U.Lab as a vehicle for connecting stakeholders in a collective effort to bring change to their local communities around a very specific initiative/project.
EdX U.Lab is an online-offline course: How does it work?
The EdX course is offered in 8 modules (8 weeks) on the edX platform, as a MOOC (Massive Open Online Course). Going through each module (together) will help an individual, team, organization, or stakeholder network to become aware of the deeper sources of current challenges, and create solutions from that place of awareness. It is a highly experiential course, with a mix of theory, practices, and assignments.
The content is offered online, and is made available week by week. There is also the opportunity to connect with people from all over the world in an online community on the u.school site.
The Hong Kong U.Lab Hub is a weekly in person meet-up: How does it work?
A U.Lab Hub is any physical space where U.Lab participants come together to learn and co-create, using the frameworks and methods offered through the U.Lab. In that sense, hubs are helping people to translate insights into action, as well as co-creating with others. The physical space enhances the typical MOOC experience by providing group support for self-organized learning and co-creation. At a local level, hubs can help connect people around common interests. At a global level, the various hubs from around the world will be part of a network of hub hosts that exchange insights, experiences, and knowledge.
There are three different ways the U.Lab Hub makes this 'course' more than just an online course:
(1) Watching live sessions together
(2) Doing the course together and reflect and learn
(3) Coaching circles.
More in detail:
(1) Watching live sessions together:
Next to the weekly course content, there will also be 4 live sessions (see below for planning), where the global community comes together in the same moment. It gives people the opportunity to interact with the course faculty and to engage in a dialogue with other participants in small group conversations. The last live session is in December, a couple of weeks after the course ended. That's how this course becomes a 3-month journey...
8 Sept 2016 - U.Lab begins (Start of online course at

EdX

)

15 Sept 2016, 10pm local time HK- First live session - theme: co-initiating and co-sensing

6 Oct 2016, 10pm local time HK - Second live session - theme: co-presencing

27 Oct 2016, 10pm local time HK - Third live session - theme: prototyping

3 Nov 2016 - U.Lab course finishes

15 Dec 2016, 10pm local time HK - Final live session - bringing the community back together...
(2) Doing the course together and reflect and learn:
Connect with other local U.Lab participants in your area/sector to go through this journey together. This is a unique opportunity to go on a collective learning journey or even address a challenge you are dealing with.
(3) Coaching circles:
Coaching circles are probably the single most effective method in U.Lab for moving from concept to practice. The backbone of coaching circles is a process that is called case clinics. A coaching circle is a group of +/- five U.Lab participants who will meet physically for 75 minutes each week to practice deep listening and support each other in developing new ways of approaching their current leadership challenges.
Some people prefer to form a virtual coaching circle, with other U.Lab participants from
Schedule (preliminary):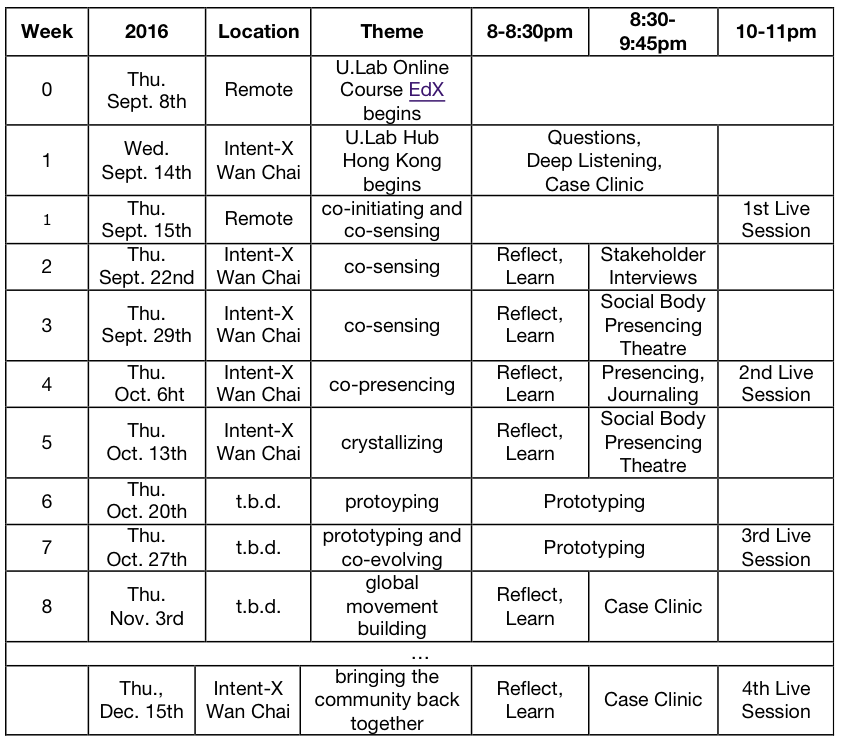 Week 0: Introduction to U.Lab x1
How to use and navigate the social and community elements of the course.
Week 1: Co-Initiating
Introduction to the deeper sources of our current global challenges. The art and practice of deep listening. Forming a core team for your U journey.
Week 2: Co-Sensing (Pt. 1)
Gathering data by suspending and listening. Go on learning journeys and conduct stakeholder interviews.
Week 3: Co-Sensing (Pt. 2)
Making sense of the data generated through last week's sensing activities, using embodied practices such as Social Presencing Theater.
Week 4: Presencing
Retreat and reflect. How to allow deeper sources of knowledge to emerge; connecting with a future possibility that's in need of us to bring it into reality.
Week 5: Crystallizing
Staying connected to your deeper sources of inspiration. Paying attention in a way that will enable you to move from idea to action.
Week 6: Prototyping
Learning by doing. Engage in prototyping activities that generate feedback that will help you evolve your inspiration / idea.
Week 7: Co-Evolving
Continuation of prototyping activities, plus principles to support the evolution from an idea, to prototype, to an initiative with the potential to scale.
Week 8: Global Movement Building
The next steps in the U.Lab journey. What is emerging globally from U.Lab x1, and what is needed to carry momentum forward?
About the host:
Sabine is a coach and business consultant who is specialized in generating profound change within people and organizations by using the principles of Theory U. She is also the author of the book "Breakthrough - The Art and Science of creating magical Change by using the Example of Theory U".