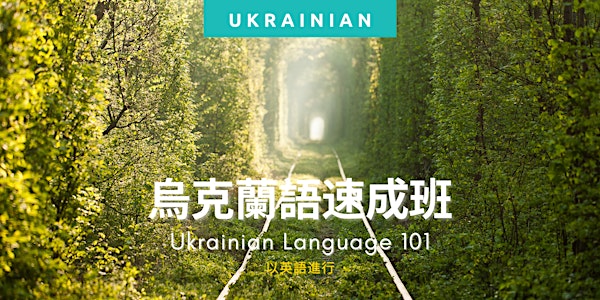 Ukrainian Language101 烏克蘭文速成班
Learn Ukrainian and meet international friends through language learning
When and where
Location
ICE Inter Cultural Education 16 Hung To Road #1208 Hong Kong, KOW Hong Kong
About this event
In the light of the recent major events in Europe, Ukraine, the second largest country in Europe with a population of 40 million, has attracted the attention of the whole world. Dana will share its culture with you and will also give you a taste of speaking and writing in the charming Ukrainian language.
近月我們逐漸留意到一個歐洲擁有第二大國土的國家——烏克蘭,這個住著4000萬人的東歐國家。Dana會帶這我們了解烏克蘭文化,初嘗說出烏克蘭語以及學習書寫烏克蘭語。
日期 Date:29/10/2022
時間 Time :20:00 - 21:30
語言 Language:English
費用 Fee:HKD ​ 180
—————————
不使用信用卡,其他付款方式 Other payment Method:
恒生 Hang Seng: 788-002 681-883
Account Name: INTER CULTURAL EDUCATION LIMITED
FPS 轉數快 ice@icehongkong.com
請在報名時輸入100% off優惠碼「EXPLORER」登記留位,
再於報名起計兩日內傳送傳送付款証明到 WhatsApp 90395369 https://wa.me/85290395369
Enter Code "EXPLORER" to sign up if you do not want to pay by credit card, and send the payment proof for "Ukraine Language 101" in two days to WhatsApp 90395369 https://wa.me/85290395369 after the deposit.
_________________
By registering for our events on Eventbrite, you agree to our privacy policy (https://icehongkong.com/privacy), and that your personal information will go to our newsletter system, Mailerlite, from which you will receive our newsletters from now on. Should you wish to have your information removed from Mailerlite, please make a direct request to ice@icehongkong.com.
_________________
Organisation Introduction:
We are Inter Cultural Education (ICE), a social enterprise aiming to educate people to appreciate and be able to accept the cultural diversity of the world. ICE has helped more than 30,000 people in Hong Kong to connect and understand the world better through cross-cultural dialogues.
In the past 10 years, ICE has worked with people from more than 85 countries from all walks of life to promote the solidarity of a local community with the international community. Due to the situation under COVID-19, we are offering a special online programme called Explorers' Month, to bring the world to the public without leaving the city through a series of events. Follow our social media to learn more about world cultures: