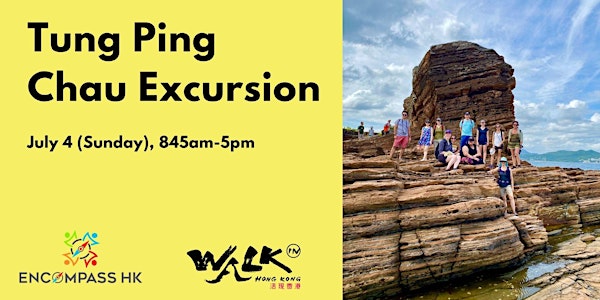 Tung Ping Chau Excursion
Come join us to learn about the geology and marine life at Tung Ping Chau!
When and where
Location
Tung Ping Chau Marine Park Tung Ping Chau Hong Kong, NT Hong Kong
About this event
Included in the Hong Kong UNESCO Global Geopark, Tung Ping Chau is an esteemed museum of geomorphology. This easternmost island of Hong Kong is formed entirely of sedimentary rocks with a variety of marine abrasion landforms along its coast. The shores of this level island are decorated with colourful laminations of top rock shale and many other natural wonders.. Get on a boat and start the journey of circumnavigating the Tung Ping Chau Islands to view the spectacular natural creations of rocks
Itinerary
8:45am Depart from Ma Liu Shui Pier heading to Tung Ping Chau Island. Tour briefing will be provided on boat
10:30am Continue on the trail in the woods until the view broadens. Descend the slope carefully, and you will be greeted by the boundless ocean and distinctively stratified shale bed, with Cham Keng Chau on your right. The spur, originally attached to the island, broke off from continuous erosion, and a natural corridor took shape. Walk along the passage between the sharp cliffs and enjoy the refreshing cool breeze.
12:30pm Lunch
1:30 pm Walk along a 100-metre-long band of rocks stretching off the coast from the hillside in Lung Lok Shui. With its triangular edges, it looks as though a dragon is making its way down into the ocean. This unique landform is carved from differential wave erosion of two rock layers We then walk left along the beach of A Ma Wan. As you enjoy the sea breeze and the sound of waves lapping the shore, keep an eye out for the amazing rock features here: wave-carved shale, iron-rich rocks weathered to resemble chequerboards, and stromatolitic structures made of fossils of cyanobacteria, just to name a few.
2:30-3:30 Snorkeling time and marine exploration
3:30pm Depart Tung Ping Chau
5:00pm Dismiss at Ma Liu Shui Public Pier.
Tour fee includes boat fee, lunch fee, guide fee and insurance. No children is acceptable for this tour as all participants are required to have taken both vaccines.
The licensed tour agent of this trip is Walk in Hong Kong. The tour is organzied under TIC requirements and wil enforce anti-epidemic measures in accordance with the "Anti-epidemic Undertakings for Local Group Tours" under TIC. Participants are required to have taken at least 1 vaccine jab to join our boat trip.
Due to new tour guidelines, participants are required to submit the first first 5 characters of HKID number for COVID insurance, as well as submit their vaccine records (with first 5HKID characters) for our registration to get on our boat.