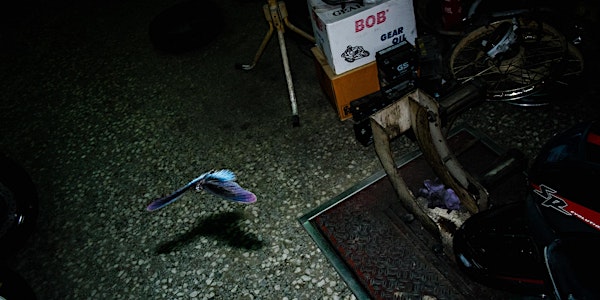 Transmedia Narratives 攝影變體|Lightbox Session Lightbox攝影圖書室專場
Sales Have Ended
Ticket sales have ended
Registration is full for this session. Be sure to check out our other events. If you have any enquiry please reach us at hello@hkipf.org.hk. Thank you! 本場次已經滿座,敬請留意攝影節其他節目。如有需要,請電郵hello@hkipf.org.hk聯絡我們。多謝!
Event Information
Location
Louis Koo Cinema
Hong Kong Arts Centre
2 Harbour Road
Wan Chai, HKI
Hong Kong
Sales Have Ended
Ticket sales have ended
Registration is full for this session. Be sure to check out our other events. If you have any enquiry please reach us at hello@hkipf.org.hk. Thank you! 本場次已經滿座,敬請留意攝影節其他節目。如有需要,請電郵hello@hkipf.org.hk聯絡我們。多謝!
Transmedia Narratives 攝影變體 |Lightbox Session with post-screening discussion|Lightbox 攝影圖書室專場 設映後談|HKIPF 2021 Photography Cinema 攝影院
About this event
Against an evolving constellation of creative media in the post-media age, it has become near impossible for us to examine contemporary photographic practices while adhering to the definitions of traditional art history, photography theories from the era of mechanical reproduction, or modernist notions of medium. Singularly, the dematerialisation of art and the confluence of different media is being accelerated by technology and the internet. If we move beyond the conception of photography as static image and cross over into transmedia, it may guide us to unearth new possibilities in creative practices, new aesthetic perceptions, and new narrative potential in photography, conceiving and reconceiving it in diverse formats.
This also brings us to the problematics that arise from the shift from photography to transmedia storytelling or the kinetic energy of 'expanded photography': "This is no longer photography. What has it become?" It prompts us to rethink and reshape relationships between photography and different forms of image, including film, video and animation. The question of how the convergence between photography and moving image may be contextualised is indeed worth investigating.
On the other hand, transmedia is not just a tactic in the times of pandemic, but an exploration into the vitality of photography that resists definition. It illuminates the dialectical tensions between 'stillness and movement', 'narrative and non-narrative', 'personal and historical', and 'archive and art' that are inherent in photography discourse.
Beyond the quest for new interpretations, the five works selected for this showcase mark an attempt to return to the chaos, ambiguity and ambivalence of photography before the art became institutionalised. Meanwhile, these photographic transfiguration offer a different kind of opening for us to intervene in grand historical narratives.
The five artists engage in disciplines spanning photography, video and film, while their subjects include observations of everyday culture, reflections on personal memories and life histories, and reinterpretations of archival images. Their works embody the 'in-betweenness' of photography, and present new beginnings for the viewer to reimagine and rethink visual narratives.
Lightbox Photo Library
Established in 2016, Lightbox Photo Library expands upon the free, open and public nature of both photography and library, as it undertakes the work of collecting and organising publications of Taiwanese photography. It strives to create a positive cycle of cultural autonomy, knowledge equity, and resource-sharing.
在創作類型日益複雜的後媒介時代,我們若依循傳統藝術史定義、機械複製時代的攝影理論,或現代主義式的媒材特性論來觀看當代的攝影創作實踐,可能常會感到不得其門而入。尤其,今日科技與網絡加速了藝術作品的去物質性,以及不同媒介的匯流。過往攝影作品的製作、運輸、展示的資源配置方式與效力,在攝影節情境下顯得日益不足。相對的,若跳脫攝影做為靜態影像的既定框架,朝向跨媒介的作品形式發展,或有助於攝影在多元形式中,拓展新的實踐可能、提煉新的美學價值,創生新的敘事潛能。
從攝影到跨媒介敘事,或「擴延攝影」的動能,過程中引發的問題意識:「這已不是攝影,那它成為什麼?」讓我們得以重新思索、調整攝影與電影、錄像、動畫等不同影像形式之間的關係。如何描繪攝影與動態影像之間的交會與流變,值得我們持續思考與探究。
此外,跨媒介並非疫情下的權宜,更多是探討攝影本身難以被定義的活力,讓攝影在「靜與動」、「敘事與非敘事」、「個人與歷史」、「檔案與藝術」的辯證張力中,不斷地游移與擺盪。
是次所挑選的五部作品,不是單純為了求新,而是試圖回返攝影尚未被現代性體制化之前的混沌、模糊與曖昧;而「變體」的攝影,也提供了另一種跟大歷史敘事斡旋的可能。
五位藝術家領域橫跨攝影、錄像與電影;關注主題包含對日常文化的觀察、個人記憶與生命史的梳理與反思,以及歷史檔案影像的再詮釋。作品例示了攝影「在之間」、確而不定的特質,期盼也能成為觀眾重新想像與思考影像敘事的新起點。
Lightbox攝影圖書室
2016年成立的Lightbox攝影圖書室,是一個以台灣為主體、為所有人開放、非營利的攝影專門圖書館,致力於匯集、整理、保存及共享台灣攝影出版物,以實踐文化自主、知識平權、資源共享的理念。
THE WORKS 作品
Raw Soul|Yehlin Lee 李岳凌
Invisibility| Wang Hsiang Lin 王湘靈
Wearing Red 著紅 |Sera Chen 陳郁文
Exhausted Picture 窮圖 |Huang Kuo Heng 黃國恆
Firearms, Skulls, and Bones 槍砲、頭顱與骸骨|Liang Ting Yu 梁廷毓
Date: 27.10.2021 (Wed)
Time: 19:45 - 22:00
Guest Speakers: Tsao Liang Pin, Shen Bo Yi (Curators); Yehlin Lee, Huang Kuo Heng, Wang Hsiang Lin, Sera Chen, Liang Ting Yu (Artists)
Language: In multiple languages with English and Chinese subtitles; discussion to be conducted primarily in Mandarin and livestreamed. Interpretations will be available upon request. Please contact HKIPF at info@hkipf.org.hk or +852 2777 0955 to check in advance.
日期:27.10.2021(三)
時間:19:45 - 22:00
講者:曹良賓、沈柏逸(策展人);李岳凌、黃國恆、王湘靈、陳郁文(創作者)
語言:多種語言,設英中文字幕;映後談將以直播形式,以華語進行。如有傳譯需要,請提前致電 +852 2777 0922 或電郵 info@hkipf.org.hk 我們聯絡。
Image from 'Raw Soul' by Yehlin Lee
Venue Regulations and Health Safety Measurements
All audience must wear face masks
No smoking, eating or drinking. Unauthorised photo-taking, audio and/or video recording is strictly forbidden
Cinema staff have the right to deny the admission of any person with temperature higher than 37.5°C
場地規則及防疫措施
所有入場觀眾必須佩戴口罩
場內不准飲食或吸煙、不准攝錄
入場前職員會為所有觀眾量度體溫,如觀眾體溫顯示超過標準溫度37.5度,將被拒絕進場
Support freedom of expression and help facilitate the growth of the arts by making a donation to the Hong Kong International Photo Festival. You may visit our website stall.hkipf.org.hk or reach us at our contact number or email. Your contribution will go towards our operation, future programmes and keeping our events accessible.
The Festival is organised by the Hong Kong Photographic Culture Association, which is a tax-exempt charity under section 88 of the Inland Revenue Ordinance. Donations above HKD 100 are tax deductible.
The Festival was launched in 2010. In each edition, the Festival focuses on a different theme, introducing noteworthy photographers, trends, and movements, discussing manifold issues and perspectives. Through a wide range of public programmes, the Festival bridges Hong Kong and international visual practitioners, creating conversations between people and place, past and present, with oneself and the world.
With your support, we hope to make ever greater progress in the coming decade.
為秉持攝影節的獨立自主,專注社會、非營利的精神,以及守持表達及知識的自由傳達,活動的開放自由參加,誠邀您成為我們的支持者:請即前往網址 stall.hkipf.org.hk,或致電或電郵與我們聯絡有關捐款安排。
香港國際攝影節由香港攝影文化協會主辦,協會為根據《稅務條例》獲確認豁免繳稅資格之慈善團體,凡捐款港幣一百元以上可獲扣稅。
創始於2010年,每屆攝影節以不同主題之展覽,將攝影世界具獨特性、創造性的名字,以及值得關注的視覺文化思潮引入香港。同時,透過不同公眾活動,搭建香港與世界攝影文化的溝通平台,借影像呈現不同文化歷史議題,審視不同社會人文狀況,促進跨越地區與領域的對話。
在攝影節邁向十一週年之際,請與我們一起前進,成為我們迎向下個十年的重要後盾。
Date and time
Location
Louis Koo Cinema
Hong Kong Arts Centre
2 Harbour Road
Wan Chai, HKI
Hong Kong