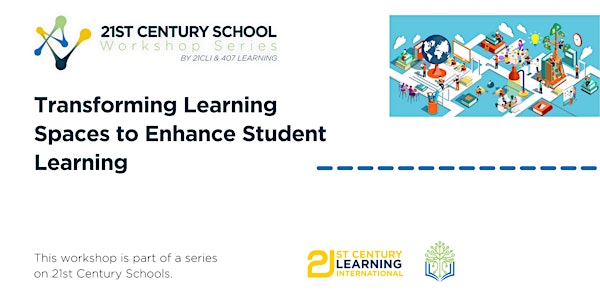 Transforming Learning Spaces to Enhance Student Learning
21st Century Schools recognize that learning space design must support the realization of their vision and mission
Refund Policy
Contact the organiser to request a refund.
About this event
In order to maximize student learning and deliver on our schools' missions and visions, it is essential that our learning environment supports our vision for effective teaching and learning. However, many of our schools currently have learning spaces that encourage the out-dated, traditional pedagogical practices that were employed when these buildings were designed. In this workshop, we will explore a number of different design features and approaches that schools can use to transform their learning spaces in order to better align their physical space with their school's beliefs around teaching and learning. We will also explore how you can engage with your community throughout this process and share practical tips for gathering and using evidence to inform your journey towards enhancing student learning.
Outcomes
Use tools to explore the connection between your stated school aspirations, personal beliefs, and what learning currently looks like in your school
Reflect on how the physical design of learning spaces can support the type of learning to which you aspire
Explore a variety of flexible design approaches that enhance student learning, from low-resolution options to full-scale renovations
Consider how to meaningfully engage stakeholders when driving this change
Learn how to gather evidence on the efficacy of your learning spaces
Who Might Attend this Workshop?
School Administrators and Leaders
Instructional Coaches
Facilities Managers and Teams
Finance Executives
Communications Directors
Aspiring Building Level Leaders
Who's Presenting
Chris Beingessner
Chris Beingessner is a Deputy Middle School Principal at Singapore American School. Over the last 21 years, Chris held numerous teaching and school leadership roles spanning Pre-K to grade 12. He began his career teaching middle school in rural Saskatchewan, Canada, and his first international experience was as Middle School Coordinator at Northbridge International School Cambodia in 2005. He is working alongside his colleagues in the Middle School at SAS to innovate learning spaces in an effort to break down the traditional structures that permeate schools, but stand in the way of deep, authentic learning. He is a co-researcher with the University of Melbourne on a scoping study on the impacts of Innovative Learning Environments on student learning, well-being and inclusion. While he loves Singapore, which he and his family have called home since 2015, Chris laments not being able to do as many DIY projects around the home as he once did.
Chris Raymaakers
Chris Raymaakers is a Deputy Middle School Principal at Singapore American School, and has held a number of different teaching and leadership roles over the past 24 years. Chris began his career teaching middle school science and math in Calgary, Alberta, Canada, and has spent the last 19 years in international schools. In 2015, Chris was a member of the Singapore American School research and development team that began to reimagine what relevant, impactful education might look like, and he continues to work with his colleagues to turn these principles into actions. In addition to this ongoing work, Chris is a co-researcher with the University of Melbourne on a scoping study that looks at the student impact of innovative learning environments. Outside of his professional life, Chris loves bike riding and geeking out with a good spreadsheet.
Meta
Course Code: 21CSW-TransformingSpaces-Feb22
Event Type: 21st Century Schools Workshops