Description
Trainer's Mentorship Program (TMP) 2018
Trainer Summit (10 JUN 2018)
On behalf of JCIHK National Training and Development Commission, you are cordially invited to join our Trainer's Mentorship Program (TMP) 2018 Trainer Summit on 10 June, 2018!
Training is an important component in the JC movement to create positive change. TMP aims to cultivate potential trainers who can serve JCI training. In this year, after 12 weeks (over 2000 hours) mentorship & preparation and after 2-day-1-night training camp, there are 34 TMP mentees to turn their whole passions into producing 17 training sessions in this trainer summit! This is the time to show our support to the JCIHK training development!***

Please come to support our new trainers in Trainer Summit.

Date: 10 June 2017 (Sun)
Time: World Cafe 11am -12am
Training sessions: 12am - 6pm
Closing ceremony: 6pm - 7pm
Venue: Compass College
7/F, CIGNA Tower, 482 Jaffe Rd, Causeway Bay, Hong Kong
香港銅鑼灣謝菲道 482 號信諾環球保險中心 7 樓

Target: Open
Fee: $100 (participants can join all training sessions)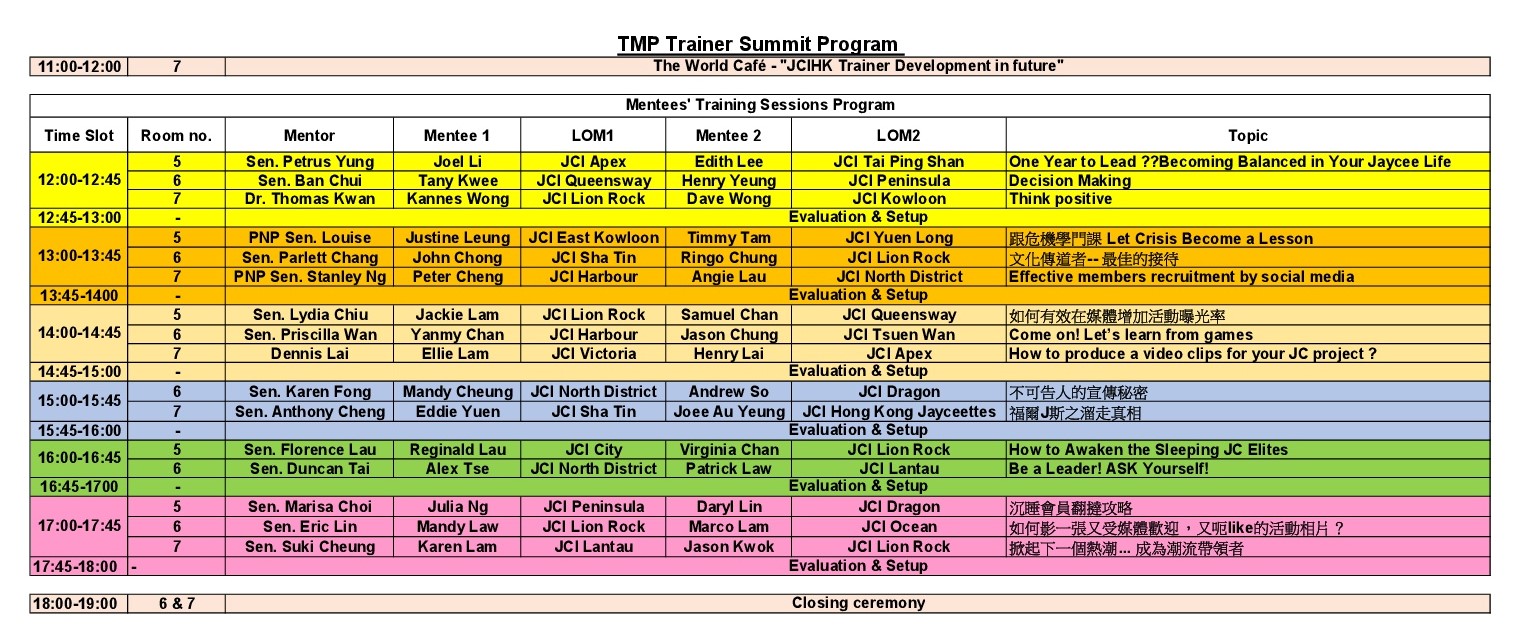 We believe that our Trainers need continuous learning and practice to equip and sharpen their training skills through exercises, demonstrations and practical activities and reviews. TMP provides a platform for our trainers (Mentees) to develop the training skills/knowledge/attitude through TMP training camp and direct coaching from Senior Trainers (Mentors).
Overall Program Objectives & Details:
To help Mentee to acquire training skills/knowledge/attitude through training camp and mentorship
To encourage Mentee to actively explore their potential on taking the role as a

JCIHK Recommended Trainer
TMP covers various activities, which targets to help Mentees to get ready to be trainer and conduct a training session at the Trainer's Summit to be held on 10 June, 2018.
(1) TMP Training Camp (17-18 March 2018 - Finished)
(2) Private coaching sessions (March - June 2018)
Mentors will guide their mentees for preparation of lesson plan and training materials, as well as practice and rehearsal at their self-arranged meetings.
(3) Trainer Summit
Mentees will deliver their training open to JC members. Feedback will be given by experienced trainers.
Date: 10 June, 2018 (Sunday), 11:00-19:00.
Venue: Compass College, 7/F, CIGNA Tower, 482 Jaffe Rd, Causeway Bay, Hong Kong