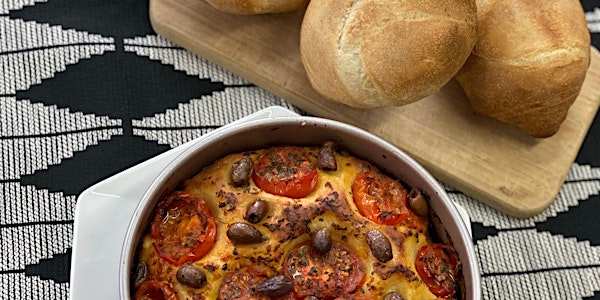 Traditional Italian Bread and Risotto by Stefano Romagnoni
Special Italian cooking class by Chef Stefano. (2 times a year only!) Learn the authentic and no waste Italian home cooking from Stefano.
When and where
Location
FoodCraft Room A, 16/F, Yiuga Factory Building, No.62 Victoria Road Kennedy Town Hong Kong Hong Kong
Refund Policy
Contact the organiser to request a refund.
About this event
*Class Cancellation Policy applies, please refer to the bottom of page.
Special Italian cooking class by Chef Stefano. (2 times a year only!)
Learn the authentic and no waste Italian home cooking from Stefano who was trained by his grandmother from the age of 5!
This class will cover 3 different Italian breads and 1 risotto from scratch.
WHAT WILL YOU LEARN?
- Pasta Dura
Translated as "Hard Dough" and it is a low hydration bread that has a crunchy crust and light airy texture inside which makes it a perfect bread for dunking into olive oil or dips when entertaining. A very standard Italian bread, served with meals.
- Tomato Focaccia Barese
We will be using semolina flour to make this traditional Apulian focaccia. Semolina, a flour obtained milling the durum wheat, has a very sticky texture and it is very important to make the perfect focaccia. We will also be adding a secret ingredient to this bread to make it more airy and soft for a few days!
- Porcini Risotto
We will prepare this risotto from preparing the vegetable stock! Risotto can be prepared in 30 minutes but the important part is to serve it eat it at the right timing! according to Stefano, risotto cannot be shared! Why? you can ask him during the class ;)
- Piadina (Italian style wrap)
Simple yet tasty wrap became the most famous wrap in Italy by the German tourists who were visiting Romagna region. The dough was traditionally cooked on a terracotta dish (called teggia in Romagnolo). We will be making this on a fraying pan. Served with slices of ham and cheese and your lunch is sorted!
WHAT WILL YOU TAKE HOME?
- Recipes
- Food made in class
WHAT TO BRING?
- 1x Apron
- 1x Pen
- Tupperware container to take back your food
DETAILS
Length of Class: 6 hours
Venue: Room A, 16F, Yiuga Factory Building, 62 Victoria Road, Kennedy Town
JOIN WITH YOUR HELPER?
With just +100HKD, you can bring along your domestic helper on a work visa. Please inform us once you confirmed your booking, arrangements can be made accordingly. (to observe only)
CLASS CANCELLATION POLICY
We will confirm your seat(s) once all fees are received. Deadline for any cancellation or changes(eg. rescheduling) is 7 days prior to the scheduled date of the event. All fees will become non-refundable after the deadline. Cancellation requests should be made in writing at least 7 days prior to the class for any refund to be processed.
*The policy applies to sign-ups within the 7-day period before the scheduled event