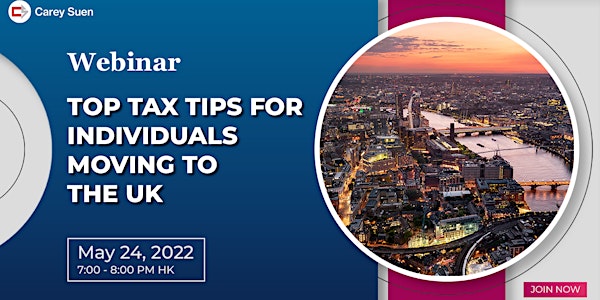 TOP TAX TIPS FOR INDIVIDUALS MOVING TO THE UK
TOP TAX TIPS FOR INDIVIDUALS MOVING TO THE UK Complimentary webinar for HK citizens moving back to the UK.
About this event
** Link to join the live event: https://us06web.zoom.us/w/88487315366?tk=ZzXaZutqONyp5vPVllZDe2rp644lB2H0bxId39FaDCo.DQMAAAAUmkFHphY2RjlrTzhGcFRvMkl3UTJGWGlzUEJRAAAAAAAAAAAAAAAAAAAAAAAAAAAAAA&pwd=MzdKemVZdlR6bVk1SXJ4OHROY1JXUT09 **
---
Are you planning to move back to the UK or have you recently moved to the UK from abroad? Are you concerned about double or over-taxation for Hong Kong and the UK?
Join our complimentary webinar to learn how to handle your ex-pat taxes. Register today to learn everything you need to know.
Our free webinar covers the following topics of interest:
1. Common reasons why HK citizens get double-taxed when returning to the UK
2. How to mitigate costs when returning to the UK
3. The fiscal pros and cons of moving back to the UK and whether the benefits outweigh the costs
4. What happens if you haven't filed UK tax returns and are identified as a UK person by your bank
5. HRMC filing and reporting obligations for UK citizens
6. Your relationship with HK after you leave the country
7. How to avoid common pitfalls like the HK exit tax
8. Why you should write a Will.
Did you know?
- The term Domicile is associated with where HMRC (tax office) classes your home. A residence has to do with income tax, BUT Domicile collects IHT. It is essential to know the difference.
- Anyone who is a UK Domicile when they die will have their global assets valued for Inheritance Tax (IHT) to be paid to the UK tax office – HMRC. This is 40% (on all assets) above the nil rate band GBP 325,000. If you are married to another UK Domicile, then your assets pass to each other tax-free, but your children would then get a bill of 40% above your joint estate value of GBP 650,000. If your spouse is not a UK Domicile, they will get a tax bill of 40% above GBP 650,000.
There is an additional allowance for UK property ownership if you leave your assets to your children as beneficiaries via your will.
- Without a Will, the Court of Probate (authorization for the distribution of your assets) makes decisions on your behalf – this is often not what we would choose and leaves your loved ones to go through a lengthy and often stressful process. A lengthy probate is simply not ideal, especially if it also includes decisions as to the guardianship of your minor children.
-- About Carey Suen
Our team of UK and HK experts represent more than 200 HK and British citizens every year. If moving to the UK is something you've been considering, then attend our free webinar and get advice you can trust.