Description
【敲擊襄動 Toolbox Percussion Mouvement 】
文學囈語 x 擊樂眾聲 x 現代舞作
A hodgepodge of percussive sounds, literary arts and contemporary dance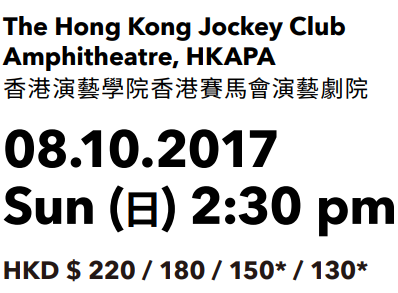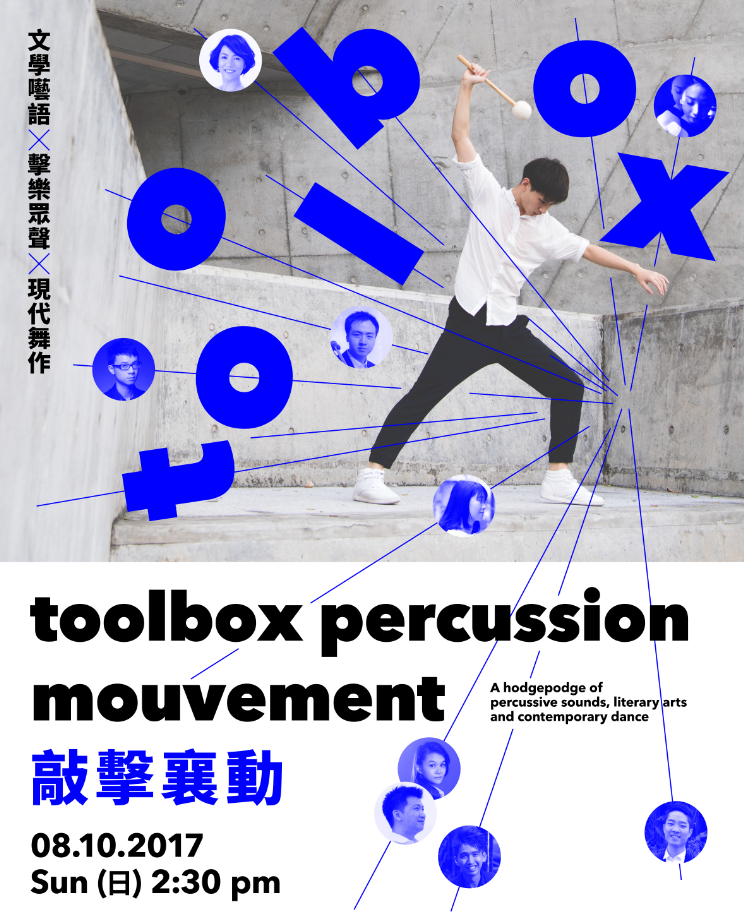 文學囈語 x 擊樂眾聲 x 現代舞作 - 敲擊襄年度力作「敲擊襄動」糅合敲擊樂、舞蹈和文學三大元素。作品囊括本地作曲家鄧慧中和葉浩堃的委約新作;現代舞編舞家兼跨媒體創作人禤天揚和澳門舞蹈家許琦琦的流麗編舞和由敲擊能手邵俊傑領頭的多手聯合擊樂。樂律比縱,舞躂作軸,演繹卡夫卡文學世界的雄奇詭譎。
A hodgepodge of percussive sounds, literary arts and contemporary dance - Toolbox Percussion is mounting its annual treat of the sensual, reciting works by Franz Kafka, interspersed with instrumental pieces by local composers Joyce Tang and Austin Yip, and choreography by Tin-yeung Huen and Kei-kei Hoi. Louis Siu will lead the eight-man percussion troupe to create a fretwork of visionary and acoustic otherworldliness. By blending vocabulary of dance and percussion repertoires, the two aesthetic camps will truly coalesce into a sensuous whole of the subtly and the grotesque of Kafka.
演奏家(敲擊樂) Musicians(Percussion)
邵俊傑 Louis Siu
小山理惠子* Rieko Koyama*
勞善雯 Mandy Lo
許莉莉 Lei-lei Hoi
王偉文 Raymond Vong
雲偉華 Ivan Wan
林天俊# Jacky Lam#
陳彤# Brian Chan#
舞蹈員 Choreographer
禤天揚 Tin-yeung Huen
許琦琦 Kei-kei Hoi
作曲家 Composer
鄧慧中 Joyce Tang
葉浩堃 Austin Yip
文本 Text
卡夫卡 Franz Kafka
*承蒙香港小交響樂團允許參與演出 With kind permission of the Hong Kong Sinfonietta
#敲擊襄實習樂手計劃 Toolbox Percussion associate artist scheme
。。。。。。。。。。。。。。。。。。。。。。。。。。。。。。。。。
$220 / $180 / $150* / $130*
*折扣優惠 Discount Scheme
全日制學生、60歲或以上高齡人士、殘疾人士及看護人折扣優惠。
Discounted tickets are available for full-time students, senior citizens aged 60 and above, people with disabilities and the minder.
門票現於香港快達票發售
Tickets available NOW at Hong Kong Ticketing
*******網上專用購票連結 Book Online NOW*******
http://www.hkticketing.com/events/WCTOOLB1017
網上購票 Internet Booking www.hkticketing.com
購票熱線 Ticket Purchase Hotline (852) 31 288 288
節目查詢 Programme Enquiry toolboxpercussion@gmail.com
節目網頁 Programme Website https://www.facebook.com/toolboxpercussion/
敲擊襄保留更改節目及表演者權利。
Toolbox Percussion reserves the right to change programme and artists.
快達票將額外收取每張門票的顧客服務費。
HK Ticketing applies a customer service fee to all tickets purchased via its network.