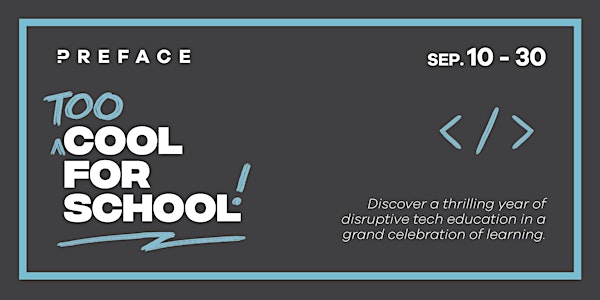 Too Cool for School: Dialogue with the Future
It's family fun you won't want to miss! Join hands with your little ones in coding and discover the revamped future of tech education!
When and where
Location
Preface Coffee & Wine (Causeway Bay) 5/F, The Sharp, 11 Sharp Street East, Causeway Bay Hong Kong, HKI Hong Kong
About this event
**Important: Please register 1 ticket for each kid. You can indicate how many parents you are bringing in the sign up form.
What is this event for?
Summer's ending, school's beginning, but the real fun of learning starts at Preface.
What kinds of projects are Hong Kong's tech-savvy youths creating? How is passion for learning sparked and discovered at Hong Kong's biggest tech school? What have kids been able to achieve with their portfolio of projects and how can your kid join the game?
As a final wrap to the summer - we're presenting you with a grand showcase and adventure that spans across four floors of Preface Coffee and Wine at the heart of Causeway Bay. Register via this page to lock down your spot for limited-quota workshops of free family-friendly coding fun, fantastic project showcases by Preface's top students, and unlock a talk by industry leaders sharing insiders tips on the key to helping kids and youth succeed in the digital era.
After your workshop, head through the G/F and 1/F for a stunning gallery of interactive digital photo displays and experience the top tech projects created by students in Hong Kong. Then, end your wondrous journey on the 2/F - where you will be able to discover an entire year of possible tech learning experiences created in collaboration with the top companies around the world. Which ones? Come to find out!
What to expect in our workshop?
1) Star Students Project Showcase
A range of passion-fueled projects have propelled our top students to global conferences at MIT and admissions to the world's top universities such as UCLA. From NFT collections to aviation simulators to fire dragon dance animations, see where our tech-savvy projects have done for our brightest talents.
2) Family-Fun Coding Adventure
Preface's signature coding experience can now be experienced as a family! Parents - join hands with your little ones and bond over this beginners-friendly workshop! Combining our sell-out informative adult workshops with our kid coding adventures, there'll be something for everyone in this afternoon of fun!
3) Industry Insiders Talk
What are the skills required to succeed in this future full of uncertainty? What does proper "education" look like 5 years from now? Leading tech and education experts are here to share the secrets to nurturing brilliant, curious, passionate, and ambitious young minds.
Event Details:
🗓 Dates: Sep 10 (Sat), 11 (Sun), 12 (Mon), 17 (Sat), 18 (Sun), 24 (Sat), 25 (Sun)
🕑 Time slots: 9:30-11:00 I 11:30 - 13:00 I 14:30 - 16:00 I 16:30 - 18:00
📌 Venue : Preface Coffee & Wine (CWB), The Sharp G/F - 5/F, 11 Sharp St E, Causeway Bay
(With the exception of Sep 24 - 14:30 - 16:00 and 16:30 - 18:00 sessions will be held at 18/F, Tower 535, 535 Jaffe Road, Causeway Bay)
Who is it for?
Suitable for parents and kids ages 6 -18 years old.
Beginners-friendly (no coding experience required!)
This event will be conducted in English.
What would I need to bring?
Please bring one laptop per child.
I have multiple kids/coming with my spouse, how many tickets should I register?
Please register one ticket per child. There will be a form asking you to indicate how many adults you would like to join with.
About Preface
Preface is an industry-leading EdTech company. By tech-enabling learners of all ages, corporates, and schools around the world with dynamic tech education and experiences, we empower individuals and businesses to thrive in the Web 3.0 era. Over the years, we've collaborated with and provided training for leading academic institutions including MIT, UCLA, LSE, and global MNCs such as Meta, Google, AWS, BlackRock and HSBC.
We offer flexible, dynamic, and efficient tech training for individuals and corporations alike through 1-on-1 or group settings. Driven by AI and machine learning, our courses can be tailor-made to the interests, schedules, and paces of our learners, making learning personalised, enjoyable, and applicable. Find your next big idea, break into a new career field, and seize the biggest opportunities of the future with Preface.
For all course details please visit: https://www.preface.ai
Find us on Social Media!
Instagram: www.instagram.com/prefacecoding
Facebook: www.facebook.com/preface.coding
*Please note that Preface reserves the right to use any photographs, videos or audios taken from workshops for marketing or internal use. Should you have any problems, please contact us at hello@preface.education.""