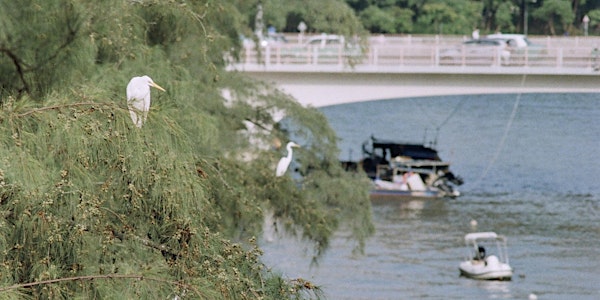 Multiple Dates
Toddle with 埔JOURN in Tai Po | 地區攝影行:與埔JOURN漫步林村河畔
Toddle with 埔JOURN in Tai Po |地區攝影行:與埔JOURN漫步林村河畔
About this event
Though our paths may diverge while living in the same community, they all intersect at Lam Tsuen River. One river connects us, running through the centre of Tai Po, passing by each others' homes, open spaces, smoothing over traces of history, and into the corners where all lives cohabit. We will begin with the everydayness of public housing estates, slowly strolling along the river to explore new perspectives of looking at this community.
Date: 6.11.2021 (Cantonese), 7.11.2021 (Mandarin), 13.11.2021 (English)
Time: 13:00-15:00 (Please arrive 10-15 minutes ahead of time for registration & health declaration)
Gathering Point: Kwong Fuk Sitting-out Area
Admission: Pay as you wish
Points to Note:
(1) The photowalk is divided into three sessions conducted in Cantonese, Mandarin and English respectivel. Please register your session to your preferred language correspondingly.
(2) Please bring a camera of any form and water. Wear comfortable clothing and pack light. Prepare your own sunscreen, mosquito repellent and umbrella if needed.
(3) Due to gathering restrictions against groups of more than 4 persons in public, participants will be split into groups of 4 for the day. HKIPF will provide headsets to facilitate your experience. Please follow the instructions of the staff and abide by health and safety measures for public venues throughout the event.
生活在同一社區,各自軌跡不同,但總會相交於林村河。一條河貫穿大埔市中心,流經別人的家、閒晃的空間、歷史的痕跡,以及動植物與居民共生的角落。我們由最日常的公共屋邨作為起點,沿河散步,發掘在平淡社區不同的視角。
日期: 6.11(粵語)、7.11(華語)、13.11.2021(英語)
時間:13:00-15:00 (請提早10-15分鐘到達,以便進行健康申報)
集合地點:廣福邨休憩處
費用:隨喜樂捐
注意事項:
(1)本活動將會分為三個部分,分別以粵語、華語、英語進行,請根據你的語言偏好登記參與相應環節。
(2)請攜帶任何形式的相機、水,穿著輕便衣物方便活動。如有需要,請自行帶備雨傘、防曬、水或防蚊用品。
(3)基於四人限聚令,參加者須以四人一組進行活動,我們將提供耳機讓講解同步進行。請跟從職員指示。
About Facilitator
Vicky Ho - 埔JOURN
Chief editor of 埔JOURN, which Ho founded after working as a journalist for eight years. Independent magazine "埔JOURN" was self-funded and created last year with a focus on community and art. With the aim of promoting "documentation, discussion, and participation" at its core, the publication hopes to encourage residents in Tai Po to further connect with the community, provide support and platform to artists, and discover new possibilities in local publishing.
導師簡介
何映彤 - 埔JOURN
《埔JOURN》創辦人及總編輯。於傳媒界工作八年後,去年自資創立以社區及藝文為主題的獨立雜誌《埔JOURN》,以「記錄、討論、參與」為軸心,推動大埔居民參與社區,提供創作空間支持藝文工作者,同時探索本地出版的可能性。
Special Measures
(1) All participants must wear a self-provided face mask at all times.
(2) All participants must fill in a health declaration form upon arrival.
(3) Any person who fails to cooperate as requested, or displays fever (forehead temperature above 37.5C), fatigue, cough, diarrhea, vomiting or other flu-like symptoms will be refused to join the event .
(4) All persons must abide by the "Prevention and Control of Disease (Prohibition on Group Gathering) Regulation" (Regulation) gazetted by the Government, including but not limited to the extension of the "congregation restriction"which prohibits groups of more than 4 persons to gather in public, with effective from 24 February 2021.
防疫措施
(1) 活動進行期間必須全程配戴口罩
(2) 進行活動前填寫健康申報表
(3) 需量度體溫,發燒者不能參與活動
(4) 所有人員盡量分開,保持社交距離,四人限聚,如有違法,須自行負上法律責任
Support HKIPF
Support freedom of expression and help facilitate the growth of the arts by making a donation to the Hong Kong International Photo Festival. Your contribution will go towards our operation, future programmes and keeping our events accessible.
The Festival was launched in 2010. In each edition, the Festival focuses on a different theme, introducing noteworthy photographers, trends, and movements, discussing manifold issues and perspectives. Through a wide range of public programmes, the Festival bridges Hong Kong and international visual practitioners, creating conversations between people and place, past and present, and oneself and the world.
The Festival is organised by the Hong Kong Photographic Culture Association, which is a tax-exempt charity under section 88 of the Inland Revenue Ordinance. Donations above HKD 100 are tax deductible. If you require a receipt for tax deduction, please make a note when you register, and confirm with our staff at the event. If you have any questions, please feel free to contact info@hkipf.org.hk.
With your support, we hope to make ever greater progress in the coming decade.
支持香港國際攝影節
為秉持香港國際攝影節的獨立自主,專注社會、非營利的精神,以及守持表達及知識的自由傳達,活動的開放自由參加,誠邀您成為我們的支持者。
創始於2010年,每屆攝影節以不同主題之展覽,將攝影世界具獨特性、創造性的名字,以及值得關注的視覺文化思潮引入香港。同時,透過不同公眾活動,搭建香港與世界攝影文化的溝通平台,借影像呈現不同文化歷史議題,審視不同社會人文狀況,促進跨越地區與領域的對話。
香港國際攝影節由香港攝影文化協會主辦,協會為根據《稅務條例》獲確認豁免繳稅資格之慈善團體,凡捐款港幣一百元以上可獲扣稅。如需要收據用作扣稅用途,請在登記時註明,並在出席活動時與工作人員確認。如有任何問題,歡迎聯絡info@hkipf.org.hk。
Organiser of Toddle with 埔JOURN in Tai Po | 地區攝影行:與埔JOURN漫步林村河畔