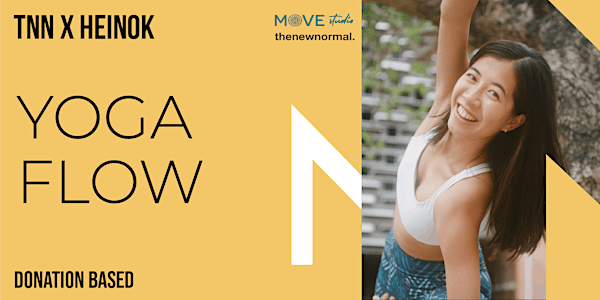 TNN x Heinok YOGA FLOW
Donation-based Yoga and Sound Healing classes for body and mind brought to you by The New Normal Charity and Heinok Fan.
When and where
Location
MOVE Studio 63 Wyndham Street #7/F Hong Kong, HKI Hong Kong
Refund Policy
Contact the organiser to request a refund.
About this event
Move Partners by The New Normal Charity
Taking part in physical activity can improve mental health in many ways; better sleep, happier moods, managing stress, anxiety, and intrusive thoughts, improved self-esteem, and connection to community, to name a few.
Move Partners is a collaborative project between The New Normal Charity organisations, professionals, and athletes. We aim to reinforce the connection and the importance of moving to help support our mental health. We are striving to open up conversations and continue to encourage people to reflect on their relationship with exercise and their mental health. We know how important the emotional is alongside the physical.
We aim to make fitness for mental health accessible in Hong Kong. Proceeds from these classes will go to helping The New Normal Charity deliver free mental health and grief support in the Hong Kong community.
TNN x Heinok at MOVE Studio
YOGA F L O W
You can expect a 60 minutes class yin yang style: 45 minutes of fun, functional, and fluid yang movement that ends with 15 minutes of softer & static yin stretches and a sound bath led by Heinok. Open to all levels, with the following themes each week for you to progress through or just drop into:
1. 14/01/23: Grounding & balance practice
2. 21/01/23: Hips & hamstrings
3. 04/02/23: Core & twists
4. 11/02/23: Heart openers & backbends
5. 18/02/23: Shoulders, twists & binds
6. 25/02/23: Spinal care
Classes are donation based. The suggested donation is 100 HKD, but you can pay a lot less or a little more. You can also attend the classes for free if you are experiencing financial hardship.
Welcome to all get moving for YOU!
So who are we?
The New Normal Charity
The New Normal is a charity that connects adults through their mental health and grief. We aim to help and support one another through life's difficult moments. Our meetings are peer-to-peer, no professionals, just people sharing their experiences.
We feel that one of the best forms of therapy is simply speaking. We facilitate conversations between individuals who find themselves with similar experiences. Nobody should ever feel alone, and there is always somebody who can empathetically relate to your story.
Heinok
Coach Heinok is a yoga instructor with a focus on vinyasa, yin, and singing bowls. She's a YTT200 yoga instructor with a further 50 hours yin training and is currently working towards her YTT500 with Yoga Medicine. Expect to feel blissful after her classes for all. As a keen learner and healthcare professional, she has always had a particular interest in medical and wellness concepts - thus, you will find her class full of anatomical cues through her progressive flows as part of her life goal of sharing 'movement is a form of medicine'. Heinok started her yoga practice 10 years ago with her family as a space to stretch and alleviate stress from school. Up until today, yoga has been a part of her life as a tool to support her mental and physical health, disconnect from the worries of the fast-paced life in Hong Kong, and connect with the present and body. She has been teaching since 2020, and she aspires for her students to walk out from a class feeling in complete bliss like she does as a student.
MOVE Studio
MOVE Studio is a unique boutique movement and wellness studio located in the heart of Central. Using movement, we release your stress and tension through the body and help elevate you to your best and freest self. At MOVE, we offer a variety of classes and methods so that you can access your innate potential and find freedom within the body and mind.
We offer traditional styles of yoga, dance, and fitness and developed our own unique signature classes, which incorporate movement in many creative and exciting ways. So no matter how you feel each day, we can provide you with something that suits your mood. Through private and small group classes, we nourish and nurture your body with healthy movement.
We encourage curiosity in mind and expression through body, including barefoot training, allowing you to MOVE more freely and connect to self.
We are happy to be one of a kind in Hong Kong and welcome you to discover your own sense of freedom through movement.
If you have any questions contact jess@thenewnormalcharity.com
@tnnhongkong @movestudiohk
www.thenewnormalcharity.com