- 5 sessions (90 minutes). - Each focused on simple activities to serve a different training purpose
About this event
In the hustle and bustle of virtual trainings, breakout rooms and "zoom-ified" interactions, time is of the essence and learning to adapt is key.
One thing is certain, the virtual training environment is here to stay.
As learning professionals it's important to find the time to expand our own skill sets. So how do we, as trainers/facilitators/educators, find some quality time to upskill ourselves?
Think of it like a race car refueling and reassessing at its pit stop for just a few seconds and then, back on the race track it goes. The virtual learning environment is no different; the question is- where is your "pit stop"? And how are you "refueling" yourself?
Presenting, "TLG's Top 5 Activity Series"
We have designed 5 "quick fueling" sessions spanning over 10 weeks that focus on design, delivery, creating an engaging virtual environment and much more.
5 short, action-packed sessions for the trainer/facilitator on-the-move.
Here's how it works:
Register now by paying a one-time fee of USD 50 and get access to all 5 sessions. Each session is 1.5 hrs long. Each session is a standalone workshop, and you can attend any number of sessions based on your interest and availability.
We understand that a lot of us are operating from different parts of the globe, so to make it more accessible, each session will be facilitated twice on the same day, to accommodate different time zones. Depending on where you're located, you get to choose the timeslot that works best for you.
What we have planned:
• Session 1: 5 activities to turn passive learners into active learners
One of the main challenges in the virtual world, is to engage your learners so that they're not just absorbing information but actively participating in the exchange. As we, at TLG like to say, "Learning is creation not consumption". It's about replacing lectures with learning activities to truly engage the learners and put them into the driver seat. This session is all about creating learner-driven activities that enhances your virtual training sessions.
Date: May 21st
Time: (pick the option which works best for you)
Option A: 3:30 p.m. IST/ 12:00 p.m. CET
OR
Option B: 7:30 p.m. IST/ 4:00 p.m. CET
• Session 2: 5 activities to create a positive virtual learning environment
The important aspects of creating any positive learning environment can be narrowed down to three key pillars: social, emotional, and physical. How do we translate this to a virtual setting?
Just as the delivery of any training is important, so is the environment the learning takes place in. How do we optimize a virtual learning environment to ensure that our learners feel safe to express their opinions/learnings, feel energized to participate in activities and more importantly, create a collaborative learning space together?
In Session 2 of the TLG Top 5 series, join us as we explore activities that create a positive virtual learning environment.
Date: June 04th
Time: (pick the option which works best for you)
Option A: 3:30 p.m. IST/ 12:00 p.m. CET
OR
Option B: 7:30 p.m. IST/ 4:00 p.m. CET
• Session3: 5 activities to arouse learner interest
When designing a session, it is important to not just think about what happens on the day of the session, but also the days/weeks leading up to the session. What are we as trainers, doing to prepare our learners before they encounter new information?
Promoting learner curiosity and clarifying expectations and goals are particularly important aspects of a successful training This session is all about designing activities that get your learners acquainted with the information, and with each other before the session, and help them reduce any learning barriers they might face towards the subject matter.
Date: June 18th
Time: (pick the option which works best for you)
Option A: 3:30 p.m. IST/ 12:00 p.m. CET
OR
Option B: 7:30 p.m. IST/ 4:00 p.m .CET
• Session 4: 5 activities to help learners integrate their learning
One of the primary goals of a learning professional is to be able to transfer new information/knowledge to our learners in a way that it becomes part of them. A typical challenge to this, is that learners come from a variety of different backgrounds which means that they have different ways of processing information and absorbing it. We all have preferences in terms of which senses we prefer to engage, and, which technology elements we're comfortable with. When designing any training program, it's important to keep these factors in mind so we don't cater to our biases and instead have a holistic approach.
In this session, we're going to explore activities that offer an option-rich environment where learners can integrate their learnings on a multitude of levels. We will introduce you to activities that cater to your learners on a multi-sensory level, going beyond a "one-dish" meal approach.
Date: July 09th
Time: (pick the option which works best for you)
Option A: 3:30 p.m. IST/ 12:00 p.m. CET
OR
Option B: 7:30 p.m. IST/ 4:00 p.m. CET
• Session 5: 5 activities to make learning stick beyond the classroom
What happens after a training session? Does the learning end there? How can we ensure that our leaners continually deepen and extend their knowledge and skill to their job?
In the last and final session of our TLG Top 5, we introduce you to activities that allow your learners to apply their knowledge at work and reinforce them where needed. You will experience activities that celebrate the knowledge that your learners have gained and help them process new information so they can apply it in real-time.
Date: July 23rd
Time: (pick the option which works best for you)
Option A: 3:30 p.m. IST/ 12:00 p.m. CET
OR
Option B: 7:30 p.m. IST/ 4:00 p.m. CET
Meet your Facilitators: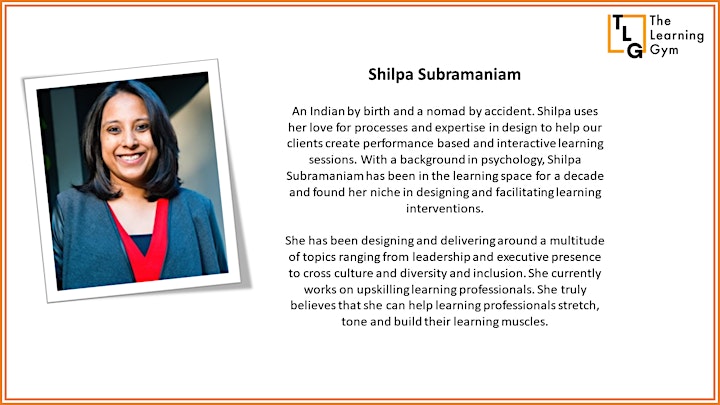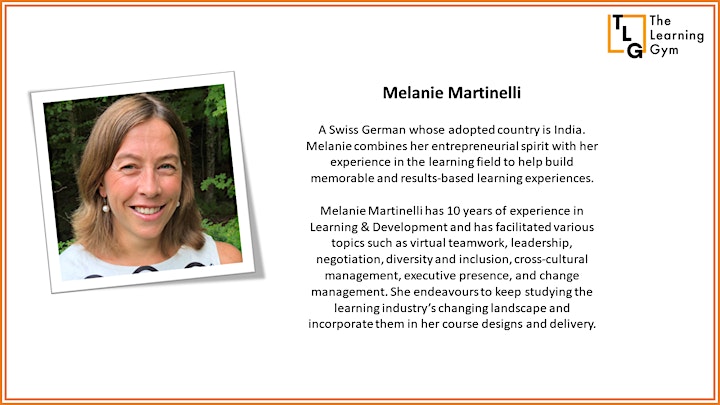 Note: It is not compulsory to attend all 5 sessions after you register. The registration fee is a one-time payment of USD 50 whether you choose to attend all 5 sessions or 2-3 of them.
For more info on the sessions, do drop us a mail at info@thelearninggym.co
See you online :D
Organiser of TLG's Top 5 activity series
Our focus is upskilling learning professionals – it's that simple. Learning professionals are often busy focusing on the needs of their learners, and their challenge is finding the time and the right tools for their own learning. This was the primary reason for the creation of The Learning Gym.
Much like a gym tends to cater to a versatile audience and differing needs, The Learning Gym does the same by offering a variety of formats and types of tools to suit the needs of learning professionals. We offer a one-stop shop to address your learning and education requirements. We provide a space for you to exchange new ideas, learn from proven methodologies and tools and from each other. The end objective is for you to be able to flex, tone and build your learning muscles!
What makes us different? We'd like to think there's a lot that sets us apart!
We're "glocal"– we bring global tools and adapt them to the local markets.
We cater to the entire learning project cycle and offer support (through tried and tested tools) for all the stages of learning. So irrespective of where in the life cycle of a learning project your role and focus are on, we are here to support you in being more effective.
We also offer different "fitness tracks" to make you more "fit" as a learning professional. Our fitness tracks work on the premise that a fit learning professional –
• Assesses learning needs
• Engages relevant stakeholders early on and starts with the end in mind
• Designs learner-centric solutions
• Leverages technology
• Delivers with impact and is memorable in the room
• Makes learning stick (by thinking beyond the classroom) and supports post-program application
• Measures and demonstrates results