Tinker's Start from Scratch: Animations & Games Camp Oct 12 - Oct 14 13:00-...
Description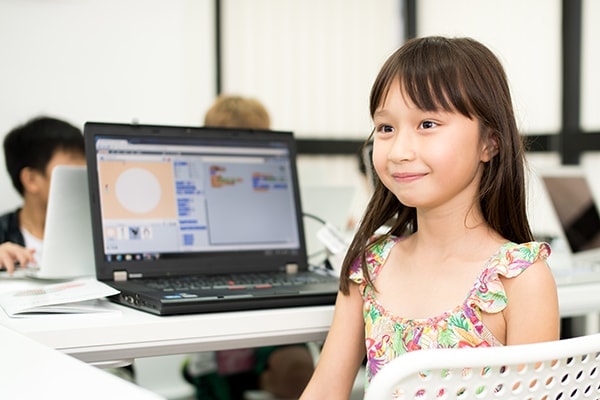 Designed for young imaginative minds, the Scratch 101 course uses Scratch, a block-based programming tool developed by the MIT Media Lab, to give young students hands-on first try on programming. Students learn key computer science concepts such as sequences, loops, conditionals and abstraction by building their own fun projects of animated stories and multimedia games. Students are encouraged and supported by professionally trained instructors to design creative games and to think about the programming processes behind the apps and games they see in daily lives.
TOPICS COVERED:
Introduction to storytelling and creative programming

Familiarizing with the Scratch interface and creating first projects

Hands-on: designing and programming Scratch projects to learn events, sequences and loops

Introduction to the x-y coordinate system in Scratch

Introduction to conditionals, parallelism and objects


Format: 3 classes a week, Wednesday to Friday

Class Duration: 150 minutes per class

Class Size: 4 - 8 students

Suitable Age: 6 - 8

Location: 3/F Hollywood Centre, 233 Hollywood Road, Sheung Wan

8 : 1 Ratio Guarantee

Personalized Learning

Hands-on Project Based Learning

Follow on Curriculum for Immersed Learning

FCAEARLY - apply this discount codes at checkout to receive discounts for your ticket!
Early Bird Discount - Save 5% off when you sign up before September 27, 2016.

Referral Program
If you refer a friend, you can save up to HK$380 each! Refer as many friends as you wish, click here for more details: http://firstcodeacademy.com/programs/referral.html
Note: First Code Academy reserves the right to cancel a ticket if an incorrect promo code is used.

Shaping Future Creators
First Code Academy is a leading education institute that teaches kids coding courses and develop curriculum for K-12 students to learn not just coding skills, but computational thinking. Our goal is to empower children and teenagers to become creative leaders in the digital era, for their future career and for driving social change.