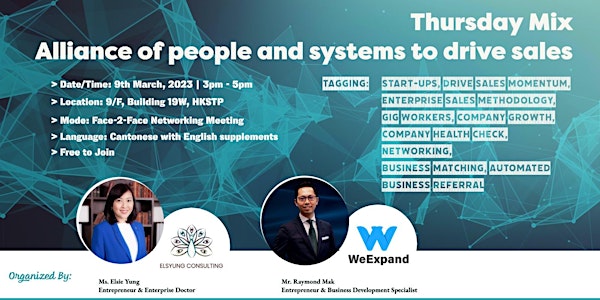 Thursday Mix - Alliance of people and systems to drive sales
It's a networking event you can't miss if your business is looking to grow!
Date and time
Thu, 9 Mar 2023 15:00 - 17:00 HKT
Location
Hong Kong Science & Technology Parks Corporation 9A, 9/F, Building 19W, Hong Kong Science & Technology Parks Shatin, NT Hong Kong
About this event
Is your company looking to grow? How can an automated referral program and gig workers help? Are you interested in engaging gig workers to play a crucial role in your growth?
During the first half of the event, our two speakers will share their perspectives on:
In what ways can traditional Enterprise Sales Methodology benefit start-ups and how do we co-create more sales momentum?
You face numerous challenges as a start-up or a small business owner, do you understand what they are and how to mitigate them to help you succeed?
How can gig workers be leveraged and engaged for company growth?
In the second half of the event, attendees will be able to network with other business owners in the room and meet potential partners for business matching in person.
Our event has a limited number of tickets, so reserve yours today and we look forward to seeing you there!
Speaker background:
Mr. Raymond Mak - Founder & CEO of WeExpand Limited
15+ years Sales & Business Development experience in TMT industry, Ex – Head of Sales, PwC New Venture Team
WeExpand is an award-winning salestech company funded by HKSTP and the first Hong Kong Virtual Sales Platform (www.WeExpand.co). Their mission is to enables companies to develop a scalable and sustainable virtual sales network by incentivising people connections into on-demand virtual sales force, thus helping clients capture sales opportunities and promote with viral effect so as to develop its own virtual sales ecosystem.
Ms. Elsie Yung - Founder & Director of Elsyung Consulting
Over 25 years of solid experience in managing all aspects of Human Resources functions in various large global companies in Asia.
Elsyung Consulting offers bespoke and holistic People Solutions, delivering meaningful impact to Companies. By developing teams to be highly engaged and capable, we help company owners focus their time on growing their business. Being a dedicated Enterprise Doctor, our approach is to provide preventive and diagnostic advice to SMEs on how to grow or maintain their business through a sustainable approach.
Language: Cantonese