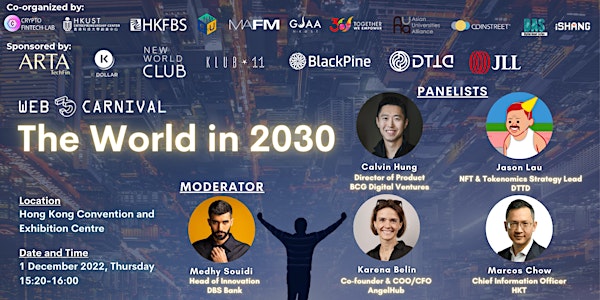 The World in 2030 (Closing Panel)| AngelHub, BCG, DBS, DTTD, HKT
Opportunities to come with Web3 a mass adoption of cryptos, NFT, metaverse
When and where
Location
Hong Kong Convention and Exhibition Centre 1 Expo Drive HKSAR, HKI Hong Kong
About this event
Event summary:
Looking into the future
-Is there going to be a new world ruled by code?
-How to better equip ourselves for the opportunities to come with Web3? What kind of skillsets will be in high demand?
-What are potential new types of occupations?
-Is there going to be a mass adoption of cryptos, NFT, metaverse or how far away from we from there?"
Medhy Souidi (DBS, Head of Innovation) [moderator]
Anthony Woo (Alpha Intelligence Capital, Executive Director)
Marcos Chow (Hong Kong Telecom, CIO)
Karena Belin (AngelHub, Co-founder)
Calvin Hung (BCG Digital Ventures, Director of Product)
Evan Auyeung (Animoca)
Join our community to learn about the event and the latest updates!
Website: web3-hk.xyz
Discord: https://discord.gg/PR6pgrfjMb (join now to chat!)
Twitter:@Web3_HKUST
Co-host:
HKUST Entrepreneurship Centre (https://ec.hkust.edu.hk/)
HKUST Crypto-FinTech Lab (http://cryptofintechlabhk.net/)
HKUST Web 3.0 Lab
HKUST DareDevil Lab
Hong Kong Federation of Business Students (HKFBS)
HKUST Graduate Students and Alumni Association (GSAA)
0xU Blockchain Club
Asian Universities Alliance
Carnival Rundow:
Week 1: Carnival kickoff & Web3 landscape
Week 2: How are corporations tapping into Web3?
Week 3: Opportunities lie in web3, metaverse & NFT
Week 4: NFT = jpg?
Week 5: GameFi, SocialFi, and Metaverse
Week 6: Venture investments & Women in Web3
Week 7: Sustainability and Impact in Web3
Week 8: Cryptocurrencies, Tokens, Coins Risks
Week 9: The World in 2030 & Carnival Closing
Award:
Participating in more than 80% of the courses, you will receive an exclusive NFT!
NFT Previews: