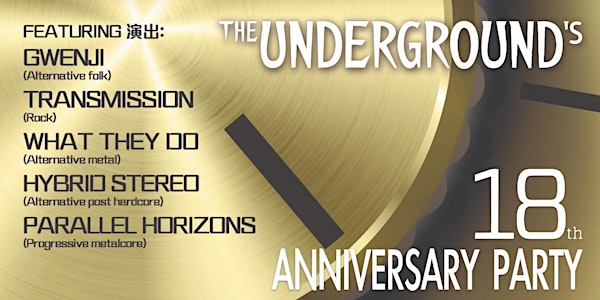 The Underground's 18th Year Anniversary Party
The Underground's18th Year Anniversary Party
When and where
Location
Rula Live Bar 58-62 D'Aguilar Street #G/F Central, HKI Hong Kong
About this event
The Underground HK Celebrates 18 Years Proudly Championing Local Independent Music with Huge Night of Live Performances
The Underground HK慶祝18週年 一直支持本地獨立音樂 舉辦盛大的現場表演之夜
Five Outstanding Local Bands to Thrill Live Music Fans at Rula Live on Saturday November 19
5個出色本地樂隊將於11月19日(星期六)在Rula Live為香港現場表演樂迷帶來最佳音樂享受
The Underground HK, Hong Kong's longest established original live music promoter, is celebrating 18 years supporting Hong Kong's thriving independent live music scene with a bonanza night of top performances from five superb local acts.
Kicking off the event is indie-folk singer-songwriter Gwenji, whose stunning voice and songs showcase Hong Kong's unique original music offering. Next up is Transmission, a brand-new band playing original rock. They are followed by dynamic alt metallers What They Do next taking the stage, bringing the heavier element of Hong Kong's indie scene.
For their first Underground show, Hybrid Stereo play their catchy pop-punk hardcore and will have audiences dancing like no tomorrow. Finally, the evening closes loud and proud with headliners Parallel Horizons, the metal kingpins who will bring the house crashing down.
"For 18 years The Underground has supported Hong Kong musicians by providing them with venues and events that allow them to unleash their musical creativity and shine," said Chris B, founder of The Underground HK and Mellow Yellow Music Festival.
"To mark our 18th anniversary we want to throw a "thank you" bash dedicated to the artists, performance venues that share the live music vision, and amazing audiences who party with us. The ban on live music has been very hard for musicians and venues, and we hope music fans will help make the night rock by joining us at Rula Live on November 19 for five killer hours of music played by six of Hong Kong's hottest acts!"
The Underground HK是香港歷史最悠久的原創現場音樂推廣機構,今年踏入第十八個年頭,並在過去一直支持香港獨立樂隊發展。即將舉辦一場由五個優秀本地表演者帶來頂級表演的盛大之夜。
獨立民謠創作歌手Gwenji會率先為活動揭開序幕,以她迷人的聲線和歌曲展示本地獨特的原創音樂作品。緊隨著是新晉樂隊Transmission為現場獻上原創搖滾樂;接下來是活力四射的另類金屬樂隊What They Do,為香港獨立音樂界帶來狂熱的重金屬元素。
Hybrid Stereo為他們的首場Underground演出準備了朗朗上口的流行朋克硬核,讓觀眾拋開一切,樂而忘返地跳舞。最後是由萬眾期待的重金屬樂隊Parallel Horizons將音量調到最大作完場,這隊重金屬領軍人馬將會令全場盡情狂歡,享受至最後一刻。
「18 年來,The Underground 一直支持香港樂隊,為他們提供場地和活動,讓他們發揮音樂創造力並綻放光芒,」The Underground HK 和 Musicians Foundation的創始人Chris B說:
「為了慶祝我們的18 週年,我們想藉此機會向曾參與表演的盡心盡力的表演者、提供分享現場音樂願景的表演場地,以及參與我們活動的忠實觀眾表達我們真摯的感謝。現場音樂禁令對音樂家和舉辦場地來說是非常艱難的時期,我們希望樂迷們能參與 11 月 19日的Rula Live,讓五個高質素樂隊為我們帶來長達五個小時的精彩音樂表演,共同令整個夜晚搖滾起來!」
The Underground's18th Year Anniversary Party
Saturday, 19th November 2022, 9pm - 1am
Rula Live, G/F, 58-62 D'Aguilar St, Lan Kwai Fong, Central
Bands: Gwenji, Transmission, What They Do, Hybrid Stereo & Parallel Horizons
Early Bird tickets: HK$140 (before 3rd November 2022)
Advance tickets: HK$160
Walk-in tickets: HK$200
All tickets include one drink.
Student tickets (no drink included): HK$100 walk-in
Hotline: (852) 9486 4648
Thank you for supporting live music in Hong Kong! https://undergroundhk.com/2022/11/19/the-undergrounds-18th-year-anniversary-party/
The Underground 十八週年派對
2022年11月19日星期六
晚上9點至凌晨1點
Rula Live, 中環德己立街 58-62號
樂隊: Gwenji, Transmission, What They Do, Hybrid Stereo & Parallel Horizons
早鳥優惠: HK$140 (3/11或之前購票)
預售門票: HK$160
即場門票 : HK$200
門票包括一瓶飲品
現場學生票(不包括飲品):HK$100
查詢電話 : (852) 9486 4648
高解析度樂隊相片可從以下網址下載:https://undergroundhk.com/2022/11/19/the-undergrounds-18th-year-anniversary-party/