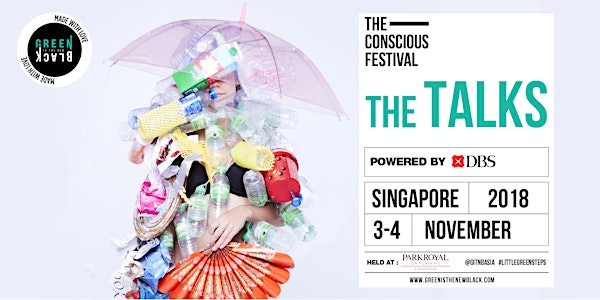 the TALKS at The Conscious Festival by Green Is The New Black
When and where
Location
PARKROYAL on Pickering 3 Upper Pickering Street Singapore, 058289 Singapore
Description
the TALKS Powered by DBS at The Conscious Festival by Green Is The New Black
Four transformative sessions packed full of juicy actionable insights that will empower you to change your life including inspiring keynotes, engaging workshops, wellness breaks and action kits. Everything you need to take #LittleGreenSteps to #LiveMoreConsciously.
Register today to hear from over 20 incredible speakers - feed your mind, spark inspiration and ignite your impact on the world. Mix and match the sessions or join us for all 4 (scroll down for all the details).
1) LIVE - Breaking Limits, Breaking Free [Sat 3 November, 10.50am - 1.30pm]
Conscious living starts with you. By empowering ourselves, we can unleash our best selves into the world. During this session, we will be exploring how to deal with and avoid burn out, getting rid of old patterns and limitations, and how speaking our truth unleashes us.
Speakers include Positive Psychologist Anoushka Beh, Kate Sarginson from Welltodo, Deborah Emmanuel, Cheryl Liew The 24 Hours Woman, Gina Robinson, Ying Ling from Urban Spirit and many more!

2) WORK - Purpose, Sustainability, Innovation [Sat 3 November, 2.20pm - 5.00pm]
Purpose and blockchain - two words that have been buzzing around recently. But how can we actually activate them in the context of sustainability? During this session, we will be tackling finding purpose at work by empowering employees to be the change, how blockchain can change the sustainability game, and going green at work.
Speakers include Melati Wijsen from Bye Bye Plastic Bags, Sebastian Schwietzer from Google, Petr Statsny from Addidas, Andrea Edwards from The Digital Conversationalist, Jack Sim from World Toilet Organisation, Kay Vasey from Mesh Minds, Simon Schillebeeckxand from SMU, and many more!
3) CONSUME - Going Zero [Sun 4 November, 10.50am - 1.30pm]
We're living on the planet like we've got another one to go to, but there is no planet B. During this session, we will be re-thinking the future through the circular economy by designing out waste, discovering the truth behind the bioplastics vs petroleum debate, and looking at what the future of food holds for us- from insects to plants.
Speakers include Rakesh Jain from Just, Andy Kusumo from Quorn, Veerappan Swaminathan from Sustainable Living Labs, Lay Kwan Loh from DBS, Sam Stephens from Clean The World, Tong Ip from Neropol, Hailin Pek from Zero Waste SG, and many more.
4) TRAVEL - The Unexplored [Sun 4 November, 2.20pm-5.00pm]
There is still so much of the planet that is unexplored; do those places hold the secrets to our survival? During this session, we'll be exploring how to travel while not impacting the world and being low waste, festivals and movements bringing change to Asia, and why underwater exploration is important for the survival of our planet.

Speakers include Kim Stengert from WWF, Thaddeus Lawrence from Runaway Success Learning, Kuntal Joisher mountaineer, Adam Broadbent from Zublu Diving, Ugo Di Mauro and many more!
By the time you leave the TALKS Powered by DBS, you will be empowered, motivated and ready to play an even bigger game, make a bigger impact and embrace your most fulfilled, green life.
Watch what happened last time.
PROGRAM: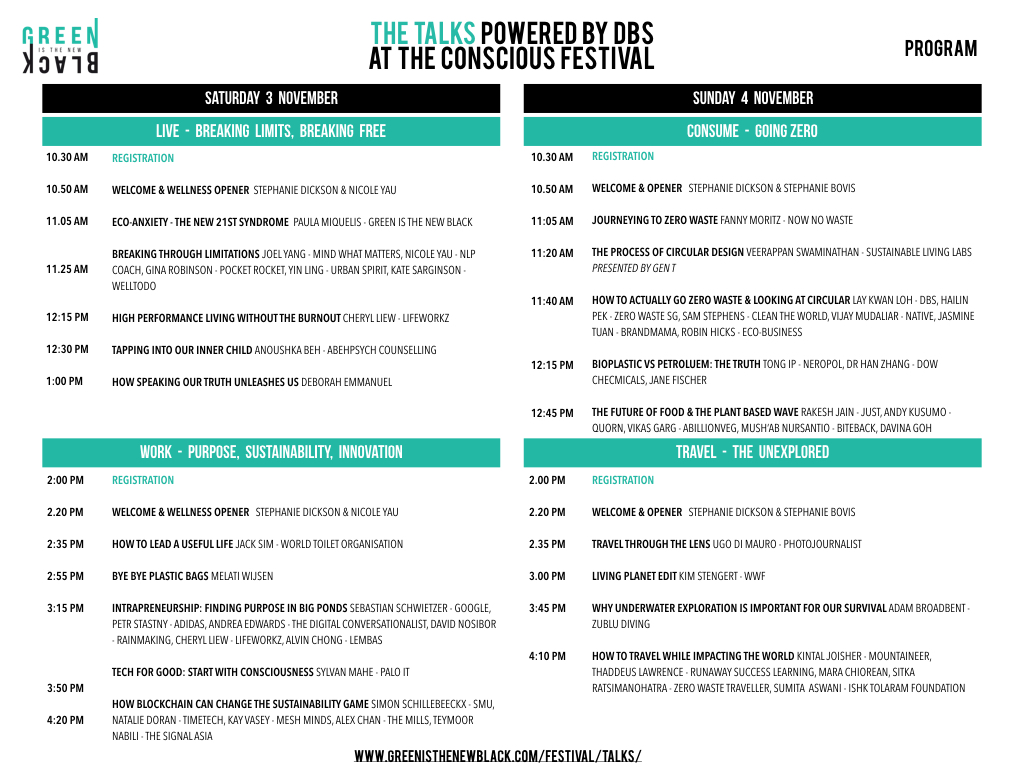 GOT KIDS? Not a problem, bring them down for free!
N.B. This page is ONLY for registration for the TALKS which are ticketed. Entry to the FESTIVAL is open to the public. For more information on all other activities head here: https://greenisthenewblack.com/festival/
GET IN TOUCH
Want to get involved? Be a vendor? Volunteer? Join the conscious movement? Send us an email at holla@greenisthenewblack.asia
P.S. We love young minds so if you're a student email us for a special discount.
#LittleGreenSteps to #LiveMoreConsciously