Description
The TALKS at The Conscious Festival by Green Is The New Black return for the fifth year
> WHY
We've walked on the moon...why can't we solve climate change?
If you have felt the twinge of eco-anxiety, the twang of disempowerment, or are a little lost trying to navigate your way through sustainability — we're right there with you. While we may feel pessimistic when faced with the facts and reality of the world we live in, we are optimistic that our actions and humanity can change this around.
As living beings who want to stay alive, and make the world a better place for generations to come; The Conscious Festival is a space to encourage open dialogue, connection, community and growth. You can expect to hear from experts in their fields, meet the inspiring business owners working tirelessly to change the game, and walk away armed with #LittleGreenSteps that will carry you forward in your journey towards a more sustainable life.
> WHAT
Four transformative sessions packed full of juicy actionable insights will empower you to make changes in your life. Listen and learn through inspiring keynotes, engaging workshops, wellness breaks, and action kits — everything you need to take #LittleGreenSteps to #LiveMoreConsciously.
> TALKS SESSIONS
1) WELLBEING — Collaboration Not Conflict [Sat 2 November, 10.50am - 1.30pm]
One of the biggest threats to mankind is not climate change but our ability to collaborate to fight against it. This ability is hindered by a few things, including the fact that our brain finds it difficult to process something as intangible and complex as climate change. There is also our ego that stands in the way of fighting the long fight ahead. In this session, we will delve into topics like fighting against apathy and the 'it's too late' mindset, how we need to connect deeper with ourselves before we can connect deeper with the planet, why empowering women is key to mitigating climate change, and more.
Speakers include: Christine Amour-Levar — adventurer, explorer and founder of Women on a Mission and Her Planet Earth, Nicole Yau — Transformation Change Management, Yana Fry — Founder of Go Awake, Wong Pei Chi & Taylor W. Hickem — Advocates with 350 Singapore, Luke Anthony Myers — Workspace Experience Designer, Fleur Van Unen — Agile Coach, Facilitator and Positive Impact Ambassador, and many more.
2) BUSINESS — Ethical Opportunities in the Climate Crisis [Sat 2 November, 2.20pm - 5.00pm]
With 100 companies responsible for 71% of the world's total carbon emissions, if we truly are committed to making a difference, it is crucial for us to look deeper at the private sector and how our system is built because we all rely on fossil fuels, whether it's the way we dress up, what we eat, or how we move. If solutions exist to decrease our dependence on fossil fuels, hence enabling us to fight against climate change, why are they not scaling? Why is change not happening faster? Now is the time to put the ego aside and empower businesses and individuals to take action. During this session, we will reimagine capitalism, look at how to navigate through the climate change chaos unfolding around us, and what the solutions currently exist for us to solve it.
Speakers include: Barney Swan—the first man to walk the South Pole fueled only by renewable energy, Szue Hann Tan — Managing Director of Miniwiz Singapore, Christian H Cadeo — Managing Partner at Big Ideas Venture, George Jacob — President of Centre for a Responsible Future, Assad Razzouk — CEO of Sindicatum Renewable Energy and The Angry Clean Energy Guy, Katherine Desbaillets Braha — Director of SaladStop!, and many more.
3) PLANET — Rising Seas, Rising Youths [Sun 3 November, 10.50am - 1.30pm]
The planet is warming, glaciers are melting, and sea levels are rising — the future that we are locking ourselves into looks grim. What solutions are we undertaking to change our current trajectory, and how can we scale them faster? In this session, we will rethink the future through the eyes of modern Millennials and ask ourselves how we can spice up the conversation surrounding sustainability. We will examine the role of zero waste in the face of the climate crisis and look to empower younger generations to turn the tide on climate change and redefine their own future — because the power of the youth is unwavering.
Speakers include: Esther An — Chief Sustainability Officer at City Developments Limited, Rachel Tan — @nocarrierpls, Ho Xiang Tian — Founder of Lepak in SG, Komal Lad — Student Activist and Founding Member of SG Climate Rally, Bertrand Seah — Environmentalist, Jaclyn Yoast — Founder of Ecomadic, Sean Lee Davies — Founder and CEO of Awethentic Studio, and many more.
4) FASHION — Dressing with Sense & Sustainability [Sun 3 November, 2.20pm-5.00pm]
Just how dirty is the fashion industry? Are our fast fashion habits really killing the planet? If so, what role does fast fashion have in the future of garment production and design, and will it ever be possible to bridge the gap between fast fashion and sustainability? These are the questions that this track will explore to help us understand how and why we should dress with sense and sustainability.
Speakers include: Philippe — Co-Founder of Reflaunt, Alexander Ho Young Chan — The Mills Fabrica, Bernice Pan — Founder of Deploy London, Nissa Cornish — Event Director of Redress, Karen Riley-Grant — VP, Head of Marketing (AMA & ANZ) of Levi Strauss and Co, Raye Padit — Founder of The Fashion Pulpit, Jon Max Goh — Co-founder and CEO of LivingWear, and many more.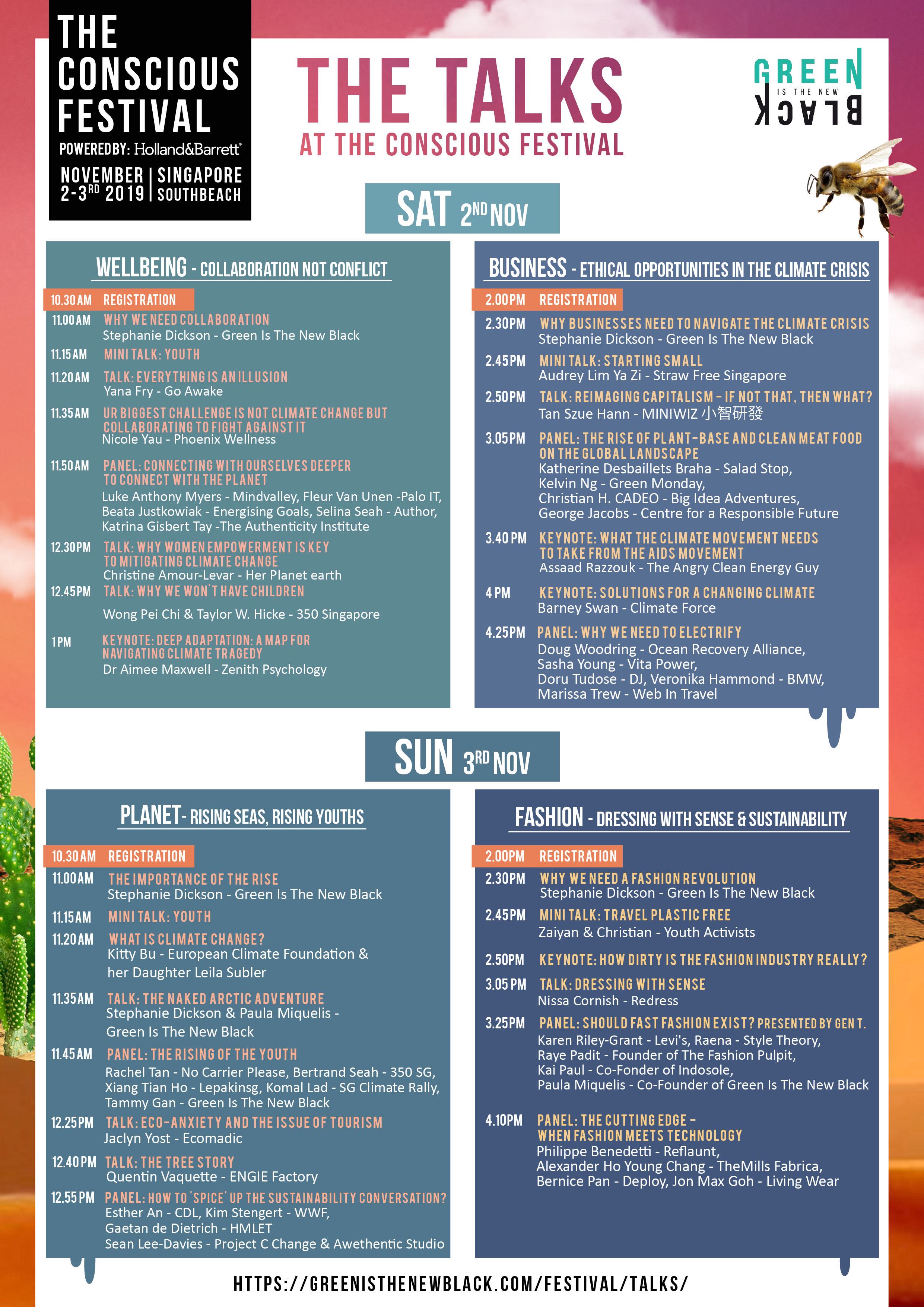 > DO IT FOR THE TREES
While forests are burning all around the world, we need to understand that not only do trees provide us with the oxygen we breathe, but they also keep CO2 out of the atmosphere. With that in mind, we've decided to plant a whole forest. By joining any of our talks, a big part of your contribution will help us reforest a small slice of the Philippines. So for that, we thank you in advance.

Upon leaving any or of out TALKS, you will leave informed, empowered, and motivated to amplify your sustainable efforts, make more of an impact, and embrace your most fulfilled, green life. Watch what happened last time here.
> GOT KIDS?
Not a problem, bring your little Green Warriors in training along with for the ride for free.
Note: This page is ONLY for registration for the TALKS. Note that they are ticketed and come with a modest charge. Entry to the FESTIVAL, however, is open to the public and FREE. For more information on all other activities, head here: https://greenisthenewblack.com/festival/
> GET IN TOUCH
Are you looking to get involved? Perhaps you're interested in volunteering? Or becoming a vendor? Join the conscious movement and send us an e-mail at holla@greenisthenewblack.com.
P.S. We love young minds, so if you're a student, e-mail us for free tickets (limited).
#LittleGreenSteps to #LiveMoreConsciously
#SustainabilityisaJourney
Organiser of the TALKS at The Conscious Festival by Green Is The New Black (SG)
Green Is The New Black is a lifestyle media platform promoting conscious living in fashion, beauty, lifestyle and F&B. They are on a mission to empower individuals and businesses to #LiveMoreConsciously through #LittleGreenSteps by improving the way we consume, work and travel while doing more good in the world. They do it through their online magazine and bi-annual Conscious Festivals in Singapore and in Hong Kong.