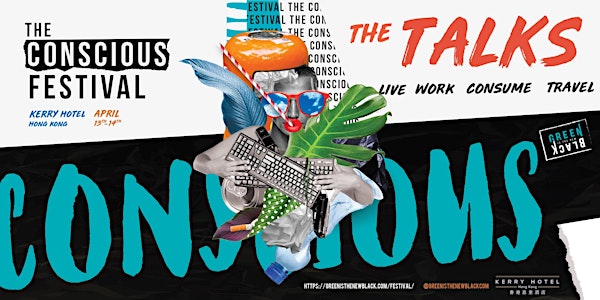 the TALKS at The Conscious Festival by Green Is The New Black (HK)
When and where
Location
Kerry Hotel 38 Hung Luen Rd, Hung Hom Bay Hong Kong, Hong Kong Hong Kong
Description
the TALKS at The Conscious Festival by Green Is The New Black IS BACK for its second year!

Four transformative sessions packed full of juicy actionable insights that will empower you to change your life including inspiring keynotes, engaging workshops, wellness breaks, and action kits. Everything you need to take #LittleGreenSteps to #LiveMoreConsciously.
Register today to hear from over 30 incredible speakers - feed your mind, spark inspiration and ignite your impact on the world. Mix and match the sessions or join us for all 4 (scroll down for all the details).
** EARLY BIRD SPECIAL **
First 50 signups get a Green Is The New Black upcycled t-shirt worth HK$145 and a 30% off voucher on all emmanuel f. certified organic hair and beauty services!
1) LIVE - Altruism & Resilience [Sat 13 April 10.50am - 1.30pm]
In a world ripe with natural disasters, political instabilities, claims for the end of our civilization before 2030 (by groups like collapsologues) it's easy to ask 'do our actions really matter?' But if we change our viewpoints, our actions can show beauty instead of pain. From unleashing your sexual power to better connect with yourself and the planet, to why people are not acting in the face of climate change - let us learn how to be more altruistic, so we can have a resilient world.
Speakers from Green Monday, BGreener & Refillmybottle, Chaukei Ngai, All You Can Be, Luna Mama, YOLO and many more.
2) WORK - Intrapreneurship for Good [Sat 13 April 2.20pm - 5pm]
Purpose and intrapreneurship - two words that have been buzzing around recently. But how can we actually activate them in the context of sustainability? How can we do good and do well? During this session, we will be tackling finding purpose at work by empowering employees to be the change, trends in impact investing, how companies and individuals can work together to tackle and solve sustainability issues.
Speakers from SAP, John Swire & Sons, The GreaterBay Company, Ocean Recovery Alliance, Plastic Free Seas, Bye Bye Plastic Bags, Carrefour and many more.

3) CONSUME - Slowing down! [Sun 14 April 10.50am - 1.30pm]
The perpetual pressure on growth in a world that has finite resources is impossible. Can we slow down growth to speed up recovery? How can we find ways to use what already exists? From shifting 'the Asian dream', to things we have forgotten (or don't know) about sustainability to alternative proteins and the plant-based revolution - this session calls for paradigm shifts in thinking and acting.
Speakers from LUSH, Redress, Green Queen, Revolv, Dentsu Aegis Network, The Mills Fabrica, MANA! and many more.

4) TRAVEL - Out(inn)er Exploration [Sun 14 April 2.20pm - 5pm]
Travel - a way to escape, to discover who you are, or maybe remember who you were. In this session we will dive into exploring outside to rediscover inside, going back to basics and our inner nature, building the eco(resort) dream and lightening your footprints.
Speakers from Generation T, Rooftop Republic, Hawksford, CNBC, Lightfoot Travel, Common Green and many more.

By the time you leave the TALKS, you will be empowered, motivated and ready to play an even bigger game, make more impact and embrace your most fulfilled, green life.
Watch what happened last time here!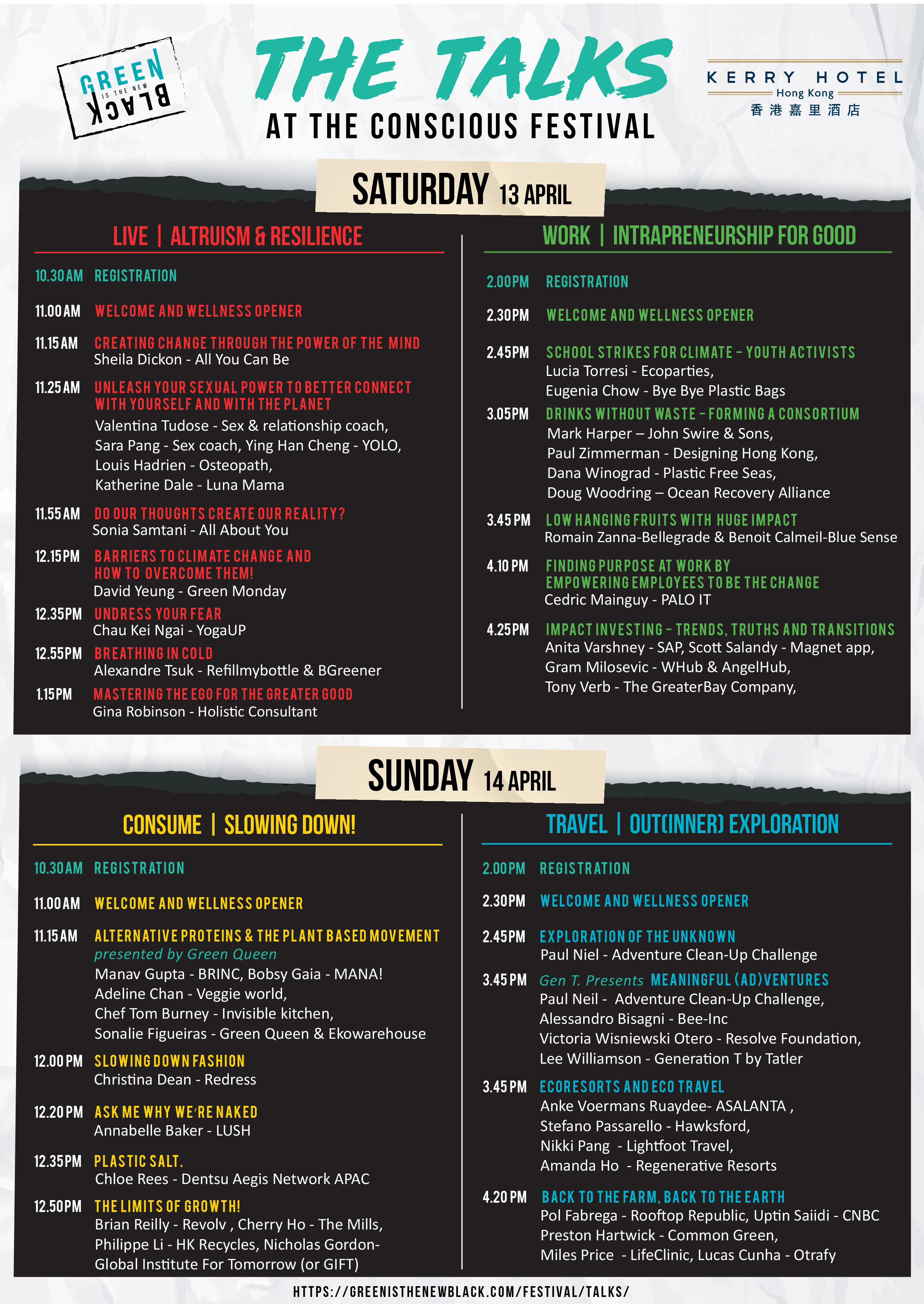 GOT KIDS? Not a problem, bring them down for free!
N.B. This page is ONLY for registration for the TALKS which are ticketed. Entry to the FESTIVAL is open to the public. For more information on all other activities head here: https://greenisthenewblack.com/festival/
JOIN THE GREEN IS THE NEW BLACK BOAT!
We've chartered a boat from Central Pier 9 right to Aqualuna Hung Hom Pier. Get your ticket here.
GET IN TOUCH
Want to get involved? Be a vendor? Volunteer? Join the conscious movement? Send us an email at holla@greenisthenewblack.com
P.S. We love young minds so if you're a student email us for a special discount.
#LittleGreenSteps to #LiveMoreConsciously