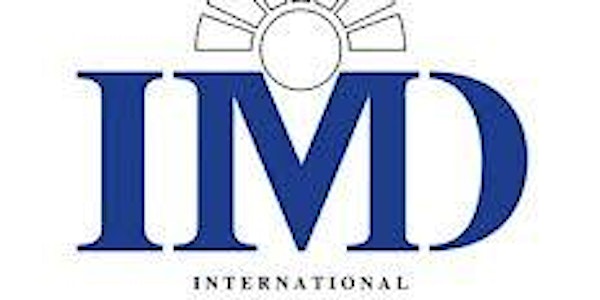 The South China Sea & China's "Peaceful" Rise?
By IMD Alumni Club of Hong Kong
Date and time
Thu, 26 May 2016 08:30 - 10:00 HKT
Location
Dot Cod Seafood Restaurant & Oyster Bar 14 Chater Road Hong Kong
Refund Policy
Contact the organiser to request a refund.
Description
The South China Sea & China's "Peaceful" Rise?
We would like to invite you all to join us for a breakfast meeting with Professor Jean-Pierre Lehmann on May 26th. As many of you know, events with Professor Lehmann always lead to exciting, thought-provoking and rich discussions and this time the main theme is The South China Sea & China's "Peaceful" Rise?
Jean-Pierre Lehmann assesses the potential regional/global powder-keg that is the South China Sea by looking at the historical dynamics, including on how it fits into patterns of rising great powers. He reiterates the point he has made in several publications, that if China does succeed in achieving a "peaceful rise", this will be totally unprecedented. Given the entirely new global paradigm emerging from China's rise, he appeals for measures of confidence building and reflexion on conflict avoidance steps that might be taken. In what is a general global maelstrom, the South China Sea issue is the most critical.
Jean-Pierre Lehmann is Professor of International Political Economy at IMD and visiting professor in the Faculty of Business and Economics at Hong Kong University and at NIIT University in Neemrana, Rajasthan, India. He is also Founder of the Evian Group – "international coalition of corporate, government and opinion leaders, committed to fostering an open, inclusive, equitable and sustainable global market economy in a rules-based multilateral framework". His areas of interest include global governance, globalization, trade and development, and business dynamics of Asia.
Please refer to Professor Jean-Pierre Lehmann's recent article on Forbes.
http://www.forbes.com/sites/jplehmann/2016/04/10/the-south-china-sea-dispute-and-chinas-peaceful-rise/#27ccc2d348b7
Event details:
Date: Thursday, May 26, 2016
Venue: Dot Cod Seafood Restaurant & Oyster Bar
Location: B4, Basement, Prince's Building, 10 Chater Road, Central (http://www.dotcod.com/restaurant/location)
Fee: $250 (includes breakfast and drinks):
Registration: please register and pay online at https://imdhongkongbreakfast2016.eventbrite.hk
Please register by Friday, May 20, 2016. Partners and friends are welcome, if seating permits. Registration will be on a first-come first-reserved basis with priority given to alumni. Please contact our club at hong_kong@alumni.imd.ch, if you have any problems with registration.
Event program:
8:30 - 8:45 Registration
8:45 - 9:30 Talk by Professor Jean-Pierre Lehmann
9:30 - 10:00 Q & A, Networking, and Breakfast
We look forward to welcoming you at the event.
IMD Alumni Club of Hong Kong