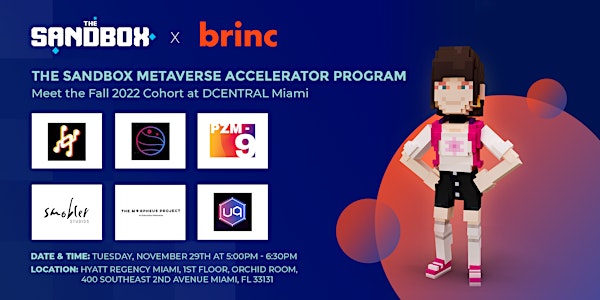 The Sandbox Metaverse Accelerator - Breakout Session at DCENTRAL Miami
Meet our Fall 2022 Cohort at DCENTRAL Miami
When and where
Location
Hyatt Regency Miami 400 Southeast 2nd Avenue 1st Floor, Orchid Room Miami, FL 33131
About this event
In partnership with The Sandbox, a leading decentralized gaming metaverse, Brinc launched The Sandbox Metaverse Accelerator Program to identify, mentor, and invest in promising startups in the space. Accelerated startups will be empowered to contribute to The Sandbox's rapidly growing ecosystem and actively engage with its existing and ever-growing user base.
The Sandbox metaverse revolutionizes how people interact in their day-to-day lives, including how they socialize, shop, and consume entertainment. Pioneering blockchain startups, in any field, that can contribute to the growth of The Sandbox ecosystem by building unique experiences and populating the platform with fresh creativity and new content are encouraged to join the only Sandbox Metaverse Accelerator program to get access to and support from the best mentors and experts available.
The Sandbox Metaverse Accelerator – Meet our Fall 2022 Cohort
5:00pm – 5:10pm – Brinc Introduction by Nick Zieber, Program Manager at Brinc
5:10pm – 5:35pm – Panel Discussion – How AI is shaping the metaverse?
Kola Labs
MetaGameHub DAO
PZM-9
Moderator – Eathan Janney, Co-Founder of Edge of NFT
5:35pm – 6:00pm – Panel Discussion – Other than gaming, what other industries could benefit from the development of the metaverse?
Smobler Studios
The Morpheus Project
Uniqly.io
Moderator – Kevin Brisebois, Head of Growth at VTVL
6:00pm – 6:30pm – Networking