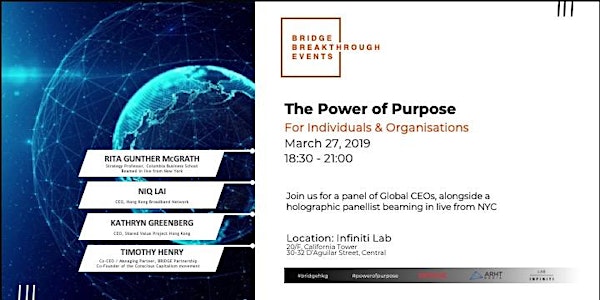 The Power of Purpose for Individuals and Organisations
When and where
Location
Infiniti Lab 20/F California Tower 30-32 D'Aguilar Street Central, Hong Kong Island Hong Kong
Description
Purpose is having a moment in time, it is being positioned as the new 'must have' for businesses around the world. Hong Kong has started to see a rise in the number of discussions and initiatives around purposeful business. The millennial work force craves it and businesses, such as The Body Shop, Unilever and Patagonia amoungst many others have been proving you can increase profitability through the search for and use of purpose.
Is this more than a passing phase, the current zeitgeist, is purpose something we really need to understand and implement? If so how do companies really create purposeful businesses on the inside which inspire employees, customers and drive profit?
BRIDGE has been working in the space of Making Purpose Matter for the last 3 years and we are passionate about the cause and the conversations. We are working with a number of organisations around the world to explore what their purpose might be and once activated how they can embed it into their organisation's culture and operating processes. We believe in the power of Purpose and that it is a key part of how the corporate world needs to evolve as part of the response to the emerging future.
Join us for the second installment of our BRIDGE Breakthrough Events series where we have partnered with ARHT Media, who is a world leader of holographic technology, and will be beaming in a special guest live from New York.
Our special New York guest, Rita Gunther McGrath will be joining our in-house panel for a Q&A session hosted by our very own Abigail Croft – MD, BRIDGE Partnership Hong Kong. Panellists will include Niq Lai – CEO, Hong Kong Broadband Network; Kathryn Greenberg – CEO, Shared Value Project Hong Kong; Timothy Henry – Co-CEO / Managing Partner, BRIDGE Partnership & Co-Founder of the Conscious Capitalism movement. Each of our guests will be sharing how they harness the power of purpose within their organisations or the organisations they partner with. They will share their thoughts, challenges and opportunities, creating an insightful conversation for those in attendance.
BRIDGE Breakthrough Events are aimed at CEOs, CHROs, Chief Strategy Officers and Culture / L&D specialists, who want to learn about the implementation of big ideas. This series is focused around encouraging innovation, engagement and building our community of learners here in Hong Kong.
Date: Wednesday 27th March 2019
Time:
18:30 - 7pm Networking
7 - 8pm Panel Discussion + Q&A
8 - 9pm Networking