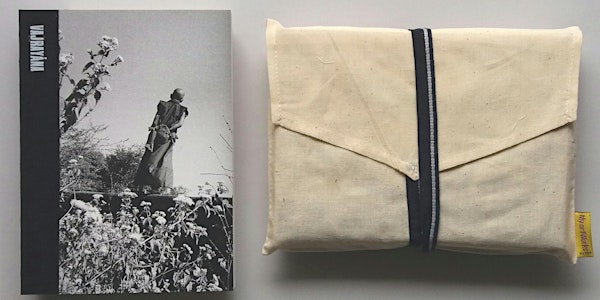 The Photobook Club - May Reading: Wong Kan Tai 攝影閱讀社 — 五月閱讀:黃勤帶
Sales Have Ended
Ticket sales have ended
This event is sold out. Be sure to check out our other events. If you have any enquiry please reach us at hello@hkipf.org.hk. Thank you! 本場次已經滿座,敬請留意攝影節其他節目。如有需要,請電郵 hello@hkipf.org.hk 聯絡我們。謝謝!
Sales Have Ended
Ticket sales have ended
This event is sold out. Be sure to check out our other events. If you have any enquiry please reach us at hello@hkipf.org.hk. Thank you! 本場次已經滿座,敬請留意攝影節其他節目。如有需要,請電郵 hello@hkipf.org.hk 聯絡我們。謝謝!
攝影閱讀社 — 五月閱讀:黃勤帶 The Photobook Club - May Reading: Wong Kan Tai
About this event
停擺數月,攝影閱讀社將於本月28日重聚。是次有幸邀來《89廣場的日子》(1990)、香港地(2007)、《Vajrayāna》(2016)、《皇后旅館》(2017)、《Fukushima》(2018)、《Secret 香港樞密1842-1997》(2019)及《Bardo Hong Kong 2019》(2021)的作者黃勤帶先生,一起翻閱其十餘本個人攝影集,細溯他三十多年來做書的歷程和想法。
After a few months of hiatus, the Photobook Club is reuniting on the 28th this Month. This time, we are delighted to have Wong Kan Tai, author of over 10+ exquisite works, among them '89 Tiananmen (1990), Hong Kong Walled City 2002-2007 (2007), Vajrayāna (2016), The Queen's (2017), Fukushima (2018), Secret 1842-1997 (2019), and Bardo Hong Kong 2019 (2021), to retrace with us his journey of photobook making in over thirty years and the thoughts and experiences with this craft.
是次活動於灣仔舉行,屬私人性質,每位收費HK120。成功報名者將於5月18日收到確定電郵,詳細活動地點及注意事項將於當中列明。
This is a private event held in Wanchai. Admission HKD120 each. Detailed address as well as points to note will be sent out by email to confirmed participants on 18 May.
日期 Date: 28.05.2022 (六 Sat)
時間 Time: 14:30 - 16:30
講者 Speaker: 黃勤帶 Wong Kan Tai
語言 Language: 粵語 Cantonese
黃勤帶 Wong Kan Tai
1957年生於香港大嶼山。七十年末入行從事突發記者,其後轉為新聞攝影記者。八十年代初於日本修讀攝影。
Wong (b. 1957) was born on Lantau Island, Hong Kong. He began his career at the end of 1970 as a news journalist and later turned to photojournalism. In the 80s, Wong travelled to Japan to study photography.
支持香港國際攝影節
為秉持攝影節的獨立自主,專注社會、非營利的精神,以及守持表達及知識的自由傳達,活動的開放自由參加,誠邀您成為我們的支持者:請即前往網址 stall.hkipf.org.hk,或致電或電郵與我們聯絡有關捐款安排。
香港國際攝影節由香港攝影文化協會主辦,協會為根據《稅務條例》獲確認豁免繳稅資格之慈善團體,凡捐款港幣一百元以上可獲扣稅。
創始於二〇一〇,每屆攝影節以不同主題之展覽,將攝影世界具獨特性、創造性的名字,以及值得關注的視覺文化思潮引入香港。同時,透過不同公眾活動,搭建香港與世界攝影文化的溝通平台,借影像呈現不同文化歷史議題,審視不同社會人文狀況,促進跨越地區與領域的對話。
在攝影節邁向十二週年之際,請與我們一起前進,成為我們迎向下個十年的重要後盾。
Support HKIPF
Support freedom of expression and help facilitate the growth of the arts by making a donation to the Hong Kong International Photo Festival. You may visit our website stall.hkipf.org.hk or reach us at our contact number or email. Your contribution will go towards our operation, future programmes and keeping our events accessible.
The Festival is organised by the Hong Kong Photographic Culture Association, which is a tax-exempt charity under section 88 of the Inland Revenue Ordinance. Donations above HKD 100 are tax deductible.
The Festival was launched in 2010. In each edition, the Festival focuses on a different theme, introducing noteworthy photographers, trends, and movements, discussing manifold issues and perspectives. Through a wide range of public programmes, the Festival bridges Hong Kong and international visual practitioners, creating conversations between people and place, past and present, with oneself and the world.
With your support, we hope to make ever greater progress in the coming decade.